When Darrelle Revis flew south to Tampa Bay from New York, did the circus pack up and caravan its way behind him?
The Josh Freeman Saga has grown more bizarre by the day, with the exiled quarterback finally and mercifully waived. His fall from grace—whatever the causes may actually be—have placed rookie Mike Glennon at the controls of a stumbling offense.
Glennon got off to a decent start against the Cardinals in Week 4, throwing a touchdown pass to Mike Williams before giving way to mediocrity. Vincent Jackson had a predictably bad day, catching just two passes for 27 yards while dealing with lingering effects from a rib injury and lining up against cornerback Patrick Peterson.
The fantasy dud was not entirely unexpected given all those factors.
Getting lots of questions about Vincent Jackson. The rib injury sounds truly limiting, and hard to trust Mike Glennon. Look elsewhere.

— Sports Illustrated (@SInow) September 29, 2013
Was that performance the new norm for the marooned receiver? Or is there light at the end of the tunnel?
No Rapport
The biggest issue Jackson may have had heading into Week 4 was his rib injury, which prevented him from practicing most of the week. Given it was the first time Glennon was going to start with the team, the lack of reps certainly looks like it affected the duo's rapport on the field.
Jackson was targeted several times where Glennon simply overthrew him or put it where he thought Jackson was supposed to be. Take this play, for example: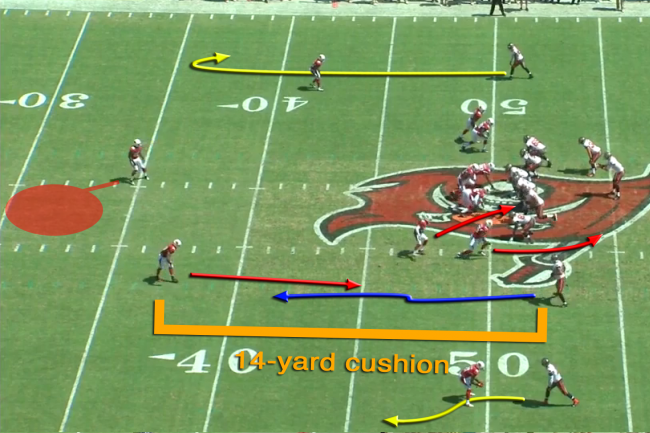 The Buccaneers moved Jackson inside and sent him into motion. This was one of the few plays where Peterson wasn't covering him, and he was staring at a free release with defensive back Tyrann Mathieu cheating on the blitz. Had Glennon called the hot route and thrown it to Jackson on a three-step drop, the play might have gone for a nice gain.
Instead, Jackson ran a stop-and-go, drawing safety Yeremiah Bell forward in coverage. The veteran drove toward Jackson in anticipation of a pass, allowing the latter to blow by him for the fade portion of the route.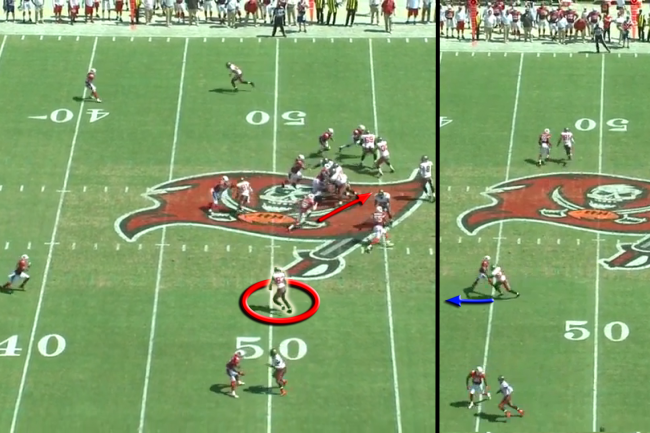 Jackson was open early, then broke open as the play went on.
It could have gone for a huge play at that point, too, but Glennon's throw was poorly timed—it fell harmlessly to the ground.
This sort of poor timing was a problem for Jackson throughout the day, exposing what we already know—going into a game having barely practiced with your new rookie quarterback will cause problems.
Channeling Tebow
Rapport wasn't the biggest issue for Glennon and Jackson, however. There were plenty of good opportunities for Glennon to get him the ball. He just couldn't get it done for most of the day.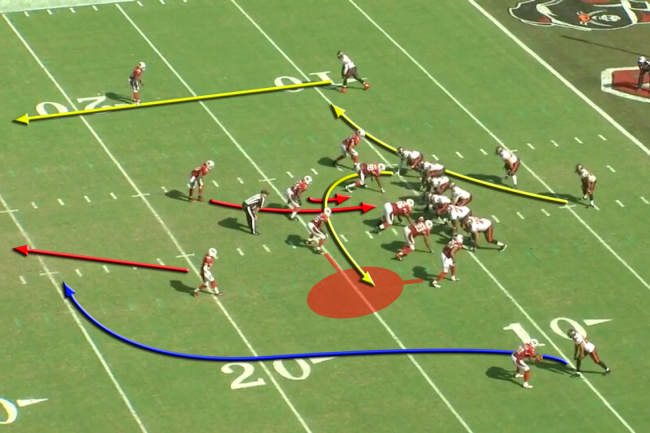 This was the play that brought you the first of Peterson's two interceptions on the day. Peterson was pressing Jackson, who ran a dig route to the middle. Things didn't end well for Glennon, as Bleacher Report's Matt Bowen pointed out this week:
Why did the rookie quarterback throw an interception to Patrick Peterson that set up the tying score in the fourth quarter? Glennon locked in on the backside dig route (square-in) to Vincent Jackson and also threw this ball to the inside versus man-coverage.

Even with the Cardinals sending pressure, Glennon had time to come off the dig and look for another option. Teaching moment for the rookie.
Despite being pressed and shadowed on the play, Jackson actually managed to gain separation from Peterson with a subtle push-off maneuver. Glennon actually pulled the trigger at the perfect moment to take advantage.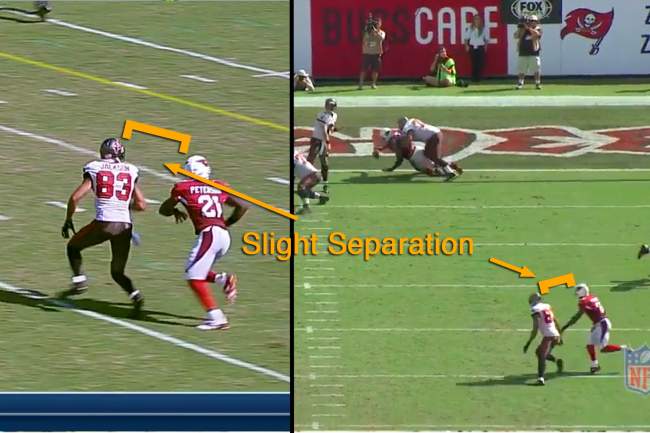 That's a tight window.
Unfortunately, his aim was off. Jackson had to slow to reach back for the ball, allowing Peterson to close the gap and jump in front of him for the interception.
Considering that it would have taken an Aaron Rodgers-esque combination of accuracy and velocity to get the ball to Jackson on that play anyway, this wasn't the best decision on Glennon's part.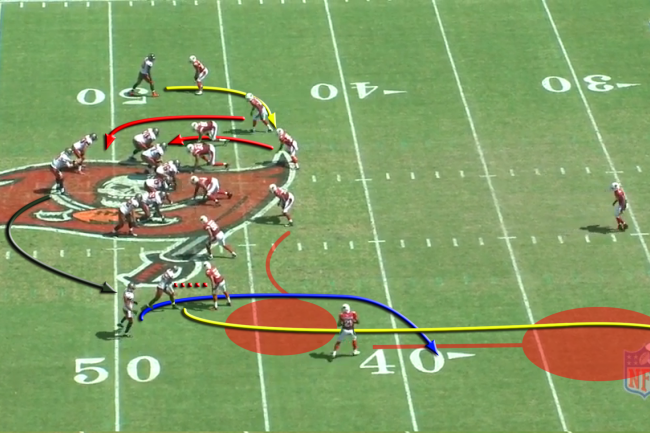 This play earlier in the game was particularly brutal for Glennon.
It was a well-designed play intended to expose the coverage. Peterson had lined up to press Jackson on the boundary, but he backed off once Jackson motioned inside. That told Glennon he was in zone.
Jackson ran a seven-route underneath Kevin Ogletree, who ran a 9-route downfield. The zone coverage on his side of the field focused on Ogletree. Peterson wound up bracketing Ogletree as he went downfield, leaving Jackson wide open behind Karlos Dansby. Glennon saw it, and his eyes probably looked like saucers for a split second.
A good pass nets at least 15 yards here.
Unfortunately, Glennon's pass was woefully underthrown, allowing Dansby to jump up and nearly intercept it. Had that been a better defender, it would have been an easy interception that could have gone all the way back for a touchdown.
Injuries, Shutdown Corners and Bears, Oh My!
On top of everything we have seen here, Jackson is still dealing with that painful rib injury.
As I said on #NFLGameday: Vincent Jackson's injury to 2 ribs is considered a 5-week injury to fully heal. Bucs being cautious with him.

— Ian Rapoport (@RapSheet) September 29, 2013
He played through it with the help of pain-relieving injections, but it's hard to imagine anyone being unaffected by such an injury.
More difficult to deal with than the injury, perhaps, was the fact Peterson was all over Jackson for much of the day. The talented cornerback was tasked with stopping Jackson, and he succeeded for much of the day. As we have seen, it was no accident Peterson was around to intercept two passes intended for Jackson last Sunday.
Fortunately, Jackson won't have to face an elite cornerback every week. In fact, his next matchup is against the talon-less Eagles secondary, and he has a three-game reprieve before he disappears in Richard Sherman's shadow.
Conclusion
So will Glennon be Jackson's fantasy albatross? As is typical with these types of questions, the answer is complicated.
Jackson's ribs will likely heal soon enough, and Mike Glennon will theoretically improve his performance as he gains experience. Of course, Blaine Gabbert and JaMarcus Russell were theoretically supposed to improve, too.
With practice, the duo will start to get on the same page as well. Glennon certainly seems to understand Jackson is his No. 1 receiver.
Vincent Jackson's Stats

| | | | | | | |
| --- | --- | --- | --- | --- | --- | --- |
| w/ Josh Freeman | 1 | 13 | 7 | 154 | 22 | 0 |
| | 2 | 11 | 5 | 77 | 15.4 | 0 |
| | 3 | 6 | 3 | 34 | 11.33 | 0 |
| w/ Mike Glennon | 4 | 11 | 2 | 27 | 13.5 | 0 |
Pro Football Reference and Pro Football Focus
Vincent Jackson had the quietest 11 target game you'll ever see. Invisible despite playing nearly all snaps.

— Josh Moore (@4for4_Josh) September 30, 2013
You will note Jackson's targets, catches and yards were steadily declining with Freeman under center. Glennon righted that ship in the target department, at least for one week.
More targets mean more opportunities to score fantasy points. Glennon just has to work on being on target.
At this point, Jackson's value is about as low as it can get for a guy who might have been drafted as a No. 1 receiver on many fantasy teams. He hasn't scored a touchdown, and Tampa Bay looks like it's on the verge of imploding.
But Jackson's talent hasn't disappeared, and things are looking better for him coming out of the bye. Stick with him if you have him, and try to trade some lesser assets for him if you need a receiver.