Trent Richardson was supposed to take the Indianapolis offense to the next level.
Jim Irsay was downright giddy when he announced the Indianapolis Colts had traded away a first-round pick for the second-year running back. Social media took to mocking the Cleveland Browns for giving away their third-overall pick from a year ago.
Things haven't exactly worked out as planned.
Conventional wisdom said Richardson would thrive in an offense that featured the reigning Rookie of the Year runner-up, Andrew Luck. But reality has a funny way of undermining conventional wisdom sometimes.
Perhaps we should have heeded the warning signs, like the fact that Cleveland was willing to part with a third-overall pick just one season after he was drafted. Maybe Fox Sports' Scott Fujita—former teammate of Richardson's—was onto something when analyzing the trade:
It seems strange to say a fresh start is needed for someone who's beginning his career, but that might be the case here. Guys get drafted all the time to places they just don't want to be.

I can't speculate about what's in any one person's head, but when a player enters the league wearing headphones incessantly, shows up late for treatments, and makes little effort to engage with his teammates, he can quickly develop a reputation for being insular and high-maintenance.
At any rate, the reasons for the trade might be nebulous, but the production hasn't been. Richardson has been downright awful with the Colts, and he has been the season's biggest fantasy football bust as a result.
Trent Richardson has scored 64.4 fantasy points this season. Zac Stacy has scored 70.2 fantasy points in HIS LAST FOUR GAMES.

—Michael Fabiano (@Michael_Fabiano) November 19, 2013
Trent Richardson gets six yards on that Jennings touchdown. Maybe.

—scott pianowski (@scott_pianowski) November 17, 2013
Chuck Pagano on Trent Richardson: "I don't know what the heck is going on" Translation: "We gave up a #1 for this guy?"

—Andrew Brandt (@adbrandt) November 16, 2013
Apologies to everyone I advised to start Trent Richardson. Apparently never is a good time at this point.

—Alessandro Miglio (@AlexMiglio) November 10, 2013
Since joining the Colts, Richardson's receiving yardage is nearly half of what he has gained on the ground. This might seem like a good thing until you see the stat lines. You might want to avert your eyes, the following table is a bit graphic.
Richardson's Average Stats by Team

| | | | | | | | | | |
| --- | --- | --- | --- | --- | --- | --- | --- | --- | --- |
| | Att | Yds | Y/A | Yco/Att | TD | Rec | Yds | Y/R | TD |
| Browns | 15.5 | 52.5 | 3.4 | 2.4 | 0 | 3.5 | 25.5 | 7.3 | 0 |
| Colts | 12.7 | 37.7 | 3.0 | 2.0 | 0.2 | 1.9 | 16.7 | 8.8 | 0 |
Pro Football Reference and Pro Football Focus (Yco/Att = Yards after contact per attempt)
That is ugly. So what is wrong with Richardson?
Here is a play that somewhat encapsulates his situation, especially because Richardson's best success has come through the air this year. It was one part lack of explosiveness on by Richardson and another part poor blocking.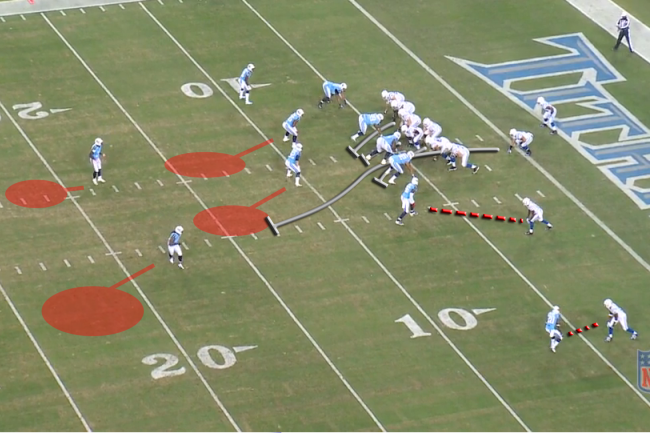 NFL Game Rewind
The play was a perfectly timed screen pass to Richardson out of the shadow of his own end zone. The Tennessee Titans only rushed four, but they were ill-prepared for a screen. That's why it looked like Richardson had a police escort.
NFL Game Rewind
Richardson wound up with a nice 14-yard gain, but it could have been so much better.
Fullback Stanley Havili had one job, and he failed. Titans safety Bernard Pollard flew toward Richardson like a plodder-seeking missile, which Havili could have stopped had he not completely whiffed on the block attempt.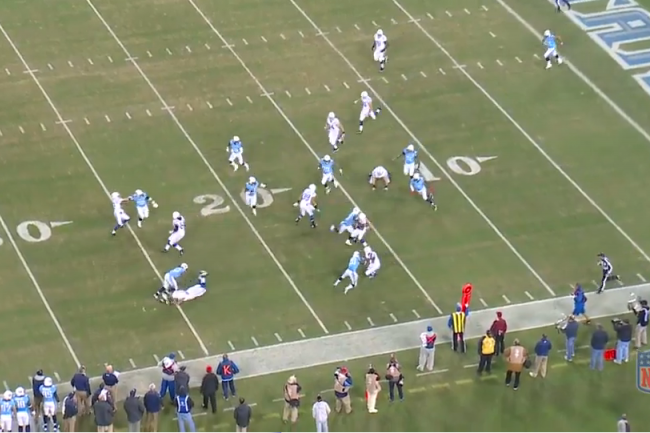 NFL Game Rewind
But the blame doesn't rest solely on Havili. Richardson bears some of it, too.
If the second-year back had more explosion or elusiveness, he could have broken or blown by Pollard's tackle attempt. Instead, he took what was blocked on the play, which was a 14-yard gain. It would have been interesting to see how a guy like Pierre Thomas would have done on this play for the New Orleans Saints, given how he has been running this year.
Here is an example of a play on which Richardson couldn't really get things going.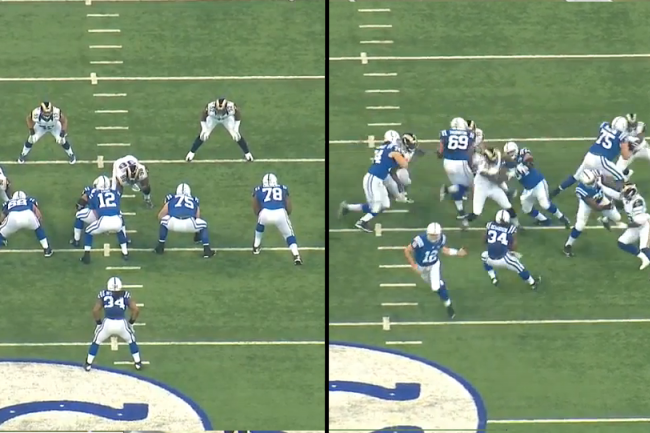 NFL Game Rewind
There isn't much to say about the play, other than center Samson Satele was destroyed at the line of scrimmage. Defensive lineman Kendall Langford was in the backfield before Richardson even got the handoff. There was nowhere to run.
There are plenty of examples of bad offensive line play from the Colts this season. But there is one small problem with simply placing blame on the offensive line—Donald Brown.
If the line was that bad, why would Brown be outperforming Richardson on the season?
NFL Game Rewind
Richardson would've gained two yards here.
In truth, Indianapolis hasn't done a terrible job blocking. Pro Football Focus (subscription required) ranks Indianapolis 14th in run-blocking. Football Outsiders says the Colts are 10th in the league, according to the site's Adjusted Line Yards metric.
The fifth-year running back has surged back from career near-death to outshine last year's No. 3-overall pick.
Brown vs. Richardson

| | | | | | | | | |
| --- | --- | --- | --- | --- | --- | --- | --- | --- |
| | Att | Yds | Y/A | TD | Rec | Yds | Y/R | TD |
| Brown | 55 | 323 | 5.87 | 3 | 15 | 153 | 10.2 | 1 |
| Richardson | 127 | 377 | 3.0 | 2 | 19 | 167 | 8.8 | 0 |
Pro Football Reference
So what should we expect from Trent Richardson going forward? That is a good question.
One or two bad games wouldn't be cause for major concern, but this has been quite the decline over the past eight games. And his biggest duds—like the two-yard stinker against a St. Louis Rams defense that had just given up 150 yards and two touchdowns to Chris Johnson—have come in seemingly favorable matchups.
Perhaps the worst part of this all is that Richardson believes he is playing well. If that is a genuine sentiment, then the motivation to improve may not be be there.
From a fantasy perspective, it's time to cut bait, perhaps even in dynasty and keeper leagues.