Every week in the NFL brings a new set of waiver-wire studs to the forefront, but it's not always a good idea to add players after a big game.
It's important to thoughtfully look ahead at next week's matchups before putting in your claim as you attempt to upgrade your fantasy football roster.
With that in mind, here's a close examination of a few of the top waiver-wire targets for Week 7, highlighting two players you must land and two you should avoid at all costs.
Best: Nick Foles, QB, Philadelphia Eagles
Playing in stead of Michael Vick, who was out with a hamstring injury, Nick Foles had a monster game against the Tampa Bay Buccaneers in Week 6.
He was efficient, didn't take sacks and got rid of the ball quickly. Foles finished the game having completed 22 of his 31 attempts for 296 yards with three touchdowns and zero interceptions, leading the Eagles to a big road win.
Vick supporters won't want to hear this, but Foles had much better command of the offense than we've seen from Vick the past few weeks, and if he continues playing this way, he'll keep the starting job once Vick is healthy.
Up next for the Eagles are the Dallas Cowboys, which presents a highly favorable matchup for Foles' fantasy owners.
The Cowboys have struggled to stop the pass recently, allowing 815 yards and seven touchdowns to the San Diego Chargers and Denver Broncos heading into Week 6.
Worst: Joseph Fauria, TE, Detroit Lions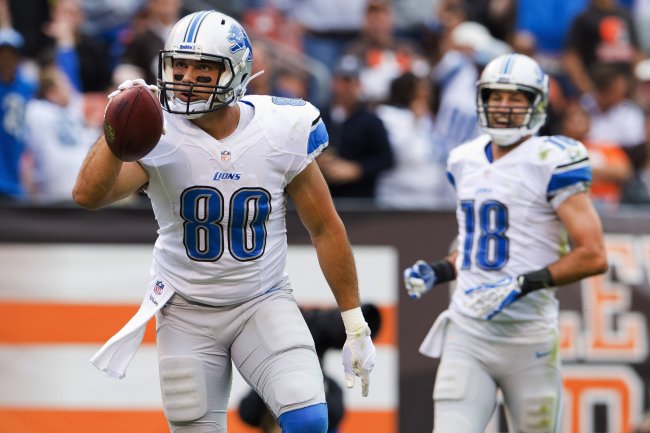 Jason Miller/Getty Images
Fauria caught three touchdown passes from Matthew Stafford in Week 6, but he's not someone you want on your fantasy team.
Yes, he's now scored five touchdowns, but it's impossible to predict when he'll strike next. He wasn't even targeted in the two games prior to his breakout performance against the Cleveland Browns, and he's only been targeted six times the entire season.
When discussing the hierarchy of receiving threats on Detroit's roster, Fauria ranks near the bottom of the list.
Unless Brandon Pettigrew gets injured, Fauria will be solely a situational player for the Lions, and anyone expecting him to produce fantasy points on a regular basis will be sorely disappointed.
Best: Brandon Jacobs, RB, New York Giants
Mike DiNovo-USA TODAY Sports
The New York Giants are extremely thin at the running back position, but veteran Brandon Jacobs answered the bell in Week 6 when his team needed him the most—albeit in a losing cause.
Rushing for 106 yards and two touchdowns against the Chicago Bears on Thursday night, Jacobs looked as quick and fluid as he's looked in the past five years. He hit the hole with authority, churning out yards at the best clip the Giants have seen all season long.
True of False: Brandon Jacobs will have 100 yards against Minnesota.
True of False: Brandon Jacobs will have 100 yards against Minnesota.
Unfortunately, Eli Manning threw three more interceptions to bring his yearly total up to a whopping 15 through six games.
The Giants can't afford turnovers, and as a way to cut down on Manning's attempts the rest of the way Jacobs will see a heavy load of carries on a weekly basis.
The Giants face the Minnesota Vikings in Week 7, and Minnesota has allowed the third-most fantasy points to opposing running backs in the league.
Worst: Marvin Jones, WR, Cincinnati Bengals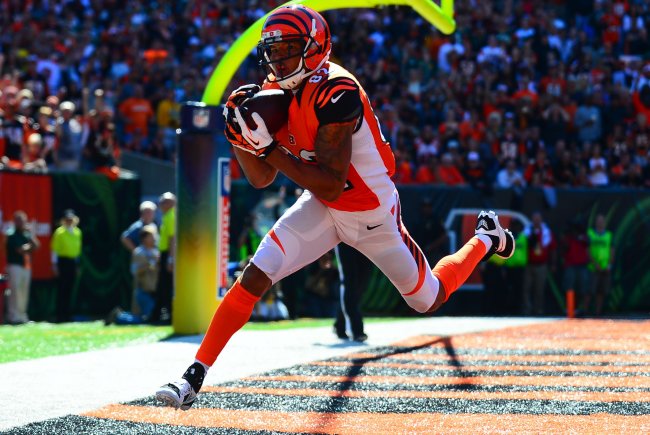 Andrew Weber-USA TODAY Sports
The Cincinnati Bengals would love to see Marvin Jones step up and produce at a high level on a weekly basis, but he hasn't yet been able to do so in his second year.
Jones broke out with a big game in Week 6 against the Buffalo Bills, however, catching three passes for 71 yards and a touchdown.
It was his second touchdown of the season.
Through six games, Jones has only caught 12 passes for 190 yards, and he has yet to catch more than three passes in a game.
He is still on the outside looking in as far as targets go for the Bengals, and that's not likely to change any time soon. With A.J. Green, Giovani Bernard, Tyler Eifert, Mohamed Sanu and Jermaine Gresham all vying for touches, Jones is more often than not going to be the odd man out.
Follow me on Twitter @JesseReed78