It seems like every week is more important than the previous one in fantasy football, and with the seventh week of the NFL season about to commence, lineup decisions are becoming more difficult and more meaningful as well.
A couple points here and there may not seem like much, but it doesn't take a lot to turn a win into a loss or vice versa. With many teams dealing with bye weeks or injuries, not every lineup decision is cut and dry. Plenty of missteps can potentially be made, but making the right pick could be extremely rewarding.
Here are the trickiest fantasy football lineup choices for Week 7, complete with analysis on what you should do if you own one of the following players.
Quarterbacks
Start: Jay Cutler (CHI)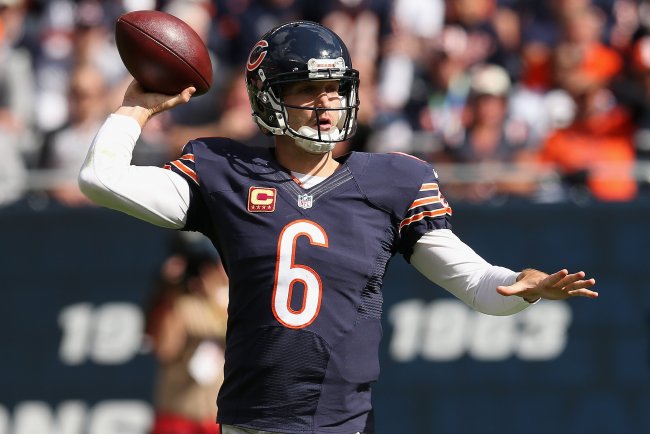 Jonathan Daniel/Getty Images
Cutler hasn't always been the most reliable player in the league in real or fantasy terms, but he seems to be turning a corner with Marc Trestman as head coach. Cutler has at least two touchdown passes in five of his six starts, and he also has two 300-yard performances out of his past three outings. Cutler has plenty of weapons to throw to, and he'll make the most of them on Sunday.
The Bears will travel to Washington to take on the Redskins in what could be a perfect matchup for Cutler. The 'Skins are surrendering 272 passing yards per game and they have just three interceptions, so Cutler won't necessarily be forced into making many mistakes. This one has all the makings of a big game for Cutler.
Week 7 Projection: 331 passing yards, three touchdowns and one interception
Sit: Alex Smith (KC)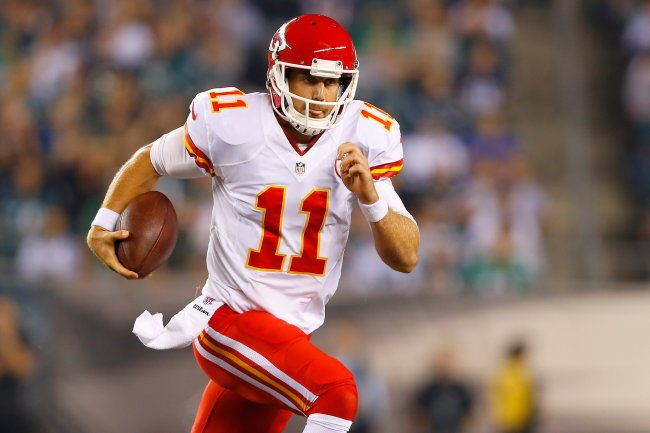 Rich Schultz/Getty Images
Smith may not be overly exciting, but there is no question that he is a winner. Smith has been a big reason behind the Chiefs' turnaround this season as they have yet to lose a game. He has also turned in some fantasy-worthy performances, but Kansas City wins in so many different ways that it's difficult to predict when the offense will be pass-heavy, run-heavy or anywhere in between.
While Smith does have three multi-touchdown games this season, he also has three games with no touchdowns. That's too much of a feast-or-famine record for him to be counted upon. Also, his ceiling isn't particularly high this week against the Texans. Houston may be struggling, but it is allowing a league-low 131 passing yards per game, and Smith won't do much better than that on Sunday.
Week 7 Projection: 168 passing yards, one touchdown, two interceptions and 20 rushing yards
Running Backs
Start: Lamar Miller (MIA)
Which player will have the best fantasy performance in Week 7?
Which player will have the best fantasy performance in Week 7?
Jay Cutler

Lamar Miller

T.Y. Hilton

Brent Celek
On the surface it may seem as though Miller has been awful this season. After all, he was a third- or fourth-round pick in most leagues, and he has yet to break 69 rushing yards in a game. With that said, Miller's struggles have more to do with usage than anything. He is averaging better than four yards per carry, but the Dolphins' coaching staff hasn't trusted him enough to give him more than 14 carries in any one game.
That has led to many fantasy owners losing confidence in Miller, but it may be too early to do that. Miller has a great matchup in Week 7 against a Buffalo Bills defense that is giving up 124 rushing yards per game. If Miami is ever going to establish the run, this is the right week to do it. Quarterback Ryan Tannehill needs some support, and Miller will give it to him on Sunday.
Week 7 Projection: 116 rushing yards, one reception for 15 yards and one touchdown
Sit: Trent Richardson (IND)
Many believed that the Colts had a steal on their hands when they acquired Richardson from the Cleveland Browns for a first-round pick, but it's starting to look like the Browns cut bait at the right time. Richardson had his moments as a rookie last season; however, he lacked explosiveness as he averaged less than four yards per carry. He has been even worse since joining the Colts as he is averaging 3.1 yards per carry, and fantasy owners have to be fed up.
Indianapolis is definitely committed to the run, but it can only stay that way for so long if Richardson continues to scuffle. If at all possible, it would be a good idea to find a replacement for Richardson this week as the Colts will face the Denver Broncos. Denver is first in the league against the run as they are giving up just under 70 yards per game, and Richardson hasn't shown any signs of being the one to solve the Broncos' defensive front.
Week 7 Projection: 52 rushing yards and one reception for seven yards
Wide Receivers
Start: T.Y. Hilton (IND)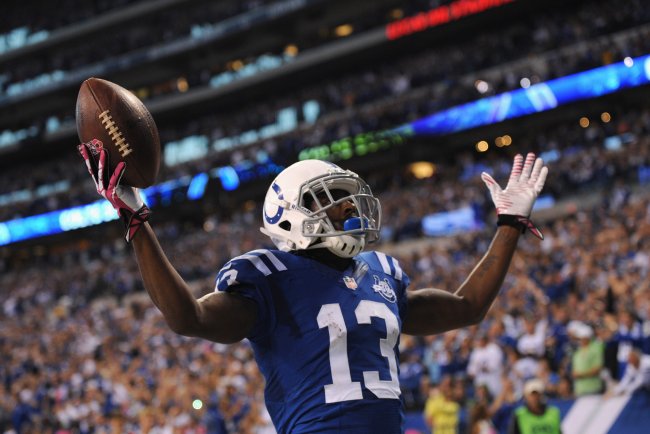 Jonathan Moore/Getty Images
While the Colts may not be able to run Denver, picking up yardage through the air shouldn't be an issue. The Broncos are last in the league against the pass as they are surrendering 338 yards per game, and while much of that has to do with the fact that teams often have to come from behind against them, Colts quarterback Andrew Luck should be able to make some big plays on Sunday night.
The main beneficiary of Luck's passing bonanza may be Reggie Wayne, but the Broncos are likely to focus their defensive efforts on keeping the ball out of his hands. If that is the case, then speedster T.Y. Hilton will see plenty of single coverage. Hilton has two 100-yard games on the season, including a 140-yard and two-touchdown effort against the Seattle Seahawks in Week 5. Somebody is going to torch Denver's secondary, and Hilton is a solid bet.
Week 7 Projection: Six receptions for 122 yards and one touchdown
Sit: Larry Fitzgerald (ARI)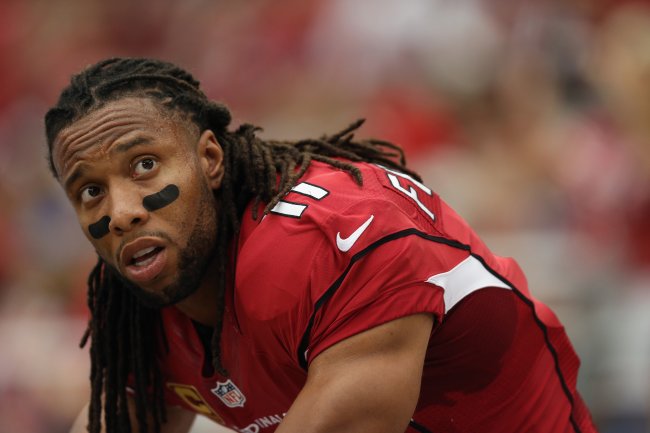 Jeff Gross/Getty Images
After four consecutive weeks of mediocre play, Fitzgerald returned to fantasy relevance in Week 6 by torching the San Francisco 49ers for six receptions, 117 yards and a touchdown. Most of that yardage came on a 75-yard scoring romp, but it all counts the same. With that said, Fitzgerald is still dealing with a hamstring injury, and it's hard to imagine him being 100 percent when the Cards face the Seattle Seahawks on Thursday night.
Fitz has proven over the years that he can still be productive while battling through injuries, but there are too many factors working against him in Week 7. Perhaps chief among them is the fact that he'll have to face shutdown cornerback Richard Sherman. While Sherman isn't invincible by any means, he should be able to handle Fitzgerald, especially since he is compromised by injury. Giving Fitz a week of rest on your fantasy bench is the best course of action.
Week 7 Projection: Four receptions for 37 yards
Tight Ends
Start: Brent Celek (PHI)
Rob Carr/Getty Images
Celek tends to be a feast-or-famine player in fantasy terms, so putting him in your starting lineup is always a risk. With that said, there are probably plenty of Jimmy Graham owners looking for a replacement this week with their superstar on the bye. Celek isn't going to put up Graham-esque numbers by any means, but all of the pieces are in place for a very solid performance in Week 7.
Most importantly, Celek has a very juicy matchup against the Dallas Cowboys. Dallas is third-worst in the league against the pass, and Redskins rookie tight end Jordan Reed was having his way with the Cowboys' secondary before Robert Griffin III looked to other players in the second half. Also, if Nick Foles starts again in Week 7, it will give Celek to make plays down the field, which is where he truly excels.
Week 7 projection: Four receptions for 81 yards and one touchdown
Sit: Dallas Clark (BAL)
Clark has been a tough tight end to figure out this season as his production seems to fluctuate from one week to the next. He eclipsed 80 yards in both Week 1 and Week 6, but totaled just 88 yards in the four weeks between those performances. Clark is no longer the dynamic tight end he was when catching passes from Peyton Manning with the Indianapolis Colts, but he still has the ability to produce in the right situation.
Week 7 doesn't figure to produce an ideal situation as the Ravens will have to deal with the Steelers. Pittsburgh shut down the New York Jets' passing game in Week 6, and it is allowing just 196 passing yards per game. Also, with so many other mouths to feed, including Torrey Smith, Marlon Brown, Jacoby Jones and Ray Rice, Clark won't receive a ton of opportunities on Sunday.
Week 7 Projection: Three receptions for 24 yards
Follow @MikeChiari on Twitter