While it's true that some players haven't lived up to their lofty fantasy draft status so far this season, others are meeting, or even exceeding, their expectations. Those particular players have helped their owners to plenty of wins, and they'll need to come up big yet again in Week 7 in order to keep the good times rolling.
There are going to be times when fantasy studs don't play as well as expected, but they are able to exploit favorable matchups more often than that. There are plenty of enticing matchups for fantasy studs to take advantage of this week, so there certainly could be some big fantasy point totals on the horizon.
Here is a look at the projected top performer for each skill position in Week 7, including predictions for their overall offensive output.
Tony Romo (DAL)
Although Romo may have cost his owners a win in Week 6 with a less-than-stellar performance against the Washington Redskins, it was entirely his fault. Washington controlled the ball for the bulk of the second half, and Bill Callahan's play-calling was conservative, as Dallas was trying to salt the game away. With that said, Romo has largely been spectacular for the Cowboys this season, as he has 1,693 passing yards, 14 touchdowns and three interceptions thus far. He is also completing better than 70 percent of his passes, so it appears as though the light has gone on.
Romo has long been a valuable fantasy quarterback due to his statistical output, but he is playing at another level right now. Romo happens to be in the midst of a dream run in terms of defensive opponents, as he will face the Philadelphia Eagles in Week 7. The Eagles are allowing 315 passing yards per game, and Romo threw for 512 yards and five touchdowns in two games against Philly last year, so another huge game is in store.
Week 7 Projection: 335 passing yards, three touchdowns and one interception
Adrian Peterson (MIN)
Perhaps, Peterson has yet been quite as dominant as he was last season, but there is little doubt that AP is still the best running back in football. Even though his year is viewed as "ordinary" by some, ordinary for Peterson means averaging just under 100 yards per game. Peterson also has six total touchdowns through five games, which is actually well ahead of the pace he set last season. In addition to that, Peterson finally has an easy matchup after a few straight games against stout run defenses.
The Vikes will face the New York Giants on Monday night, and the G-Men are allowing more than 123 rushing yards per game. Also, there is a great deal of turmoil at the quarterback position for Minnesota, so Peterson will be leaned upon heavily. Josh Freeman will start under center for the Vikings, according to Ben Goessling of ESPN.com, and even though he struggled earlier in the year with the Tampa Bay Buccaneers, his ability to make plays down the field should open things up a bit for Peterson.
Week 7 Projection: 157 rushing yards, three receptions for 25 yards and two touchdowns
Reggie Wayne (IND)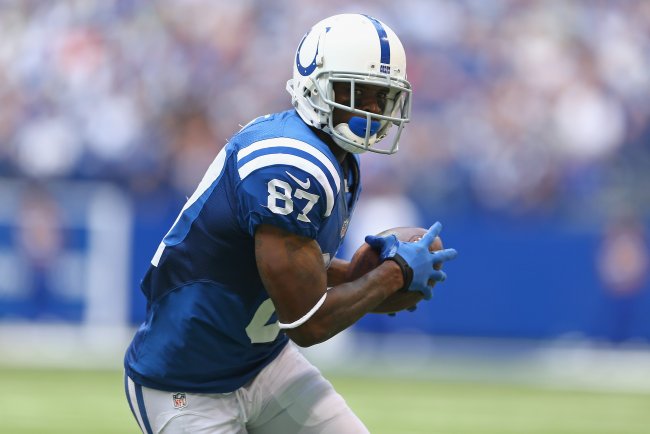 Andy Lyons/Getty Images
The Colts may be home underdogs when they host Peyton Manning and the Denver Broncos on Sunday night, but that doesn't mean they won't be able to move the ball on offense. Denver is one of only two remaining undefeated teams in the NFL, and it will have extra motivation as Manning returns to the place where he established himself as an NFL superstar. It will undoubtedly be an emotionally charged night, but Colts quarterback Andrew Luck will want to prove that the Colts made the right decision by releasing Manning and drafting him.
Denver also happens to have the league's worst pass defense, as it surrenders nearly 338 yards per game. One of Manning's favorite receivers while with the Colts was Reggie Wayne, so look for his old target to remind him what he's missing now that he is a Bronco. Wayne hasn't been dominant this season, as he has just one 100-yard game and two touchdowns on the year, but he has at least five catches in five of Indy's six games, and he is poised for a breakout performance.
Week 7 Projection: Eight receptions for 144 yards and two touchdowns
Jordan Cameron (CLE)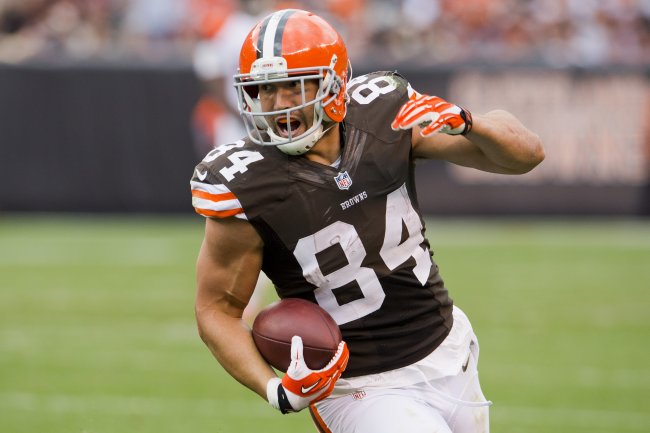 Jason Miller/Getty Images
Which player will have the best fantasy performance in Week 7?
Which player will have the best fantasy performance in Week 7?
Tony Romo

Adrian Peterson

Reggie Wayne

Jordan Cameron
New Orleans Saints tight end Jimmy Graham has unquestionably been the class of his position in 2013, but Cameron has been extremely impressive in his own right. Cameron entered the season as a popular fantasy sleeper, and he has proven his owners right. With five touchdowns and three games of 91 or more yards, Cameron is putting up wide receiver numbers. Expect that to continue in Week 7 against a soft Green Bay Packers secondary.
The Packers are a better all-around team than the Browns, and they shouldn't have much trouble winning on Sunday, but that actually bodes well for Cameron. If Green Bay gets out to an early lead, Browns quarterback Brandon Weeden will be forced to throw early and often. Cameron is an ideal safety valve due to his size and athleticism, which will prompt Weeden to look in his direction when he gets into trouble.
Week 7 Projection: Seven receptions for 111 yards and one touchdown
Follow @MikeChiari on Twitter