Just one day remains in Week 5 of the 2013 NFL regular season, as the New York Jets prepare to play the Atlanta Falcons on Monday Night Football. The week's final game is an important one, but many fantasy football owners are already focused on the next week of fantasy football.
The question is, which underrated players do you need to sign from the Week 6 Waiver Wire?
The superstars of professional football are selected during the drafting process, but that doesn't mean surprisingly effective forces can't emerge. As we see with every passing season, under-the-radar position players rise up and become fantasy football gems.
Here are the players you need to be targeting to help improve your season.
Charles Clay, Miami Dolphins
Mike Ehrmann/Getty Images
Position: Tight End
Owned: 27.4 percent
2013 Season Statistics
5 GP; 23 REC, 307 YDS, 2 TD
Charles Clay of the Miami Dolphins continues to be one of the most consistent fantasy football tight ends in the NFL. In point-per-reception leagues, Clay has at least eight points in every single outing during the 2013 NFL regular season.
For a position that has so few stars, that type of production is extremely valuable.
Thus far, Clay has at least four receptions in four of his five appearances and has caught three passes for 52 yards and a touchdown against the Baltimore Ravens during Week 5. It was his second consecutive game with a receiving touchdown after rushing for a score during Week 2.
Ryan Tannehill has proven to be a quarterback who favors his possession receivers—and Clay is one of those guys.
If you have a star tight end, then there isn't much of a reason to look Clay's way. With an owned percentage of 27.4, there are a number of leagues in which Clay is available.
Even if you don't start him right away, sign Clay and learn to trust him.
Julian Edelman, New England Patriots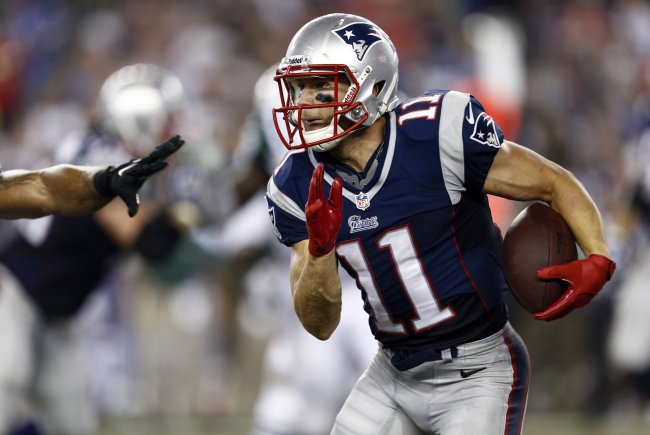 Mark L. Baer-USA TODAY Sports
Position: Wide Receiver
Owned: 64.7 percent
2013 Season Statistics
5 GP; 36 REC, 354 YDS, 2 TD
During the New England Patriots' Week 5 loss to the Cincinnati Bengals, Tom Brady attempted 38 passes and threw for 197 yards. With this number in mind, it's foolish to view any Patriots receiver's fantasy value as determined by their success against Cincinnati's elite defense.
Who is the New England Patriots' most reliable wide receiver?
Who is the New England Patriots' most reliable wide receiver?
Danny Amendola

Aaron Dobson

Julian Edelman

Kenbrell Thompkins

Other. Hit the comments section and let us know!
Before you let another owner make this rewarding decision, scoop up Julian Edelman while his interest is low.
Through five games, Edelman has 36 receptions for 354 yards and two receiving touchdowns. He caught at least seven passes in each of his first four appearances before catching just two for 35 yards against the Bengals.
As poorly as he may have played against Cincinnati, Edelman did receive seven targets in the pouring rain.
Edelman does have relatively sure hands, and that makes him quite the valuable player to add in point-per-reception leagues. With or without Danny Amendola, Edelman knows how to work his way into spaces, and Brady seems to trust him.
With an owned percentage of 64.7, you better capitalize on the opportunity to sign him.
Matt Schaub, Houston Texans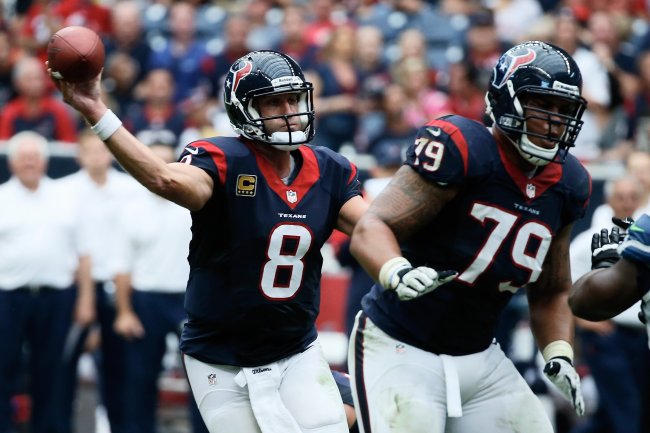 Scott Halleran/Getty Images
Position: Quarterback
Owned: 35.1 percent
2013 Season Statistics
85.7 RAT, 65.5 CMP%, 8 TD, 6 INT
Say what you will about Matt Schaub's quality of play during the 2013 NFL regular season, but he's tallied at least 18 fantasy football points in three of his first four games. During his heavily criticized performance against the Seattle Seahawks, Schaub had 355 yards, two touchdowns and two interceptions.
There's undeniable risk, but Schaub is a quarterback you want to have on your roster.
Schaub has thrown for at least 298 yards and two touchdowns in three of his first four outings. His interception totals are high, but entering Week 5, Schaub ranked No. 8 in passing yards and No. 4 in passing touchdowns.
With Owen Daniels, Arian Foster, DeAndre Hopkins, Andre Johnson and Ben Tate at his disposal, expect those numbers to continue to impress.
Fans may be against Schaub due to his inconsistencies, but his being owned in 35.1 percent of fantasy football leagues is absurd. He's a productive quarterback, who managed to pick up strong stat lines in his weak moments.
Keep in mind, this is fantasy football, not starting a franchise.
Pierre Thomas, New Orleans Saints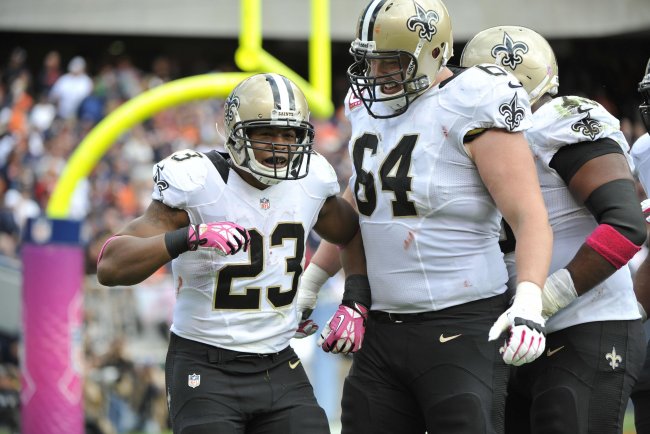 Rob Grabowski-USA TODAY Sports
Position: Running Back
Owned: 15.6 percent
2013 Season Statistics
5 GP; 48 ATT, 137 YDS, 0 TD; 28 REC, 166 YDS, 2 TD
When it comes to New Orleans Saints running backs, the only player who fantasy football owners pay attention to is Darren Sproles. Sproles is the top pass-catching running back in football and is trusted to post consistently strong stat lines.
Word of advice: Keep your eyes on Pierre Thomas.
Thomas, who caught 50 passes in 2011, has 28 receptions for 166 yards and two touchdowns through five games. He's caught more than four passes in each one of those outings, recording at least five in his past three.
He may not be running for many yards, but Thomas is a player worth having in point-per-reception leagues.
In PPR leagues, Thomas has registered at least seven points in every game he's played. Against the Chicago Bears, Thomas had 19 carries for 36 yards and nine catches for 55 yards and two touchdowns.
With an owned percentage of 15.6, it's rare that you'll be unable to sign the former Illinois star.