It may seem like the 2013 NFL season is still young, but now is the time for contenders to separate themselves from pretenders in fantasy football leagues across the world. It isn't yet time to panic if your team is struggling, but it's important to at least be in the hunt through the season's first six weeks.
Despite the fact that the sample size is fairly big to this point, there are plenty of players who are still difficult to get a read on. That makes crafting a winning fantasy lineup a tough endeavor. Fantasy owners will be faced with plenty of tough decisions this week, and making the right ones could lead to a turning point in the season.
Here is some advice regarding players you should start and sit at each skill position as the ever-important Week 6 approaches.
Quarterbacks
Start: Joe Flacco (BAL)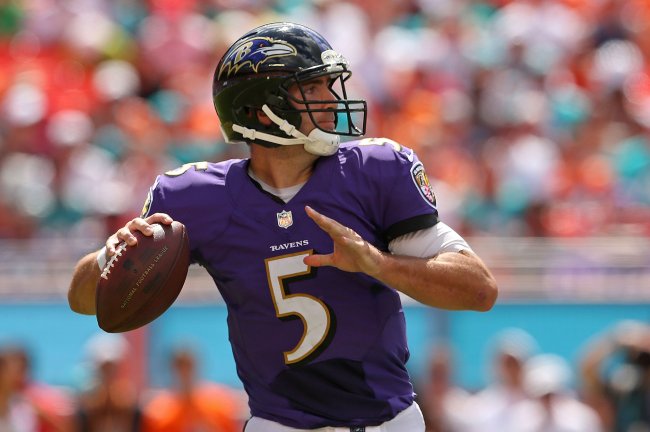 Mike Ehrmann/Getty Images
After an incredible playoff run last season that saw him lead the Ravens to a Super Bowl championship, Flacco hasn't been the same quarterback. Flacco wasn't exactly an elite regular-season passer last year either, but many believed that he had turned the corner. With just five touchdowns as opposed to eight interceptions, however, Flacco hasn't been a startable fantasy commodity.
Flacco does have two 300-yard efforts to his credit this season, though, and he could very well add another on Sunday against the Green Bay Packers. Green Bay is allowing 289 yards per game through the air, and it is tough against the run, so John Harbaugh may turn to Flacco more than Ray Rice on Sunday. Assuming this one turns into a shootout, Flacco should put up a nice statistical day.
Week 6 Projection: 310 passing yards, three touchdowns and two interceptions
Sit: Sam Bradford (STL)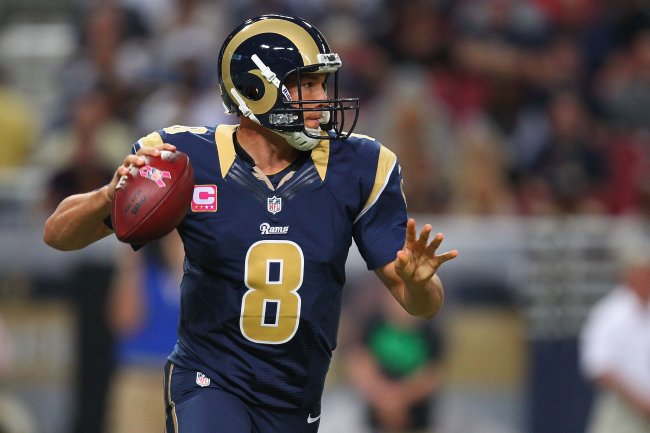 Dilip Vishwanat/Getty Images
Bradford's 2013 season started in grand fashion as he averaged well over 300 yards passing per game in St. Louis' first two contests, and he threw a total of five touchdowns in those games as well. Bradford has cooled off considerably since then. While he did throw for three scores against the Jacksonville Jaguars last week, that isn't exactly the accomplishment of a lifetime.
The Rams signal-caller has been a borderline play in deep leagues and two-quarterback formats this year, but he is not an advisable start this week. In addition to the fact that he has struggled to build a rapport with new targets like Tavon Austin and Jared Cook, he is facing a Houston Texans defense that surrenders a league-best 134 passing yards per game. Stay far away from Bradford.
Week 6 Projection: 168 passing yards, one touchdown and two interceptions
Running Backs
Start: Danny Woodhead (SD)
When the Chargers brought Woodhead into the fold this offseason, many observers liked the move due to the possibility of Woodhead reprising Darren Sproles' role in the offense. Mike McCoy's offense is much different than Norv Turner's, but Woodhead has been like Sproles-lite this year, and it has led to him becoming a fantasy factor. Add in the fact that Ryan Mathews still hasn't been cleared to play in Week 6 due to a concussion, according to Pro Football Talk via Michael Gehlken of the San Diego Union-Tribune, and Woodhead looks like a safe start on Monday night.
Chargers get Dunlap back from concussion, but Mathews isn't cleared yet http://t.co/FXAo6HjpNk

— ProFootballTalk (@ProFootballTalk) October 10, 2013
Even when Mathews has played, Woodhead has been McCoy's preferred option in the passing game and in the red zone. Woodhead has three touchdowns in the past two weeks and at least five catches in each of the past four games. Also, he is facing an Indianapolis Colts defense that is surrendering 129 yards per game on the ground, so Woodhead should be in for a big day.
Week 6 Projection: 64 rushing yards, six receptions for 54 yards and one touchdown
Sit: C.J. Spiller (BUF)
Spiller was viewed as a potential top-five fantasy selection entering the 2013 season due to Bills offensive coordinator Nathaniel Hackett's vow to give him the ball "until he throws up." Due to the strong play of Fred Jackson as well as injuries, though, that hasn't been the case. The issues figure to continue in Week 6 as Spiller is questionable to play against the Cincinnati Bengals, according to Joe Buscaglia of WGR 550.
Stephon Gilmore, CJ Spiller & Stevie Johnson are all questionable vs Cincinnati. Marrone said Gilmore & Johnson are both game-time decisions

— Joe Buscaglia (@JoeBuscaglia) October 11, 2013
Even if Spiller does play, his potential is certainly capped. Jackson will continue to vulture carries as long as he is healthy and playing well, and Spiller would have to contend with a Cincinnati defense that is surrendering just under 96 rushing yards per game. The Bills like to run the ball, so they'll try to work Spiller in if he plays, but the payoff won't be significant.
Week 6 Projection: 47 rushing yards, two receptions for 15 yards
Wide Receivers
Start: Steve Smith (CAR)
Streeter Lecka/Getty Images
As Cam Newton's main target, Smith was expected to have a pretty big 2013 season. After all, Newton really came on down the stretch last year, and Smith was a big part of that. Newton's early-season struggles have returned, though, and Smith has been along for the bumpy ride. Through four games, he has just one touchdown and has yet to break 60 yards, so it's fair to say that his owners are starting to get a bit frustrated.
That is understandable, but don't jump ship quite yet. If Newton and Smith can't get the job done this week, then they may never be able to. The Panthers will face the Minnesota Vikings and a porous pass defense that has allowed 326 yards per game through the air. The Vikes lack a great cover corner who can contain opposing receivers, so Smith should be able to get open. As long as Newton finds him, Smith will have a big day.
Week 6 Projection: Six receptions for 119 yards and one touchdown
Sit: Larry Fitzgerald (ARI)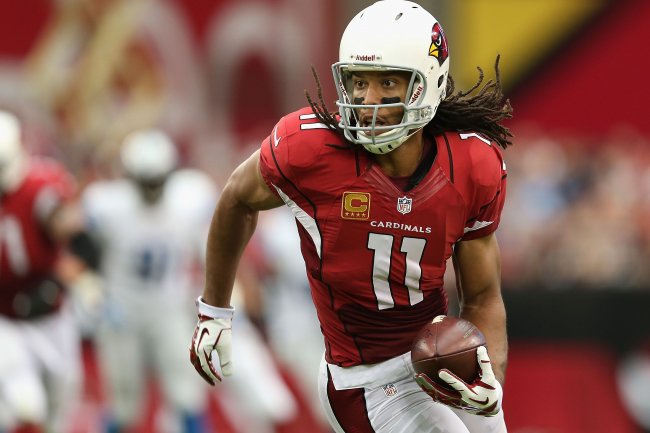 Christian Petersen/Getty Images
The addition of quarterback Carson Palmer was supposed to make Fitzgerald a viable fantasy commodity again, but Fitz's output this season hasn't been much better than last year when he was dealing with the likes of Kevin Kolb, John Skelton, Brian Hoyer and Ryan Lindley. Fitzgerald has just one touchdown since nabbing two in the season opener, and he hasn't cracked the 68-yard mark since that game either.
Fitzgerald is unquestionably Arizona's go-to guy, but Palmer has had more success throwing to Michael Floyd as of late with Fitzgerald receiving extra defensive attention. Fitzgerald had just seven catches for 65 yards against the San Francisco 49ers last season, and the Niners are allowing less than 189 passing yards per game this year. All of that adds up to a sub-par performance from Fitz.
Week 6 Projection: Four receptions for 36 yards
Tight Ends
Start: Jordan Reed (WAS)
Which player will have the best fantasy performance in Week 6?
Which player will have the best fantasy performance in Week 6?
Joe Flacco

Danny Woodhead

Steve Smith

Jordan Reed
Reed entered the season to little fanfare as a third-round rookie, but he has surpassed Fred Davis on the depth chart and developed into one of Robert Griffin III's favorite targets. Reed missed Washington's game against the Oakland Raiders in Week 4 due to injury, but the bye week afforded him some time to get healthy. All signs point to him being active and ready to go when Washington faces the Dallas Cowboys on Sunday night.
While Reed hasn't exactly torn the house down thus far, he had five receptions in two of his three contests, and he also has a touchdown to his credit. The Cowboys are allowing 326 passing yards per game, and there is little doubt that RG3 will be throwing early and often. Since Griffin has toned down his running, some of those short opportunities may go to Reed on dump-offs. Look for Reed to nickel and dime his way to a solid fantasy performance in Week 6.
Week 6 Projection: Six receptions for 62 yards and one touchdown
Sit: Heath Miller (PIT)
Miller defied the odds by returning from a torn ACL in time to play in Week 3. It didn't take him long to settle in either as he torched the Minnesota Vikings to the tune of six catches for 70 yards in Week 4. The fact that Miller had a bye week to recuperate following that Minnesota game should bode well for him health-wise, but it doesn't change the fact that he has an extremely difficult matchup on his hands in Week 6.
The Steelers will face the Jets, who are surrendering roughly 223 passing yards per game. Also, Pittsburgh may want to lean on the running game more heavily this week now that rookie running back Le'Veon Bell has gotten a chance to settle in. Miller is a trusted safety valve for quarterback Ben Roethlisberger; however, there won't be many big plays to be had.
Week 6 Projection: Three receptions for 31 yards
Follow @MikeChiari on Twitter