Week 6 is a vital point in the fantasy football season. In most leagues, you're sneaking up on the halfway point and it's starting to become pretty apparent who will finish the season as contenders and who will be battling to avoid last place.
One of the biggest saviors of any fantasy football hopeful is the waiver wire. Picking up that special player could be exactly what you need to push your lineup from decent to stellar.
Here are some sleepers worth your bidding on the waiver wire this week.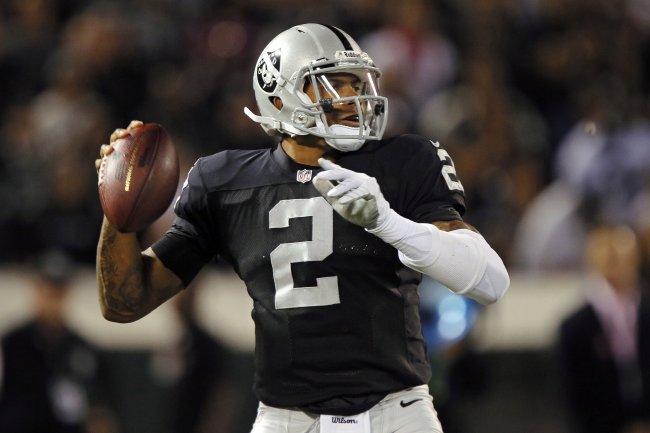 Brian Bahr/Getty Images
Pryor has been a happy surprise to fantasy owners everywhere.
Quarterback
Terrelle Pryor, Oakland Raiders
Pryor has played at a surprisingly high level this season. Out of the four games he's played in, he's thrown for less than 200 yards just once and has found the end zone four times through the air, which is a lot when you consider the Raiders offense.
Pryor will take on a stingy Kansas City defense in Week 6, but with his ability to extend the play combined with speedsters on the outside, Pryor has what it takes to put up decent numbers.
Pryor has put up at least 18 points on three occasions in ESPN leagues, which isn't great, but it's certainly not terrible. The former Buckeye is owned in just over 32 percent of ESPN fantasy leagues, but that number is up from last week's 24 percent. If you need a quarterback to fill in for a bye week or injury, head to the waiver wire and snag up Terrelle Pryor before it's too late.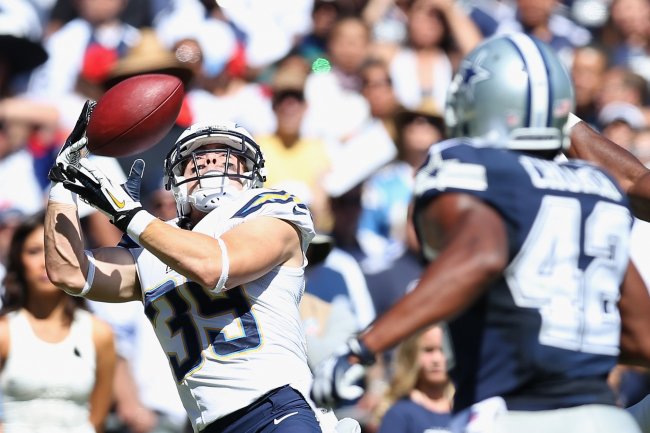 Jeff Gross/Getty Images
Danny Woodhead has made his presence felt on the San Diego offense.
Running Back
Danny Woodhead, San Diego Chargers
If you're lucky, it's not too late to snag Woodhead off waivers in your league. Woodhead is owned in over 70 percent of ESPN fantasy football leagues, but that figure has increased by almost 50 percent since last week.
With Charger injuries, the dynamic back has found his niche on the team, catching the rock out of the backfield with a ton of success in the last couple weeks. He's had over 50 yards receiving in each of his last three games and has scored three touchdowns in his last two contests.
Woodhead has had double-digit points in his last two games, including a 21-point performance against Dallas two weeks ago.
This week the Chargers will take on Indianapolis, a pretty solid defense, but Woodhead doesn't get yards from routes or handoffs; he gets yards as the dump-off or safety-valve option for Rivers, so his performance shouldn't be any different than what we've seen in the last couple weeks.
Wide Receiver
Justin Blackmon, Jacksonville Jaguars
Blackmon is owned in just 20 percent of ESPN fantasy leagues, which can most likely be attributed to the first four games of the season he missed due to suspension. Blackmon made his season debut in Week 5 against St. Louis, and what a debut it was.
A shaky situation at quarterback is a concerning factor in picking up Blackmon, but the freak athlete managed to rack up over 130 yards receiving on five catches and even added a touchdown in his first game of the season.
It might be scary that Jacksonville is so bad and is struggling at QB, but it looks like Blackmon is the Jaguars' only viable offensive weapon and that he's capable of getting the job done regardless of who's under center.
Go get him, even if it just means taking him before someone else can.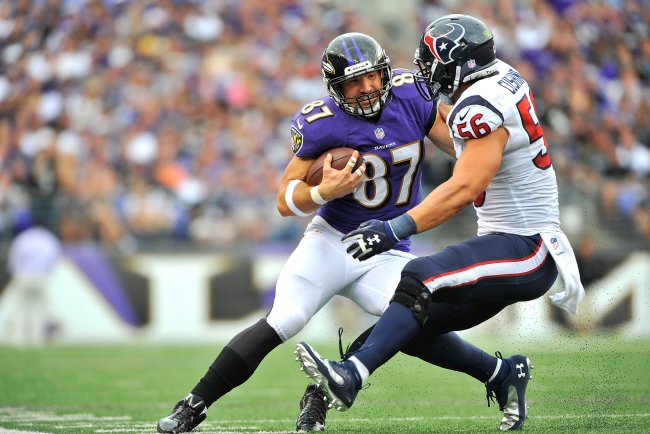 Larry French/Getty Images
Dallas Clark has had some drops, but he's one of Baltimore's few receiving options.
Tight End
Dallas Clark, Baltimore Ravens
You've probably missed your chance to pick up Jordan Cameron, but if you really need a tight end, and I mean REALLY need a tight end, hustle over to the waiver wire and scoop up Dallas Clark.
Joe Flacco and the Ravens aren't exactly the same team that we saw win the Super Bowl last year. Not even close. Losing Anquan Boldin to the 49ers and Jacoby Jones, Dennis Pitta and Marlon Brown to injury have really killed Baltimore's hope for a passing game.
With all of those guys missing, it really only leaves Torrey Smith and Dallas Clark as the main receiving options. While the speedster Smith has to be gone in your league, Clark is probably available, as he's owned in just over six percent of ESPN leagues.
He didn't put anything up against Miami in Week 5, but he has had a few four-point games and an eight-point game to start the season, which can be a big difference-maker at the tight end spot. His stats might not look great, but he's second on the Ravens in receptions, targets and receiving yards this season, so he gets looks.
His output may not look like much, but as the season goes on, this veteran will get more comfortable with Joe Flacco as one of Flacco's only options in the passing game.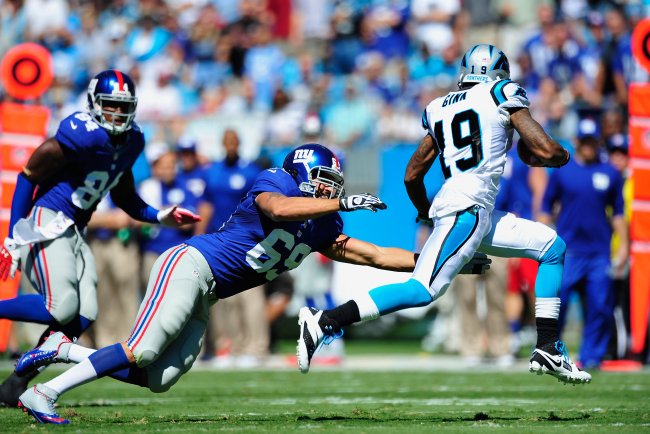 Grant Halverson/Getty Images
Tedd Ginn's speed makes him a great flex man on any fantasy roster.
Flex
Ted Ginn, Carolina Panthers
Ginn had just one catch for 10 yards in Carolina's opener, but he followed up with 60 yards in Week 2 and 70 in Week 3, with a touchdown in each. After the Week 4 bye, Ginn was able to put up 70 yards again but was unable to reach pay dirt in Week 5.
Even with just two receiving touchdowns and 13 total targets this season, Ginn has the ability to blow a game wide open. He's one of the fastest guys in the NFL and can turn just a few receptions into a ton of yards, which can be pretty significant at the flex position, especially in deep leagues.
If your league counts return yards, Ginn could easily be one of your biggest scorers for the week.
If you need an easy six or seven extra points and need a wideout or flex, take a look at Tedd Ginn as the Panthers prepare for battle with Minnesota, a team that isn't exactly stellar defensively, as the Vikings allow over 325 yards per game through the air.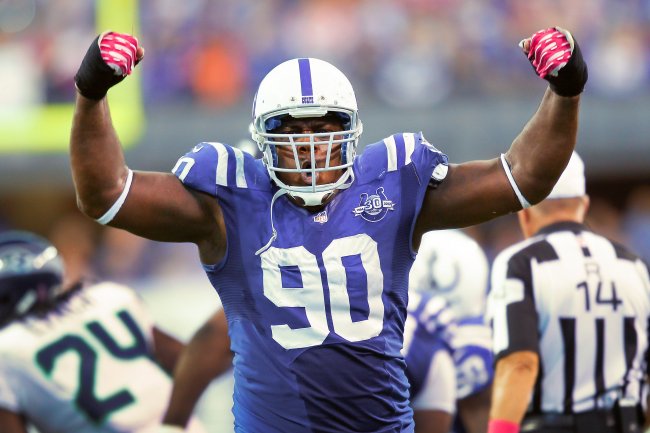 Michael Hickey/Getty Images
The Indy defense creates a lot of turnovers but gives up a few points.
Defense
Indianapolis Colts
The Colts D has given up some points, especially last week against Seattle, but even when the unit gives up touchdowns, it evens it out with a defensive score of its own. The Colts D has scored in the team's last two games, picked off at least one pass in every game but one (multiple picks in two of its games) and has recovered fumbles in two of its games.
The Indy defense isn't great against the run, third-worst in the league to be exact, allowing over 129 yards on the ground per game, but the Colts make up for it in their pass defense. They are sixth in the NFL in opposing passing yards, allowing just over 200 yards per game.
Now I'm not saying the Colts are a great defense. They certainly don't warrant a high draft pick, but if your main defense is on a bye or even just not playing very well, the Colts deserve a look as they take on a banged-up Chargers offense led by Philip Rivers, who has thrown five interceptions through five games.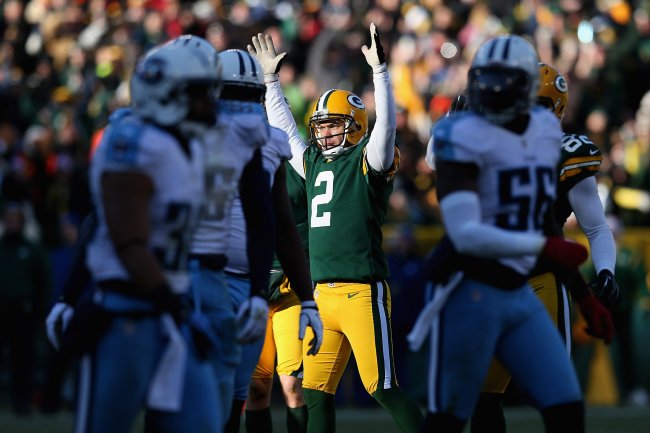 Jonathan Daniel/Getty Images
If you need a kicker, go find Mason Crosby on your league's waiver wire.
Kicker
Mason Crosby, Green Bay Packers
If you would've asked me about picking up Mason Crosby as your fantasy kicker last year, I would've chuckled and possibly even let out a hearty laugh. This year is a totally different story.
Crosby is owned in less than 10 percent of ESPN fantasy leagues and has increased his point total every week, starting the season with just a few points against the 49ers and having a huge day against the Lions in Week 5.
Crosby is knocking down his kicks, but even better yet, for Crosby at least, the Packers can't get into the end zone. Their high-powered offense is still looking solid, but once it gets down around the 20- or 30-yard line, it stalls out. Against the Lions, the Packers failed to find the end zone and had to settle for field goals five times, giving Crosby a cheesehead load of points for his very few fantasy owners.
He hasn't missed a kick yet this year, which is refreshing for Packer fans and fantasy football owners everywhere, and he's knocking down long kicks, which is huge for owners in leagues that award bonus points for field-goal distance.
The Packers get a lot of long drives and get into scoring position a ton, which usually ends in a touchdown pass or a field goal, and that benefits Crosby either way.
Check Crosby out as the Packers take on the Ravens in Week 6 if you aren't sold yet, but you better hurry. A few more performances like Week 5, and he'll be swiped up by kicker-less owners everywhere.