Picking the right sleepers to start in Week 6 will ensure victory for fantasy football owners.
Most people who started Alshon Jeffery last weekend will tell you his breakout game against the Detroit Lions sparked a big win, and there are a few sleepers in Week 6 ready to do the same.
Everyone knows Peyton Manning will shred the Jacksonville Jaguars at home, and it's a no-brainer to start Arian Foster against the pathetic run defense of the St. Louis Rams.
Owners who can prognosticate breakout sleepers will have extra ammunition to win their games. With that in mind, here are a few players you should consider this weekend.
Garrett Graham, TE, Houston Texans
The Texans received some difficult news when tight end Owen Daniels went down with a fractured fibula, as ESPN's Tania Ganguli reported, and he's expected to be out for between four and six weeks:
Owen Daniels' injury is a non-displaced fibula fracture. That is likely to keep him out 4-6 weeks. Tough blow for #Texans.

— Tania Ganguli (@taniaganguli) October 8, 2013
From a fantasy perspective, this puts Garrett Graham on the radar as a potential fantasy star for the next month or so. Even before Daniels was injured, Graham was a vital part of the team's red-zone attack, scoring three touchdowns.
Opposing teams have figured out that the best way to get Schaub off his game is to bring pressure, which means he has to get rid of the ball quickly—more often than not, in the middle of the field.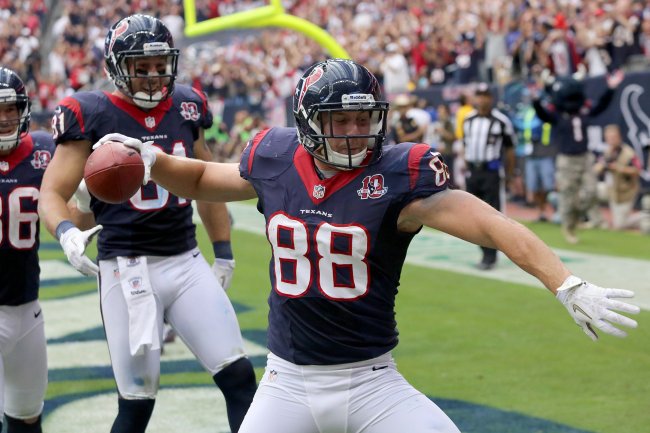 Thomas B. Shea/Getty Images
Graham will now take over for Daniels as Schaub's security blanket in these situations. Daniels was targeted 40 times in the team's first five games, and now Graham will be receiving those opportunities instead.
The Rams come to town to play the Texans in Week 6. This team has been effective against tight ends this year, allowing just 5.6 points per game. However, Arian Foster and Ben Tate will be pounding the rock effectively between the tackles, setting up play-action passes in the middle of the field for Graham.
Projected Stats: Seven catches for 90 yards and one touchdown.
Leonard Hankerson, WR, Washington Redskins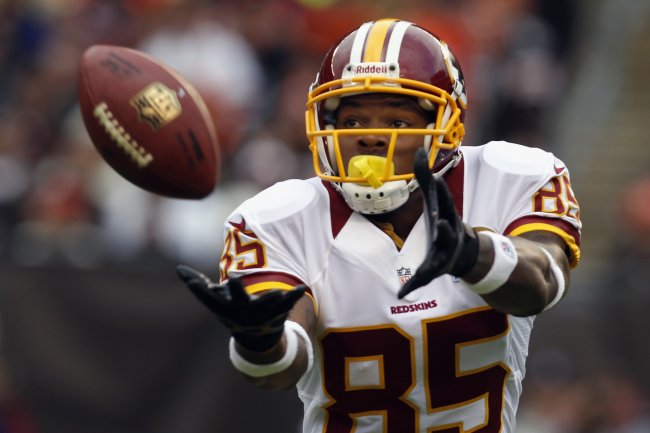 Matt Sullivan/Getty Images
The Redskins haven't done much right to open the season, but one thing this team has been able to do is gain yards in the passing game. Due to the way this team has fallen behind in every game it has been involved in this year, Robert Griffin III has had ample opportunities to make plays through the air.
Washington's upcoming game against the Dallas Cowboys on Sunday Night Football should be an offensive shootout, with both team's struggling to defend the pass this year.
[embedded content]
Dallas has allowed 815 yards and seven touchdowns to Philip Rivers and Peyton Manning in the past two games, and RG3 will certainly have a big game this weekend.
Mike Jones of the Washington Post reported the coaches have seen vast improvement in Hankerson's game of late, and he's become the team's No. 2 receiver.
He's been a bit quiet since opening up the season with two touchdowns against the Philadelphia Eagles, but Hankerson is ready to break out this Sunday night in Dallas.
Projected Stats: Six catches for 115 yards and one touchdown.
Vincent Brown, WR, San Diego Chargers
The defensive secondary of the Chargers covers receivers about as well as see-through lingerie, and as such, Philip Rivers and his offense has been in come-from-behind mode all season long.
The Indianapolis Colts will have no trouble scoring points against San Diego on Monday Night Football, and Rivers will be heaving the ball downfield with regularity in the second half, just like he's done in every game this year.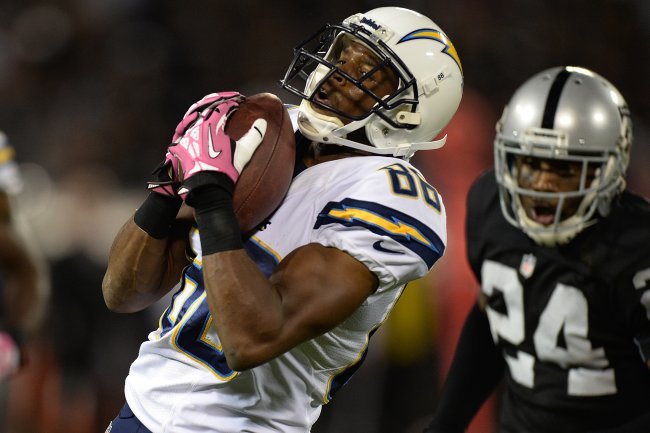 Thearon W. Henderson/Getty Images
Since Malcom Floyd went down with an injury a few weeks ago, Brown has been called into duty and has responded with 15 receptions for 158 yards in the past two games. He has been targeted 18 times during the same stretch.
He and rookie Keenan Allen are the team's primary perimeter receivers now, and both of them will see plenty of targets this weekend.
Projected Stats: Eight catches for 100 yards and one touchdown.
Follow me on Twitter @JesseReed78