Bye weeks are the worst.
You draft a fantasy football team around a restricted core of guys expected to carry you to the promised land. Then your babies get snatched away from you for one miserable Sunday, forcing you to become resourceful and plug someone else in the spot.
This week is not too bad, as only the Atlanta Falcons and Miami Dolphins will take Sunday off to heal their wounds. Neither team is laden with fantasy superstars, especially with Julio Jones joining Steven Jackson on the sideline while Roddy White continues to hobble around the field.
But what about owners relying on Matt Ryan and/or Tony Gonzalez? And who will fill your second running back or flex spot in Lamar Miller's absence?
Here are some players to consider when filling your roster holes for Week 6.
QB Joe Flacco (vs. Green Bay Packers)
Let's just call him Joe Flacco.
Filed fresh from the Duh Department, winning a Super Bowl does not turn every ensuing pass into magic fairy dust and warrant that dirty E word we're so desperate to brandish on every quarterback who plays for a winning team.
Will Joe Flacco finish the season as a top-15 fantasy QB?
Will Joe Flacco finish the season as a top-15 fantasy QB?
Yes, it's just an early slump.

No, he has never been consistent.
If you're the poor sap who fell for Flacco's phenomenal four-game stretch that propelled the Baltimore Ravens to glory, sorry, but you should know better. Flacco has never orchestrated a 4,000-yard season or tossed more than 25 touchdowns. He's simply not fantasy elite, nevertheless a regular fantasy starter.
So maybe someone dropped him after presenting the Buffalo Bills with five interceptions. If that didn't do the trick, failing to offer a single touchdown last week against the Miami Dolphins might have pushed impatient owners off the cliff.
But we have seen Flacco at his finest, and this week presents him with an alluring opportunity to right his statistical ship.
The Packers have allowed 289 passing yards per game on 8.4 yards per attempt, and losing Clay Matthews won't help the defense out. Flacco has not endured the most user-friendly schedule after posting 362 yards on the Denver Broncos during Week 1, so give him another chance if you need to replace Ryan this Sunday.
RB Ronnie Hillman (vs. Jacksonville Jaguars)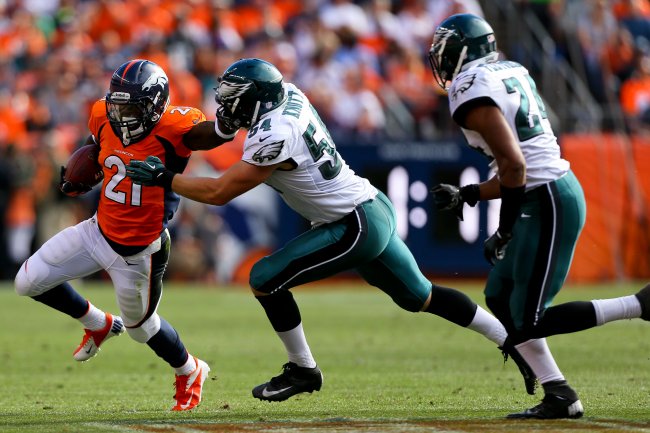 Justin Edmonds/Getty Images
Rarely do we look to running backs for garbage-time points, but Ronnie Hillman presents a rare case where that strategy actually makes sense.
Should Ronnie Hillman roll with rock, paper or scissors to get the next goal-line look for the Denver Broncos?
Should Ronnie Hillman roll with rock, paper or scissors to get the next goal-line look for the Denver Broncos?
When Denver faced the Oakland Raiders, John Fox used the opportunity to work Ronnie Hillman and Montee Ball into the fold. Hillman produced 66 yards on nine carries, riding his rock-paper-scissors prowess to his only score of the season.
Against the Jacksonville Jaguars, who have scored the same amount of points throughout the entire season (51) as the Broncos did during their closest win of the year, Hillman and Ball should receive some more late looks with the game firmly in hand.
Hillman has averaged 4.3 yards per carry this season while catching six passes in the last two games. Jacksonville yields 160.6 yards per game on 4.9 yards per carry, so Knowshon Moreno's owners don't have to be the only Denver running back owners leaving this game happy.
The gambit is better suited for gamers in deeper leagues in need of a flex play, but Hillman could potentially sway some matchups this Sunday.
TE Garrett Graham (vs. St. Louis Rams)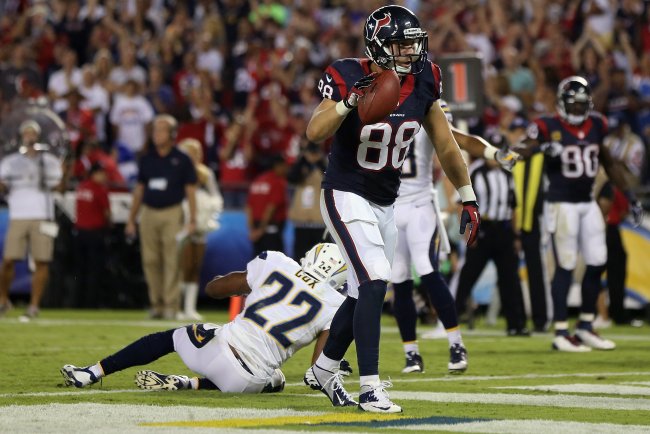 Jeff Gross/Getty Images
Chances are some Gonzalez owners weren't even rostering another tight end before his early bye. It doesn't help that one of the best guys available, Charles Clay, will also sit this Sunday out.
That's not including Owen Daniels owners who need a Plan B now that the veteran has been placed on the short-term injured reserve with a fractured fibula (via ESPN's Adam Schefter and Tania Ganguli).
Somebody also needs to fill Daniels' shoes in Houston after catching 24 passes through five games for the Texans. There's an answer to all of these problems: Garrett Graham.
Even with Daniels around, Graham has reeled in 15 catches for 141 yards and three scores, which shows how much Houston's no-frills offense relies on its tight ends. Out of Matt Schaub's 212 passing attempts, 61 (28.8 percent) have went to Daniels or Graham.
Schaub has already taken a liking to the 6'3″, 243-pound target in the end zone, so expect Graham to become a low-end No. 1/high-end No. 2 option going forward. He's worth a spin this week against a St. Louis defense that will struggle to prevent Houston from approaching the red zone on the ground.