It's quite clear who is the top quarterback for fantasy football in Week 6, but where do the rest of the NFL's quarterbacks stand in this week's rankings?
Peyton Manning is the clear front-runner this week; there's no denying that. Not only does he have 21 total touchdowns through five games, but he's also going against the Jacksonville Jaguars. According to CBSSports.com, the Jaguars are the biggest underdogs in NFL history, with Denver favored by 28 points.
The Jaguars are now the biggest underdogs in NFL history. Denver is favored by 28 points! http://t.co/V7uK5Yu1Ig

— CBSSports.com (@CBSSports) October 7, 2013
The rest of the week provides some more interesting matchups, which makes the rest of the quarterback rankings a bit tougher. Let's take a look at the Week 6 QB rankings, followed by a breakdown of some of the more intriguing guys to watch for.
Note: All information regarding points scored based off of ESPN's standard scoring leagues.
Week 6 Fantasy QB Rankings

| | | | |
| --- | --- | --- | --- |
| Rank | Player | Team | Opponent |
| 1. | Peyton Manning | DEN | JAC |
| 2. | Tony Romo | DAL | WSH |
| 3. | Drew Brees | NO | @NE |
| 4. | Andrew Luck | IND | @SD |
| 5. | Aaron Rodgers | GB | @BAL |
| 6. | Robert Griffin III | WSH | @DAL |
| 7. | Matthew Stafford | DET | @CLE |
| 8. | Philip Rivers | SD | IND |
| 9. | Tom Brady | NE | NO |
| 10. | Jay Cutler | CHI | NYG |
| 11. | Russell Wilson | SEA | TEN |
| 12. | Cam Newton | CAR | @MIN |
| 13. | Terrelle Pryor | OAK | @KC |
| 14. | Alex Smith | KC | OAK |
| 15. | Colin Kaepernick | SF | ARI |
| 16. | Eli Manning | NYG | @CHI |
| 17. | Nick Foles/Michael Vick | PHI | @TB |
| 18. | Joe Flacco | BAL | GB |
| 19. | Andy Dalton | CIN | @BUF |
| 20. | Ben Roethlisberger | PIT | @NYJ |
| 21. | Matt Schaub | HOU | STL |
| 22. | Sam Bradford | STL | @HOU |
| 23. | Geno Smith | NYJ | PIT |
| 24. | Brandon Weeden | CLE | DET |
| 25. | Mike Glennon | TB | PHI |
Rankings by Tyler Brooke
Note: Since it's unclear who will start for the Eagles at this point, both Nick Foles and Michael Vick are given the same ranking this week.
Tony Romo, Dallas Cowboys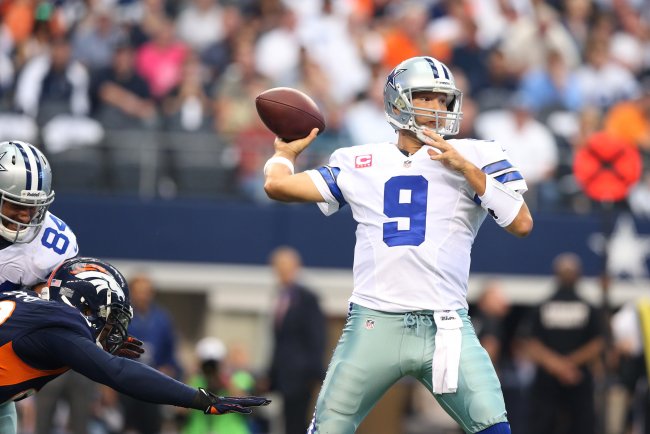 Matthew Emmons-USA TODAY Sports
Fortunately for fantasy owners, it doesn't matter if a starting quarterback struggles in the fourth quarter, as long as he puts up big numbers for the rest of the game.
How many touchdowns will Romo throw this week?
How many touchdowns will Romo throw this week?
Despite throwing an interception that led to the Cowboys' loss, Tony Romo had a huge game against the Denver Broncos last week. He threw for 506 yards and five touchdowns, putting up an incredible 40 fantasy points. For the 2013 season, Romo is the third-highest-scoring fantasy QB, behind only Peyton Manning and Drew Brees.
This week, Romo has another ideal matchup. The Cowboys will be taking on the Washington Redskins on Sunday Night Football, and that means that Romo has a chance to put up some big numbers once again.
While the offense for the Redskins keeps getting better, their defense is still one of the worst in the league. It ranks last in the NFL, allowing 440.5 total yards of offense per game, with 298.3 of those yards coming through the air. It also allows 28 points per game, which is tied for 26th.
Even though they're 2-3, the Cowboys are still tied for first in the NFC East. This is a key game for the Cowboys, and you can bet that Romo is going to step up against this struggling defense and put up a few touchdowns and a bunch of yards.
Tom Brady, New England Patriots
Tom Brady's streak of 52 consecutive games with a passing touchdown was finally snapped last week in the 13-6 loss to the Cincinnati Bengals; however, you can bet that he starts another touchdown streak this week against the New Orleans Saints.
The field conditions were not ideal last week for Brady. It was pouring down rain the entire game, and he put up just five fantasy points, throwing for 197 yards and an interception. This week, the conditions should be a lot better.
The Patriots finally got Danny Amendola back last week, and now they might get Rob Gronkowski back this week. According to Field Yates from ESPN, the team is optimistic that Gronk will come be ready to play against the Saints.
The Patriots are optimistic TE Rob Gronkowski will be cleared to make season debut on Sunday, @Edwerderespn reports. http://t.co/mZ677FAnKs

— Field Yates (@FieldYates) October 8, 2013
Still, the Saints aren't pushovers on defense like they were last season. They're allowing just 221.8 yards per game through the air, and they've held opponents to less than 20 points in every single game.
With Brady likely getting his two big weapons back, we should see a big day from him. Kenbrell Thompkins has also emerged as a legitimate threat on offense, so with how many options Brady has this week, he should be able to find some holes in the Saints offense and have a respectable game.
Alex Smith, Kansas City Chiefs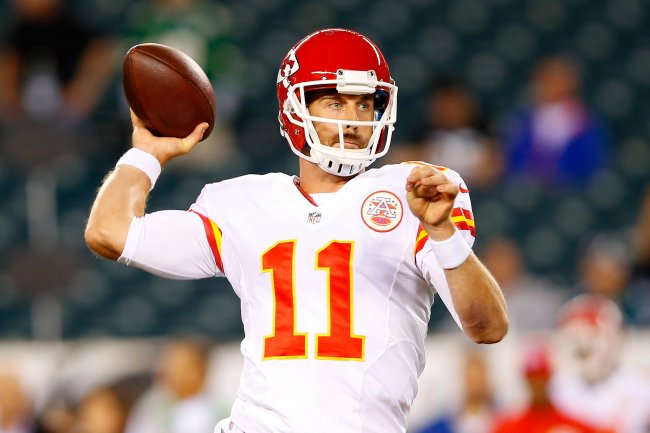 Rich Schultz/Getty Images
Strangely enough, Alex Smith had just his first game this season with fewer than 10 fantasy points last week against the Tennessee Titans. He finished with 245 passing yards, but no touchdowns and an interception.
Despite the tough game, Smith is emerging as a legitimate QB1 option, especially in deeper leagues. He's had two games with at least 20 points, which came against the Cowboys in Week 2 and the New York Giants in Week 4.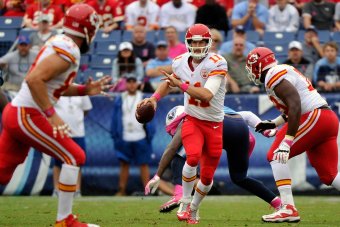 Frederick Breedon/Getty Images
Also, don't forget that Smith can put up points with his legs. He's already run for a career-high 161 yards this season, averaging 4.9 yards per carry. He hasn't run for a touchdown yet, but with his mobility, that's a possibility each and every week.
This week, the Chiefs will be taking on the Oakland Raiders. The Raiders offense has been surprisingly good with Terrelle Pryor at quarterback, but the defense hasn't been nearly as impressive.
The Raiders defense ranks 21st in the league with 268.2 passing yards allowed per game. Over the past three games, it has allowed over 1,000 yards passing and six touchdowns through the air.
This is another great opportunity for Smith to put up some nice fantasy numbers. The Chiefs offense isn't super flashy, but it's efficient. With weapons like Dwayne Bowe and Donnie Avery stepping up this season, look for Smith to have another big game for fantasy owners, further proving that he's a nice starting QB in a lot of leagues.