Week 6 of fantasy football is on the horizon and the classic question remains—which running backs will put up the best numbers?
As always, running backs are the key to any fantasy football matchup, and Week 6 offers plenty of valuable showdowns to exploit for owners lucky enough to have some of the top backs on their rosters.
Below are three of the best matchups on the slate in Week 6. It's no secret these guys are the best of the best, but things are going to get brutal for the iffy defenses they encounter.
Matt Forte vs. New York Giants
Week 5 Running Back Rankings

| | | | |
| --- | --- | --- | --- |
| 1 | Arian Foster | Houston Texans | St. Louis Rams |
| 2 | Matt Forte | Chicago Bears | New York Giants |
| 3 | Jamaal Charles | Kansas City Chiefs | Oakland Raiders |
| 4 | Doug Martin | Tampa Bay Buccaneers | Philadelphia Eagles |
| 5 | Trent Richardson | Indianapolis Colts | San Diego Chargers |
| 6 | LeSean McCoy | Philadelphia Eagles | Tampa Bay Buccaneers |
| 7 | Reggie Bush | Detroit Lions | Cleveland Browns |
| 8 | Marshawn Lynch | Seattle Seahawks | Tennessee Titans |
| 9 | Adrian Peterson | Minnesota Vikings | Carolina Panthers |
| 10 | Ray Rice | Baltimore Ravens | Green Bay Packers |
Chris Roling's Rankings
Chicago Bears star back Matt Forte was bottled up against the New Orleans Saints in Week 5, but still managed to tally 95 total yards in the loss.
Forte notched 55 of those on the ground, which gave him a quality 4.6 yards per carry against one of the league's better defenses.
While Forte has yet to record a 100-yard day strictly on the ground, he has surpassed 100 total yards twice and has an amazing matchup in Week 6 against a New York Giants team that ranks No. 28 against the run, as it gives up 122.5 yards on the ground.
On Thursday Night Football, a lot of things will go right for Chicago, but it will be Forte who will shine the brightest on prime time.
Arian Foster vs. St. Louis Rams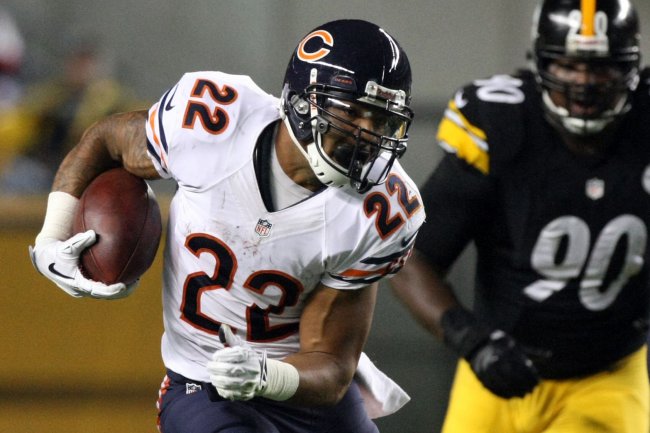 Jason Bridge-USA TODAY Sports
Arian Foster remains one of the NFL's best fantasy backs despite his situation, where he is stuck in a bit of a committee with Ben Tate.
Last week, on Sunday Night Football, Foster had another solid outing with 21 carries for 98 yards. On the year he has gone for over 100 yards on the ground once, but is clearly getting back into the swing of things after missing most of the offseason.
Foster has also proved he can take a multi-faceted approach to his fantasy production, with 128 receiving yards this year.
Against a horrific St. Louis defense that ranks 30th against the run, Foster is in for a season-best day thanks to the perfect blend of just hitting his stride and facing a horrible defense.
Doug Martin vs. Philadelphia Eagles
Arian Foster running hard #SNF pic.twitter.com/2pKonpahqL

— SNF on NBC (@SNFonNBC) October 7, 2013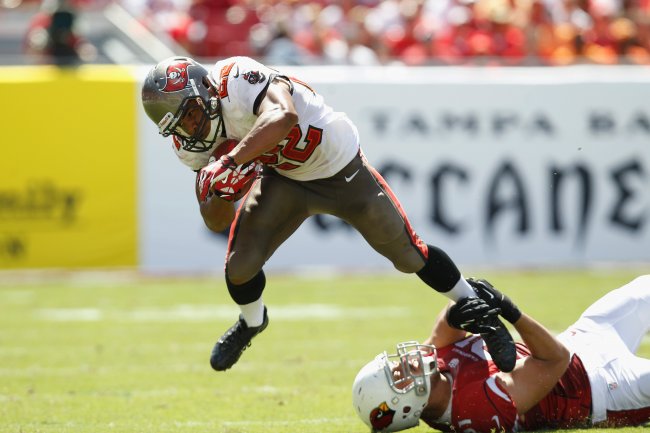 Scott Iskowitz/Getty Images
Doug Martin is well-rested coming off a bye week, but fantasy owners have surely not forgotten his horrific 45 yards and 1.7 average against Arizona two weeks ago.
For owners smart enough to have weathered the storm, it is smooth sailing from here on out for Martin.
Week 6 sees him take on a Philadelphia defense that ranks No. 27 against the run. Martin has had just one 100-yard day this year, and has found the endz one once, but expect all of that to change in a hurry against a horrific defense,
Don't miss out.
Follow B/R's Chris Roling on Twitter for more news and analysis @Chris_Roling