As injuries around the NFL pile up entering Week 6, fantasy owners find themselves scrambling to find productive replacements on the waiver wire.
Unless you're in a weak league, however, it's not easy to find players you can count on to score points on a weekly basis.
That doesn't mean they aren't out there, though.
Here's a look at a few players who aren't being touted as sure-fire starters but who will prove valuable in the weeks to come.
Zac Stacy, RB, St. Louis Rams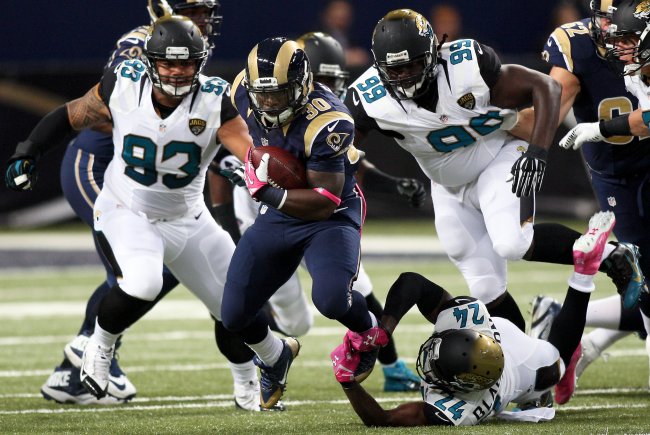 Scott Kane-USA TODAY Sports
When the season began, there were questions about whether or not the Rams would get production from their running backs following the departure of Steven Jackson.
Through four games, it was clear Daryl Richardson wasn't the answer. He couldn't stay healthy. Even when given a chance, he struggled to get the job done, averaging 2.7 yards per carry and failing to get into the end zone.
Rookie Zac Stacy got the nod in Week 5, and he played extremely well before getting pulled late in the game with a rib injury. He rushed for 78 yards on 14 carries, averaging 5.6 yards per carry and showing better vision and burst than Richardson, who averaged just 3.7 yards per carry in the game.
Afterwards, Stacy assured reporters that he was fine and that he simply had the wind knocked out of him, as noted by ESPN's Nick Wagoner:
Rams RB Zac Stacy told me after game he feels fine. Said wind got knocked out of him. He says he'll be OK moving forward.

— Nick Wagoner (@nwagoner) October 6, 2013
Going forward, the Rams will continue getting the rookie involved, and there's a good chance he will become the undisputed starter.
Terrance Williams, WR, Dallas Cowboys
Rookie receiver Terrance Williams is starting to get into a groove with Tony Romo.
After sitting out the team's Week 3 contest against the Rams, Williams made his presence known in Week 4, catching seven balls for 71 yards against the San Diego Chargers.
He followed that up with a monster game against the Denver Broncos on Sunday, catching four passes for 151 yards and a touchdown.
He's proven his worth while filling in for an injured Miles Austin, and after the past two weeks, Dallas will have no choice but to make him a permanent part of its plans on offense heading into the second half of the season.
Justin Blackmon, WR, Jacksonville Jaguars
Blackmon flew under the radar for his return to action in Week 5 following a four-game suspension. Shockingly, heading into Week 5, he was still available in 80 percent of ESPN.com fantasy leagues, but he won't last long on the waiver wire heading into Week 6.
Yes, the Jaguars are pitiful in almost every single way, but Blackmon is a big-play receiver who made a big statement against the Rams on Sunday.
He caught five passes for 136 yards and a touchdown and was targeted nine times. Going back to the last four games of the 2012 season, Blackmon is averaging six catches for 88.8 yards a game, and he's scored three touchdowns in those five games.
Barring an injury, he'll be the top receiver for the Jaguars the rest of the season. No matter who's lining up behind center, Blackmon will be a productive receiver for your fantasy team.
Follow me on Twitter @JesseReed78