Sunday morning has arrived and your fantasy football lineup is nowhere closer to reaching its completion.
There are many procrastinators among us who have not yet tied down their selections for Week 5 of the NFL season. With a healthy chunk of Sunday's slate commencing at 1 p.m. ET, time is running low.
Of course, holding back until the very end to submit a lineup is not always a function of laziness. Owners are still surveying the landscape for pertinent news to help them obtain a victory.
Here are some vital updates on key fantasy players in order to help you set a winning lineup for Week 5.
RB Rashad Jennings (vs. San Diego Chargers)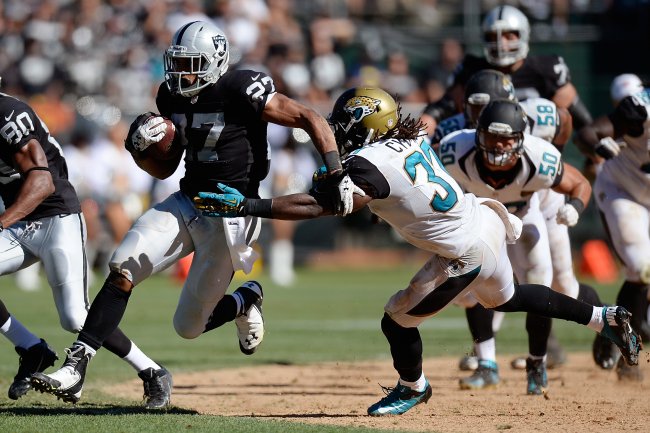 Thearon W. Henderson/Getty Images
Darren McFadden is hurt? Wow, what a truly stunning development.
The oft-injured back, who has yet to log more than 13 games in a season during his career, will likely miss his first Sunday this year. According to CSN Bay Area's Scott Bair, McFadden is listed as doubtful after injuring his hamstring last week against the Washington Redskins.
He knows a thing or two about injuries, so McFadden is wise enough to play it safe. Here's what he told Bair:
"Hamstrings are one of those things you want to be careful with," McFadden said on Friday. "I'd rather miss one or two games than to come back and pop it and miss four or five."
Is Rashad Jennings worth starting with Darren McFadden doubtful to play?
Is Rashad Jennings worth starting with Darren McFadden doubtful to play?
Marcel Reece is dealing with knee ailments of his own, which means Rashad Jennings should receive regular rushes against the Chargers, who have allowed 120.5 rushing yards per game on 5.2 yards per carry.
Some bitter owners may remember Jennings as the man who unsuccessfully replaced Maurice Jones-Drew last season. Instead of seizing the increased playing time, he shrunk under the spotlight with 2.8 yards per carry. But he's a starting running back who compiled 116 total yards (45 rushing, 71 receiving) last week, so managers must pay attention.
This game will start at 11:35 p.m. ET due to stadium scheduling conflicts with the Oakland Athletics, so owners have a little more time to make the call here. Although the Chargers are one of five teams yet to allow a back to reach the end zone, they have also allowed the most yards of any AFC squad, so Jennings should pile up enough yardage to become a worthwhile flex play.
Verdict: Start
WR Danny Amendola/TE Rob Gronkowski (at Cincinnati Bengals)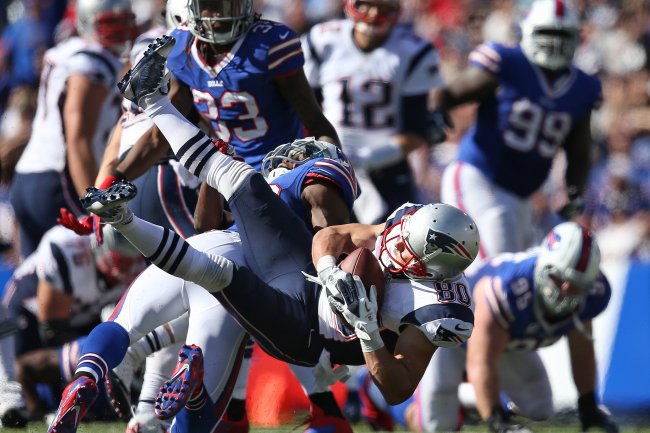 Tom Szczerbowski/Getty Images
Another week, another seven days to excessively check the injury updates in hopes of good news on Tom Brady's favorite targets.
Danny Amendola caught 10 passes for 104 yards in his Week 1 debut with the New England Patriots, only to promptly take a seat on the sideline with an injured groin. Rob Gronkowski has yet to suit up this season after weeks of playing the questionable game with his status.
Well, owners can cross out Gronkowski and sit him on the bench once again, but not so fast on Amendola. The Boston Herald's Jeff Howe is reporting that the wide receiver will line up for New England today.
Sources: Rob Gronkowski not traveling to Cincinnati, Danny Amendola will play http://t.co/QwzsGdB9lp

— Jeff Howe (@jeffphowe) October 5, 2013
But does his availability make him an automatic start? He's stewed for three weeks while Brady built a rapport with Julian Edelman and Kenbrell Thompkins, so there's a chance Amendola might not break out against a challenging Cincinnati defense.
Then again, we saw what he could do in his one go-around with Brady. Amendola automatically became the top target to start the season, and it's never been a matter of ability for the receiver who struggles to stay on the field.
This call depends on your situation. Some owners might have a safer alternative worth using instead, but most managers, especially those in points-per-reception leagues, will want to toss Amendola back into the fold.
Verdict: Start Amendola, Sit Gronkowski
RB LeGarrette Blount (at Cincinnati Bengals)
Let's stay with New England but shift to the rushing game, where Stevan Ridley's absence clears the way for LeGarrette Blount.
According to The Boston Globe's Shalise Masza Young, Ridley is officially out of today's game with a knee injury. He had been gradually working his way back into Bill Belichick's good graces following a costly Week 1 fumble.
#Patriots RB Stevan Ridley out for Sunday's game due to knee injury http://t.co/2mCGKFsSwf

— The Boston Globe (@BostonGlobe) October 4, 2013
Ridley's loss is Blount's gain. The big back is averaging 4.6 yards per carry this season, gaining 64 yards and a touchdown last Sunday night against the Atlanta Falcons. He might not receive 25 carries, but he should get the ball where it counts: the goal line.
New England's offense is a gold mine for running backs to collect touchdowns. After Brady does most of the heavy lifting moving the chains, the Patriots pound the ball down opponents' throats past the pylons. Ridley scored 12 touchdowns last season, and BenJarvus Green-Ellis collected double-digit scores in the two previous seasons.
Blount is the perfect fit in that regard to vulture a score or two away from Brady and his receivers. Don't expect 100-plus yards, but Blount can still offer plenty of fantasy points.
Verdict: Start