For many fantasy owners, Week 15 represents the last obstacle before reaching the finals of their league. A berth in the championship game seems close on the surface, but in order to reach that point, smart lineup decisions must be made this weekend.
Due to the low statistical output for many of the players in Thursday night's game between the Denver Broncos and San Diego Chargers, it is possible that some teams are already behind the eight ball. With that said, it isn't too late to make a comeback as long as your players on Sunday and Monday come through.
Here is a closer look at the best and worst starting options at each skill position in one of the season's most pivotal weeks.
Quarterbacks
Start: Matt Ryan (ATL)
Big things were expected out of Ryan and the Atlanta Falcons this season after they fell just short of the Super Bowl last year. But those high hopes haven't been realized.
A poor defense and injuries on offense have really limited Atlanta in 2013, but Ryan is still a viable fantasy commodity. That is especially true this week, as Matty Ice has thrived at home, according to Sigmund Bloom of FootballGuys.com:
A reason to like Matt Ryan wk 15 – 10:1 TD:INT ratio at home vs 11:12 on road – oh, and he's facing the worst scoring defense in the NFL

— Sigmund Bloom (@SigmundBloom) December 11, 2013
The Falcons also happen to be facing one of the league's worst pass defenses in the form of the Washington Redskins. Washington has allowed 25 passing touchdowns, and that bodes very well for Ryan. And with wide receiver Roddy White finally looking healthy, Ryan now has the support he needs to put up some big numbers.
Week 15 Fantasy Projection: 307 yards, three touchdowns and one interception
Sit: Carson Palmer (ARI)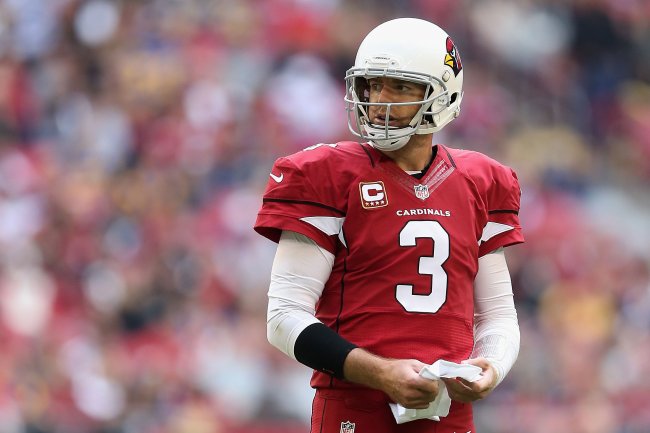 Christian Petersen/Getty Images
Palmer's first season in Arizona got off to a rough start, but he has turned things around over the past several weeks, and his stellar play is a big reason why the Cardinals are in contention. Palmer has been a fantasy revelation, and some might be compelled to start him in Week 15, but a difficult matchup should preclude him from consideration.
Although the Tennessee Titans were lit up by Peyton Manning and the Denver Broncos last week, they are still among the best in the league against the pass. They have allowed just 12 passing scores and have racked up 10 interceptions, so Palmer's ceiling isn't very high. He has multiple touchdown tosses in five of his past six games, but he won't reach that mark in Week 15.
Week 15 Fantasy Projection: 210 passing yards, one touchdown and two interceptions
Running Backs
Start: Chris Ogbonnaya (CLE)
To say that the Cleveland Browns' running game has been unpredictable this season would be an understatement. Most weeks, they abandon the run completely, but sometimes they seem more committed than ever.
If Cleveland is going to get anything going on the ground against the Chicago Bears this week, it will be up to Chris Ogbonnaya, as Willis McGahee will not play, per Adam Hoge of CBS Chicago:
#Browns RB Willis McGahee ruled out already with a concussion/knee.

— Adam Hoge (@AdamHoge) December 11, 2013
Ogbonnaya hasn't done much over the past three weeks; however, the Bears are worst in the league against the run in every meaningful category. Because of that, Cleveland will be obligated to pound the rock. Add in the fact that Ogbonnaya is a skilled pass-catcher, and he definitely looks like a savvy flex play this weekend.
Week 15 Fantasy Projection: 83 rushing yards, five receptions for 46 yards and one touchdown
Sit: Bobby Rainey (TB)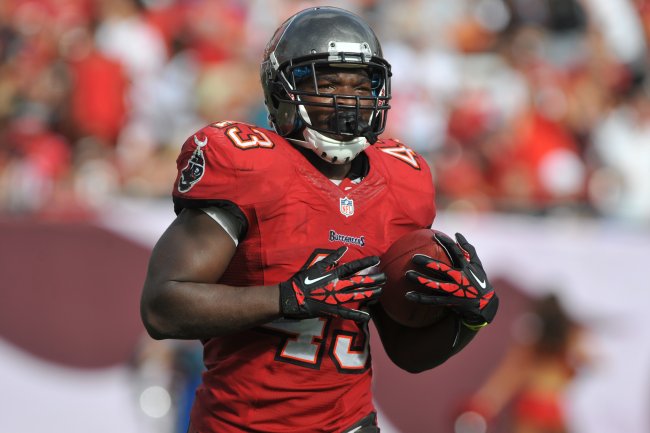 Al Messerschmidt/Getty Images
Despite the likes of Doug Martin and Mike James suffering injuries at the running back position, the Tampa Bay Buccaneers continue to have success on the ground. Rainey has broken 100 yards in two of his past four games, and he has three touchdowns during that stretch as well. Even so, he would be best off on your fantasy bench this week if you can help it.
Rainey's numbers against the Buffalo Bills last week great, but 80 of his 127 yards came on one play. That play can't be taken away from him, but it suggests that he is a boom-or-bust player. The bust is far more likely to manifest itself than the boom this week as Tampa takes on the San Francisco 49ers. The Niners allow just 104 yards per game on the ground, and that is bad news for Rainey.
Week 15 Fantasy Projection: 54 rushing yards and two receptions for 10 yards
Wide Receivers
Start: Riley Cooper (PHI)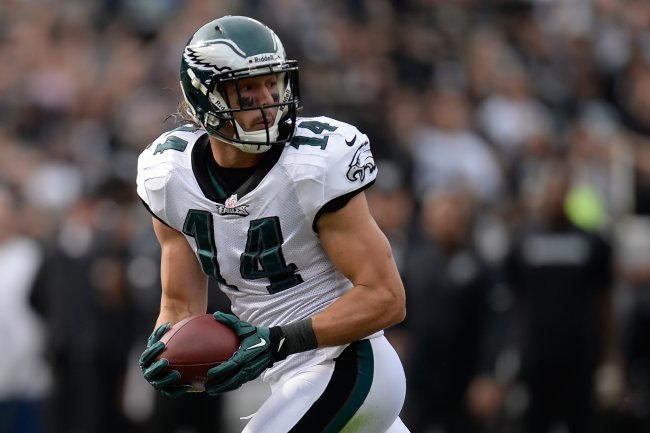 Thearon W. Henderson/Getty Images
Cooper has experienced plenty of highs and lows this season, and while that makes him a risky fantasy play, sometimes risks need to be taken in order to win. He hasn't scored a touchdown or had more than three receptions in any of the Eagles' past three contests, but that should change in Week 15 when Philly takes on the Minnesota Vikings.
The Vikes surrender 283 passing yards per game and have given up a league-high 29 passing touchdowns as well. That would seem to suggest that Eagles quarterback Nick Foles will have a field day. Foles loves Cooper, as evidenced by his two-game stretch in Weeks 9 and 10 that saw him catch five touchdowns, and Cooper will return to that form on Sunday.
Week 15 Fantasy Projection: Five receptions for 95 yards and two touchdowns
Sit: Victor Cruz (NYG)
There is little doubt that Cruz is an elite wide receiver in terms of skill level, and it may be difficult to sit him because of that, but the Giants' moribund passing game isn't getting any better. Cruz hasn't caught a touchdown since Week 4, and he has topped 100 receiving yards just once since that same week. With that in mind, he is no longer a must-start player.
It would be one thing if Cruz was facing the Dallas Cowboys, Vikings, Redskins or some other awful defense, but that isn't the case. New York is taking on a Seattle Seahawks defense that gives up 176 yards per game. Giants quarterback Eli Manning is going to struggle, which means Cruz will as well.
Week 15 Fantasy Projection: Four receptions for 37 yards
Tight Ends
Start: Dennis Pitta (BAL)
For all intents and purposes, it looked as though Pitta would miss the entire year after injuring his hip during the preseason, but he made his triumphant return for the Baltimore Ravens in Week 14 to the tune of six receptions for 48 yards and a touchdown. Being able to contribute meant a lot to him, according to Matt Vensel of the Baltimore Sun:
I remember when I got injured, I didn't know if I was even going to play football again. So being able to stand here and talk about a victory and being a part of that is special for me. And just being a part of this team and being able to fight the way we did today is pretty remarkable.
Even as Pitta was being eased back in, he was still an integral part of the offense. Look for his role to expand in Week 15, which should lead to great production against a Detroit Lions defense that is No. 25 in the NFL against the pass.
Week 15 Fantasy Projection: Seven receptions for 77 yards and a touchdown
Sit: Heath Miller (PIT)
Which player will have the best fantasy performance in Week 15?
Which player will have the best fantasy performance in Week 15?
Matt Ryan

Chris Ogbonnaya

Riley Cooper

Dennis Pitta
Pittsburgh Steelers quarterback Ben Roethlisberger has been on fire as of late, and Miller has been a big part of that. Pittsburgh's reliable tight end has at least five receptions or 56 receiving yards in each of his past four games.
Despite all of that, though, he is not an advisable fantasy start on Sunday night against the Cincinnati Bengals, who are looking to put the AFC North on lockdown and essentially knock the Steelers out of playoff contention.
Cincinnati boasts one of the best defenses in the NFL, and it gives up just 222 passing yards per game. Since Big Ben has to look to the likes of Antonio Brown and Emmanuel Sanders, there won't be much to go around for Miller. Also, Miller has just one touchdown on the season, so there isn't much upside.
Week 15 Fantasy Projection: Three receptions for 30 yards
Follow @MikeChiari on Twitter