Since Week 14 marks the first week of the playoffs in most fantasy football leagues, it goes without saying that many owners find themselves in a must-win matchup. Because of that, there is absolutely no room for error when it comes to making poor lineup decisions.
As difficult as it may be to sit a player who was selected early in the draft, what happened in August or September should have no bearing on decisions that are being made now. It's important to ride the hot hand and exploit the best matchups, and that may lead to some lineup choices that seemed impossible just a few months ago.
Here is a complete breakdown of the best and worst options to consider at each skill position as Week 14's Sunday slate approaches.
Quarterbacks
Start: Josh McCown (CHI)
The Bears offense may not be quite as potent without Jay Cutler under center, but there is no doubt that Josh McCown has made the most of his opportunities. The journeyman quarterback has struggled to get his team wins, but he has been a statistical revelation over the past several weeks.
McCown has eclipsed 350 yards and thrown for two touchdowns in each of the past two weeks, and he will go up against one of the NFL's worst pass defenses on Monday night. The Cowboys are allowing 295 passing yards per game and they have given up 22 scores through the air as well, so the table is set for McCown.
Week 14 Fantasy Projection: 315 passing yards and two touchdowns
Sit: Colin Kaepernick (SF)
While McCown was undrafted in all fantasy formats entering the season, Colin Kaepernick was among the top 10 quarterbacks selected. With the exception of a Week 1 outburst, though, it has been tough to trust Kaepernick. He has come on over the past two weeks, but he has not lived up to his elite billing.
To make matters worse, Kaepernick is going up against the NFL's best defense this week in the form of the Seahawks. Seattle held Kap to 127 passing yards earlier in the season and baited him into three interceptions as well. Kaepernick shouldn't be quite bad at home, but there are plenty of better options worth considering.
Week 14 Fantasy Projection: 177 passing yards, one touchdown, one interception for 44 rushing yards
Running Backs
Start: Steven Jackson (ATL)
Falcons running back Steven Jackson hasn't been as good of a signing as originally hoped due to injuries and inconsistent play this season, but he is clearly starting to turn a corner. The veteran has turned in his two best fantasy performances of the season over the past two games, and another great one should be on the horizon.
Jackson has three touchdowns in his last two games along with an average of more than 70 yards rushing per contest. Those numbers should improve against a Packers team that allows 126 yards per game. The Falcons will rely more heavily on the run in poor weather conditions, and Jackson will be the main beneficiary.
Week 14 Fantasy Projection: 114 rushing yards, two touchdowns and three receptions for 20 yards
Sit: Pierre Thomas (NO)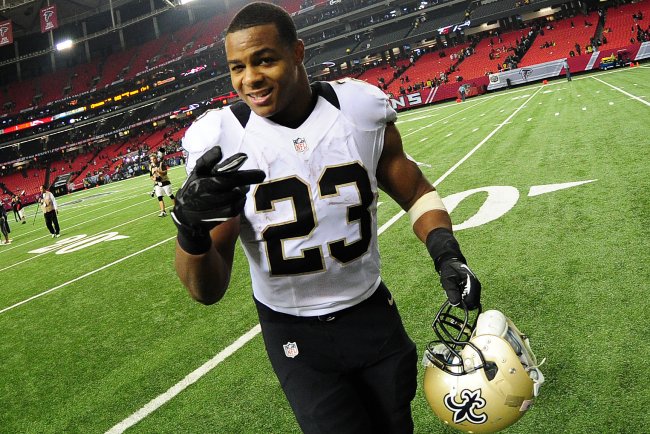 Scott Cunningham/Getty Images
Pierre Thomas has emerged from a crowded Saints backfield to become the team's most fantasy-relevant running back this season, but that doesn't make him an automatic start this week. Not only is Thomas coming off a game that saw him rush for no yards against the Seattle Seahawks last week, but he will also be faced with another elite run defense in Week 14 when New Orleans faces the Carolina Panthers.
The Panthers allow just 80 yards per game on the ground, and you never know for sure how Sean Payton will handle his backs. Although Thomas' involvement in the passing game gives him a chance to be relevant in point-per-reception leagues, his ceiling is quite low.
Week 14 Fantasy Projection: 28 rushing yards and five receptions for 36 yards
Wide Receivers
Start: Kendall Wright (TEN)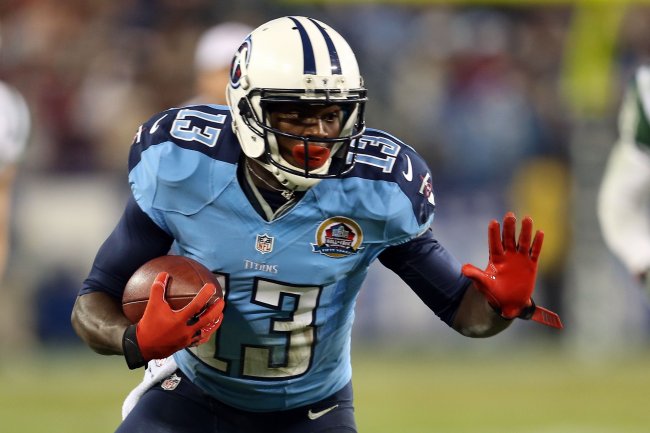 Andy Lyons/Getty Images
The Titans may have lost their starting quarterback for the season several weeks ago when Jake Locker got injured, but that hasn't slowed down wide receiver Kendall Wright in the least. In fact, Wright has thrived with Ryan Fitzpatrick under center. He has at least six catches in each of his past four games, and there is no reason why he can't reach that mark once again on Sunday.
Tennessee will face the Denver Broncos in frigid conditions, but that shouldn't stop the Broncos from putting some points on the board. That will essentially force the Titans to throw, and most of those passes will be in the direction of Wright. Look for him to light up the league's No. 29 pass defense.
Week 14 Fantasy Projection: Seven receptions for 138 yards and two touchdowns
Sit: Anquan Boldin (SF)
As is the case with Kaepernick, Anquan Boldin finds himself in a less-than-ideal situation this week. Boldin has really come alive over the past two games with two performances of 94-plus receiving yards after a lengthy lull during the middle of the season, but that won't mean much on Sunday.
The 49ers are facing a dominant Seattle defense that rendered Boldin moot earlier in the year. Boldin caught just one ball for seven yards while being shadowed by All-Pro cornerback Richard Sherman, and he figures to be covered by Sherman again. Some of Sherman's attention may be focused on the now-healthy Michael Crabtree, but it's more likely that Sherman will be on Boldin for much of the game.
Week 14 Fantasy Projection: Three receptions for 28 yards
Tight Ends
Start: Julius Thomas (DEN)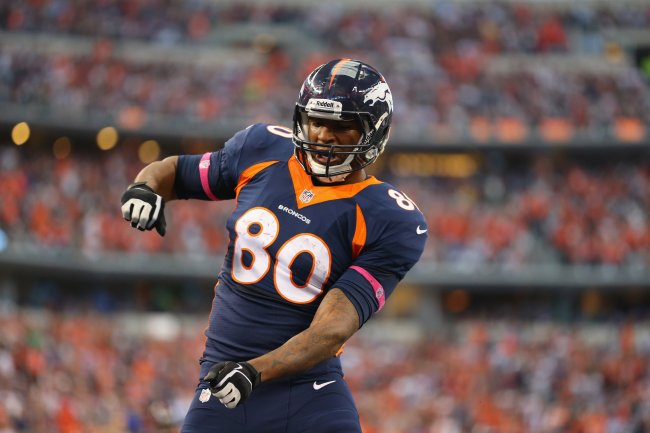 Ronald Martinez/Getty Images
Broncos tight end Julius Thomas has missed the past two games due to injury and he is facing a Titans defense that has allowed a league-low eight touchdown passes, but don't get cute here. When healthy, Thomas has been one of the few elite tight ends in the game this season, so unless you also have someone like Jimmy Graham or Rob Gronkowski on your roster, don't hesitate to start Thomas.
Quarterback Peyton Manning may view Thomas as a shiny new toy after being without him in recent weeks, and he'll want to utilize him as much as possible. It's always tough to predict which Denver pass catcher will go off with Eric Decker, Demaryius Thomas and Wes Welker also in the fold, but Thomas' massive potential makes him a must-start player.
Week 14 Fantasy Projection: Six receptions for 82 yards and one touchdown
Sit: Charles Clay (MIA)
Which player will have the best fantasy performance in Week 14?
Which player will have the best fantasy performance in Week 14?
Josh McCown

Steve Jackson

Kendall Wright

Julius Thomas
Charles Clay has performed far better at tight end this season than anyone could have possibly imagined. He has developed into one of Ryan Tannehill's most trusted and reliable targets, but that hasn't always led to big outing for the Dolphin pass catcher. Although Clay is coming off an 80-yard performance against the Jets, things will get tougher this week.
Clay will have to deal with a Pittsburgh defense that has done a fine job neutralizing tight ends this season. Also, the weather promises to be cold and snowy, which won't be conducive to a lot of passing. As long as Clay isn't your only option, look in another direction.
Week 14 Fantasy Projection: Three receptions for 24 yards
Follow @MikeChiari on Twitter