In order to succeed in fantasy football, it is important to remember that every week is different. This means that past performance does not necessarily indicate a strong showing going forward.
With the regular season winding down, we have reached the point where you can no longer afford losses. More specifically, you cannot keep someone in your lineup who is going to provide nothing more than a dud this week.
While people might hold onto hope that big-name players might turn things around or that last week's breakout was a sign of things to come, you have to know when to fold your cards and look for better options.
Here is a look at players who should be benched in your lineup despite the fact that they have seen some success in the past.
Robert Griffin III, QB, Washington Redskins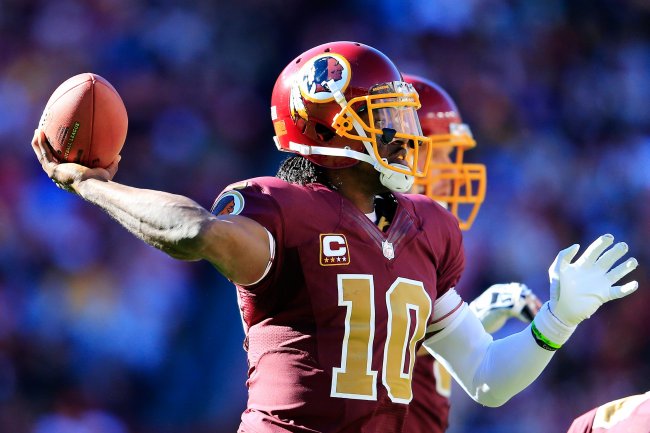 Rob Carr/Getty Images
After a long season of struggles, Robert Griffin III is finally producing the type of fantasy numbers people were expecting coming into the season. In the last two games, he has an impressive 49 points thanks to five touchdown passes.
However, things will get much tougher this week against the angry San Francisco 49ers.
While many can criticize the offense for two losses in a row, no one can question the 49ers defensively, especially against the pass. Opposing quarterbacks have a quarterback rating of 74.8 against this defense this season, which is the fourth lowest in the league.
In fantasy, the team has allowed the sixth-fewest points per game to opposing quarterbacks, including just 19 combined to Drew Brees and Cam Newton.
Griffin struggled last week against the Philadelphia Eagles with his decision-making and accuracy. This will lead to a much worse day against the 49ers.
If you need to replace him with someone off the waiver wire, you would be smart to go with either Mike Glennon or Case Keenum. Both are lesser names but have superior matchups and a strong chance at out-scoring Griffin in fantasy this week.
Ray Rice, RB, Baltimore Ravens
Jonathan Daniel/Getty Images
I know what you are thinking.
"You want me to bench Ray Rice after his best game of the season? He scored for the first time since Week 5 and finished with more rushing yards than his past four weeks combined!"
Of course, this was not due to some magical youth potion that Rice consumed. It was because his offensive line was finally able to clear space against the Chicago Bears defense. I even suggested you should start him prior to last week.
Unfortunately, this is unlikely to continue in Week 12. After facing the No. 31 run defense in the league last week, the Ravens will face the No. 1 unit in the New York Jets. This next opponent has a dominant defensive line that helps the team hold players to only 2.9 yards per carry. Last week against the Buffalo Bills, New York held C.J. Spiller to six yards on 13 carries and Fred Jackson to 34 yards on 12 carries.
Chicago is simply not the team it used to be against the run, and Rice was able to take advantage of it. This is not something that will continue on a weekly basis, starting against the Jets.
If you need to pick up someone to fill a spot, you should be able to find someone like Bobby Rainey, Donald Brown or Chris Ogbonnaya. Another name to keep an eye on is Jonathan Stewart, who might break out against a favorable matchup.
Steve Smith, WR, Carolina Panthers
While the Carolina Panthers are soaring, Steve Smith is not, at least from a fantasy perspective.
The veteran receiver got the better of Aqib Talib early in the night with a 42-yard reception in the first quarter of the win over the New England Patriots. Unfortunately, he only finished with 62 receiving yards, staying under 70 yards as he has been in every game this season.
He has had a few weeks salvaged by scores, but fantasy owners cannot survive on just three touchdowns in the season. Except for the deepest of PPR leagues, he is not worth keeping in your lineup.
Things get even worse this week as he faces Brent Grimes and the Miami Dolphins. The team has given up the third-fewest fantasy points to opposing receivers this season, including only one touchdown.
Although he is still a useful part of the Panthers offense in real life, he has been limited in fantasy thanks to the emergence of Brandon LaFell and the play of Ted Ginn Jr. and Greg Olsen. This all adds up to a benching situation for your team.
A few sleeper options to replace him include Kenny Stills, Kendall Wright or Aaron Dobson.
Follow Rob Goldberg on Twitter for the latest breaking news and analysis.