For fantasy owners who find themselves outside their league's playoff picture, panic is starting to set in. Most leagues still have at least two or three regular-season weeks remaining, though, which means there is time to make a comeback.
In order to do that, however, it may require making some bold lineup decisions. Conventional wisdom suggests that a high draft pick shouldn't be benched in one of the season's most important weeks, but conventional wisdom often needs to be thrown out the window in order to win.
Here is a complete breakdown of some interesting names to start or sit at each skill position this week.
Quarterbacks
Start: Eli Manning (NYG)
It is no secret that Manning's erratic play has made him a fantasy albatross this season, but Peyton's little brother has proved capable of putting up some monster games. The fear of starting him is understandable, though, when you consider he has thrown for one touchdown or less in five straight games and is on pace to set the Giants' single-season interception record, according to Numbers Never Lie.
Eli Manning is on pace for 27 INTs, which would be the MOST in Giants history.

— Numbers Never Lie (@ESPN_Numbers) November 21, 2013
With that said, he has an ideal matchup in Week 12. The Giants are facing a Dallas Cowboys defense that happens to be the worst in the league against the pass. He had his best game of the season against Dallas in Week 1, accounting for 450 yards and four touchdowns. Starting Manning isn't for the faint of heart, but if he is ever going to break out, this is definitely the week.
Week 12 Fantasy Projection: 322 passing yards, three touchdowns and one interception
Sit: Philip Rivers (SD)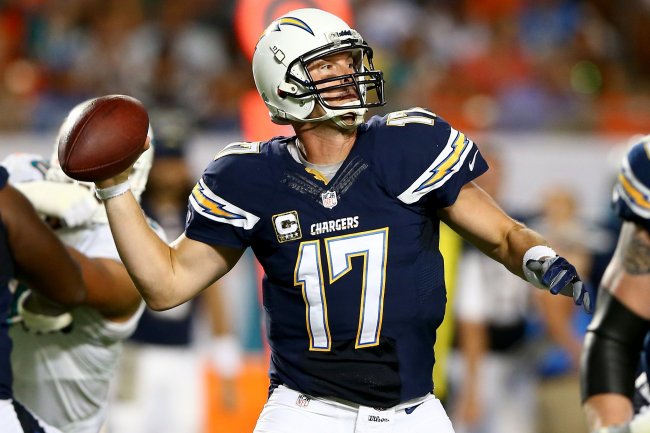 Streeter Lecka/Getty Images
Unlike Manning, Rivers has been one of the most pleasant fantasy surprises this season. Coincidentally, they were traded for each other at the 2004 NFL draft. Manning has had the better career to this point, and he should have the better fantasy performance this week as well. That has almost everything to do with the fact that Rivers has to deal with the Kansas City Chiefs defense.
KC allows less than 220 passing yards per game and has surrendered just 10 touchdowns through the air. Peyton Manning threw for 323 yards against the Chiefs last week, but he mustered just one touchdown. If Manning can't tear up the Kansas City defense, it's hard to believe that Rivers will either.
Week 12 Fantasy Projection: 227 passing yards, one touchdown and two interceptions
Running Backs
Start: Chris Ogbonnaya (CLE)
The Browns running game has been virtually nonexistent this season, but things seem to be changing. Willis McGahee is still the starting back in name, but fullback Chris Ogbonnaya has become the go-to guy. He had his best rushing game of the season this past week with 69 yards, but his value rests in his pass-catching ability.
He has 11 combined receptions over the past two games, and he is quarterback Jason Campbell's favorite dump-off option. That makes Ogbonnaya an especially good play in point-per-reception leagues. Even in leagues that don't award points for catches, he should have enough success against the Pittsburgh Steelers' porous run defense to be worth a start.
Week 12 Fantasy Projection: 74 rushing yards, five receptions for 46 yards and one touchdown
Sit: Donald Brown (IND)
After scoring two touchdowns against the Tennessee Titans in Week 3, Brown is suddenly one of the hottest commodities in fantasy football. He has always been talented, but a lack of playing time has held him back. That seems to be changing under head coach Chuck Pagano.
Brown has made the most of his opportunities, as evidenced by his nearly six-yards-per-carry average, according to Kevin Bowen of Colts.com.
Of the top 70 leaders in rush attempts at the RB position, Donald Brown is 2nd in the NFL w/ 5.9 yards per carry http://t.co/bRfWGnUygv

— Kevin Bowen (@KBowenColts) November 19, 2013
Prior to last week's 80-yard outburst against Tennessee, though, Brown hadn't rushed for more than 65 yards in a game. He is also set to face the league's No. 2 run defense this week when Indy takes on the Arizona Cardinals. On top of all that, Trent Richardson is still a factor. He has been awful, but the Colts won't phase him out completely after trading a first-round pick for him. That will limit Brown's potential in Week 12.
Week 12 Fantasy Projection: 43 rushing yards and two receptions for 18 yards
Wide Receivers
Start: Anquan Boldin (SF)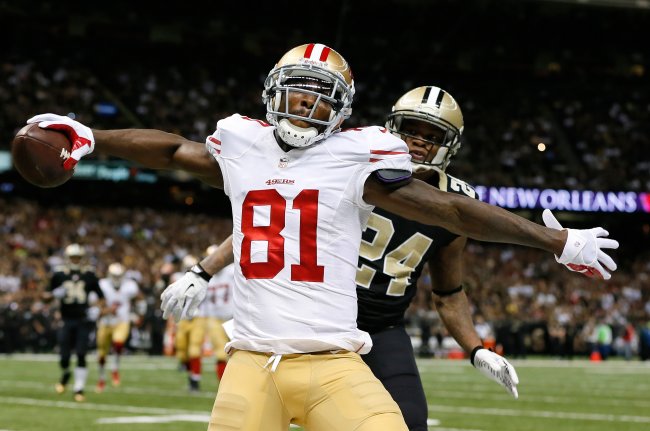 Kevin C. Cox/Getty Images
Most probably figured that Boldin was in for the best season of his career after exploding for 13 catches and 208 yards in Week 1, but he hasn't come anywhere near that production since. In fact, he hasn't registered a second 100-yard game and has just two touchdowns since that game as well. With that in mind, fantasy owners might be inclined to sit him on the bench in a pivotal Week 12 matchup.
Boldin showed signs of life last week, though, catching six passes for 56 yards and a score. The fact that quarterback Colin Kaepernick is struggling doesn't help matters, but Boldin remains the No. 1 receiver on the roster. Add in the fact that the Niners are facing the Washington Redskins' porous secondary, and there is reason to believe that he will return to form.
Week 12 Fantasy Projection: Six receptions for 112 yards and one touchdown
Sit: Mike Wallace (MIA)
Many were skeptical when the Dolphins inked Wallace to a monster contract this past offseason, and the skeptics have been right thus far. He hasn't topped 100 receiving yards since Week 5, and he has scored just one touchdown all season long. Inconsistency has long been an issue for him, and that has manifested itself in 2013.
Head coach Joe Philbin doesn't feel as though Wallace has performed poorly, according to the Dolphins' Twitter account, but his fantasy owners tend to disagree.
Philbin on Mike Wallace's season thus far: "I'm not disappointed in his performance one single bit."

— Miami Dolphins (@MiamiDolphins) November 20, 2013
Quarterback Ryan Tannehill doesn't seem as comfortable with Wallace as he does with Brian Hartline, Charles Clay or whoever is operating out of the slot. Since Wallace doesn't run a lot of underneath patterns, his value hinges on the deep ball. With Miami facing the Carolina Panthers' elite defense in Week 12, there is very little chance of him breaking a long one.
Week 12 Fantasy Projection: Three receptions for 31 yards
Tight Ends
Start: Delanie Walker (TEN)
Which player will have the best fantasy performance in Week 12?
Which player will have the best fantasy performance in Week 12?
Eli Manning

Chris Ogbonnaya

Anquan Boldin

Delanie Walker
For much of the season, Walker has been little more than an occasional matchup play, but he has come alive over the past two weeks. Quarterback Ryan Fitzpatrick appears to favor him and Kendall Wright over the rest of his pass-catchers, and that has led to Walker becoming a suitable fantasy starter.
That is the case this week since Tennessee will face the Oakland Raiders' questionable defense.
Walker has scored touchdowns in consecutive weeks, and he caught 10 passes for 91 yards against the Indianapolis Colts in Week 11. The Raiders are 25th in the league against the pass, and they have allowed 19 touchdowns through the air. Not only should Walker's touchdown streak continue this week, but the yardage numbers figure to look good as well.
Week 12 Fantasy Projection: Six receptions for 76 yards and one touchdown
Sit: Heath Miller (PIT)
Miller broke out of a month-long slumber last week when he caught eight passes for 67 yards, but quarterback Ben Roethlisberger isn't going to sling the ball around with that much frequency every week. Prior to that solid showing, Miller had picked up just 85 yards total in his previous four games, so it's safe to say that this isn't the same Miller who was the Steelers' MVP last season.
While he deserves full marks for battling his way back from injury, there are too many other tight end options to consider ahead of Miller. In addition to having far too many poor games, he has to face the Cleveland Browns secondary, which gives up just 208 yards per game. He shouldn't be anywhere near your starting lineup on Sunday.
Week 12 Fantasy Projection: Two receptions for 22 yards
Follow @MikeChiari on Twitter