Fantasy football playoffs are quickly approaching, so here are some players who are worth adding to any fantasy football roster.
This season has seen stars suffer major injuries, which leaves fantasy football owners searching for other options. Surprisingly, there are still quite a few players available in most fantasy leagues who can make an impact.
Be sure to check who is available in your league on a weekly basis. You never know what player could become available and be nice addition to your team.
Right now, there are several veteran players available who can make a big impact on a team. Let's check out who is worth adding in fantasy leagues.
Carson Palmer, QB, Arizona Cardinals (Owned in 8.9 percent of ESPN leagues)
Sam Greenwood/Getty Images
Fantasy owners have finally grown tired of Carson Palmer's up-and-down performances. He is available in most leagues, and he could make a big impact in fantasy now that he has been in the system for a while.
For those who stuck with him and played the matchups last week, they were rewarded. The veteran quarterback threw for 419 yards and two touchdowns against the Jacksonville Jaguars. It was the surest bet of the week, and fantasy owners should be encouraged.
There are a few favorable matchups for Palmer left on the schedule. Arizona still has Indianapolis (16th against the pass), Philadelphia (31st) and St. Louis (14th).
Michael Floyd has been a good receiver opposite of Larry Fitzgerald. Floyd has 657 yards and three touchdowns this season, and Fitzgerald has 554 yards with six touchdowns.
With running back Andre Ellington having a bigger impact in the offense, the quarterback has a versatile back who can pick up yards in bunches.
Palmer has six touchdowns to only two interceptions over the last three games. He is taking better care of the ball, and he has led his team to 27 points in each of those three games.
The Cardinals like to air the ball out. Palmer would be a great backup, or even starter depending on the week, for any fantasy team.
Donald Brown, RB, Indianapolis Colts (Owned in 7.8 percent of ESPN leagues)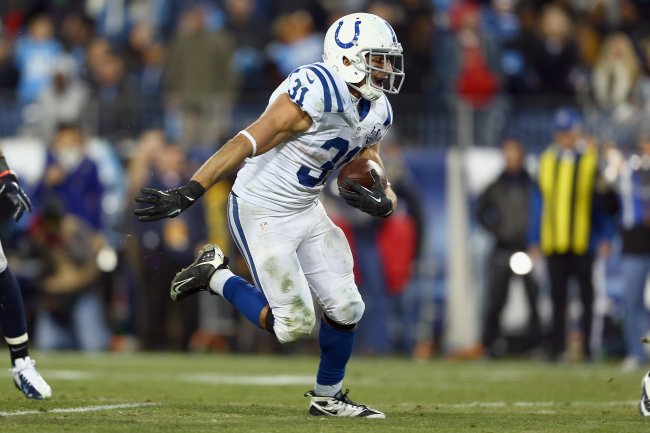 Andy Lyons/Getty Images
This is a little bit of a risky option, but if Donald Brown keeps running the football well, it could pay off.
The Indianapolis Colts traded a first-round pick for Trent Richardson earlier this season. However, the second-year back hasn't been very productive. He has averaged only 2.8 yards per carry since joining the Colts and has only two touchdowns.
Meanwhile, Brown has become a good option. The 26-year-old has averaged 5.9 yards per carry and 10.2 yards per reception this season. He has three total touchdowns.
Brown had 94 yards and a score on 15 touches against the Tennessee Titans last week. If Richardson can't be productive, the Colts will have to let Brown get more involved.
The Colts' schedule is favorable for the running backs. They will still face Tennessee (20th against the run), Houston (23rd), Kansas City (21st) and Jacksonville (32nd).
Pick up Brown while he's still available.
Santonio Holmes, WR, New York Jets (Owned in 12 percent of ESPN leagues)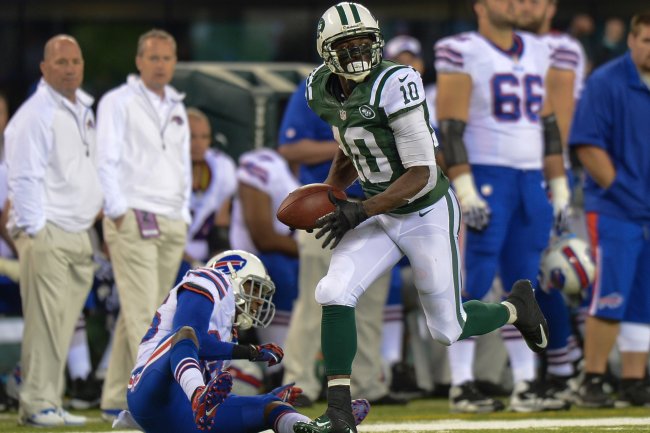 Ron Antonelli/Getty Images
The New York Jets needed a prolific receiver, so when Santonio Holmes returned from a hamstring injury this week, it worked out great.
He had two receptions for 35 yards in his first game back last week, and he has 314 yards in five games. The veteran receiver got off to a slow start this season, but he has averaged 75.3 receiving yards in his last four games.
Holmes gives rookie quarterback Geno Smith a playmaker on the outside. He has played in only nine games since the start of the 2012 season, so injuries are a concern.
New York will still face Miami (19th against the pass) twice and Oakland (25th). Holmes will get his opportunities as the Jets make a run at the postseason.
The Jets currently rank 29th in passing yards. Holmes adds another dimension to the offense, and he is worth a spot on a fantasy roster.
*All stats are via ESPN.com