With the fantasy football playoffs rapidly approaching, there are some key names to consider picking up that could lead to success the rest of the season.
Wide receiver Michael Crabtree of the San Francisco 49ers is close to playing in his first game of the season and should be readily available in many fantasy leagues.
Running back Dennis Johnson is lying in wait to assume the starting job for the Houston Texans as the current starter, Ben Tate, deals with an injury that could knock him out at any given time.
Also with the Texans, quarterback Case Keenum has been a major upgrade over former starter, Matt Schaub, and the rookie signal-caller has some favorable matchups the rest of the way that could lead to some big games in his future.
Let's take a closer look at each of these players and find out why they are all viable options in fantasy.
Fantasy rankings are from ESPN standard leagues.
Dennis Johnson, RB, Houston Texans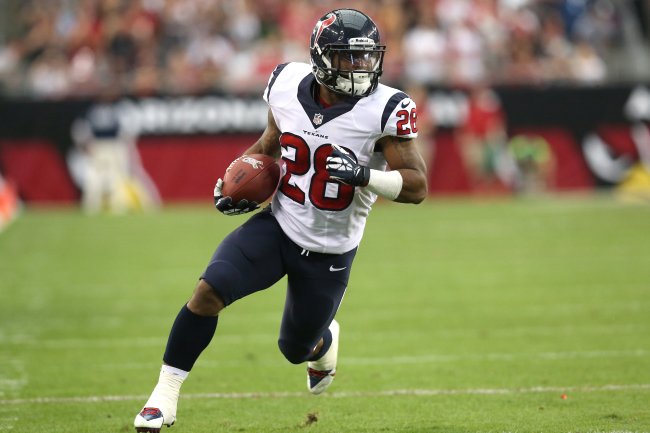 Stephen Dunn/Getty Images
Solutions at the running back position are few and far between this late in the season, so that's why taking a flier on a guy like Dennis Johnson of the Houston Texans is a wise move even though he remains a backup at the moment.
With Arian Foster out for the season and Ben Tate dealing with broken ribs, there's a good chance that Johnson will get the nod to start should Tate succumb to his injuries at some point in the next few weeks.
So, what started out as a stashed, handcuffed player at first could end up being a starting back for fantasy owners to enjoy for the rest of the regular season and into the fantasy playoffs.
Johnson has seen limited action this season (14 carries for 45 yards in three games), but if fantasy owners have learned anything from the recent exploits of Rashad Jennings of the Oakland Raiders, it's that a backup who is thrust into a starting role could pay huge dividends for patient fantasy owners.
Michael Crabtree, WR, San Francisco 49ers
Crabtree has spent the entire season in the trainer's room, thanks to a torn achilles suffered before the season began, but now it appears he's close to returning (per Carl Steward of the Contra Costa Times) to his team as a much-needed addition to a Niners' passing attack that ranks dead last in the NFL.
According to Steward's report, head coach Jim Harbaugh says Crabtree could be ready for Monday's game against the Washington Redskins, although it isn't certain as of yet.
If he does return, it may be tempting to start him against the 'Skins, who rank No. 27 against opposing receivers in fantasy, but it may take some time for Crabtree to get back into the flow of an NFL game since he's been out for so long, thus hindering his production upon his return.
Even if that's the case, Crabtree still holds a ton of value moving forward and is a solid option to stash until he fully returns to action. The Niners' top receiver from a year ago led the team in receptions (85) as well as receiving yards (1,105) and touchdowns (nine), so he figures to be a major player in San Fran's offense when he gets back.
Case Keenum, QB, Houston Texans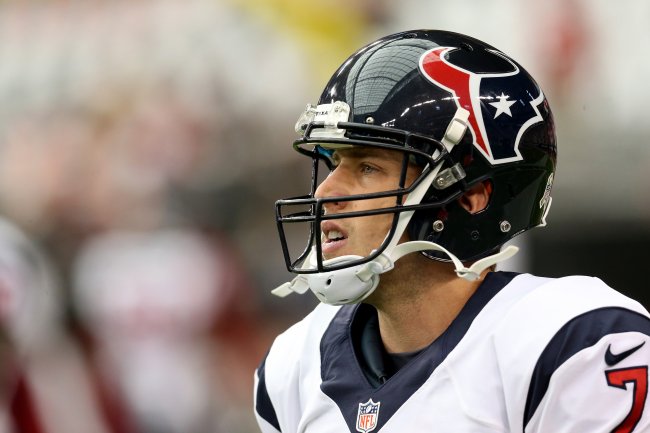 Stephen Dunn/Getty Images
Despite the Texans having a ton of issues this season, Keenum is another player on the team that can be of great fantasy value.
Granted, Keenum was removed from last week's game against the Oakland Raiders in favor of Matt Schaub in the third quarter, but head coach Gary Kubiak has already said Keenum will be the starter for Houston's game against the Jacksonville Jaguars in Week 12, per Gregg Rosenthal of NFL.com.
Considering Schaub was unable to lead his team to victory and wasn't named the starter for the upcoming week, it's safe to say his days in Houston are numbered and he won't be spoiling another one of Keenum's games as the Texans are officially looking to a future that likely won't include Schaub.
In a small sample size, Keenum has been rather effective for the Texans this season. In four games, Keenum has thrown for 992 yards and eight touchdowns. Keenum's best game came against the Indianapolis Colts when he threw for 350 yards and three touchdowns, and he matched that touchdown mark the next week against the Arizona Cardinals.
Keenum even fared well against a tough pass defense in the Kansas City Chiefs (No. 9) with 271 yards and a score in his very first game. Keenum has two upcoming matchups with the Jags, a team that has allowed the fourth-most points of QBs in fantasy.
If nothing else, that fact alone makes Keenum an attractive pickup.