It's never too late in the NFL season to find some good sleeper plays in fantasy football. This week offers up some strong possibilities for owners hunting for a crucial boost during this pivotal week.
After scouring the Week 12 matchups and recent trends in the league, a few players jumped out at me as especially intriguing. These are guys ready to produce games well above what they have been turning in for the majority of the season.
This has brought back glory names of fantasy days past like Eli Manning and Steven Jackson, and it highlights a young player in Kendall Wright, who very well may be a fantasy star in the not-too-distant future.
*Week 12 Byes: Buffalo, Cincinnati, Philadelphia, Seattle
Quarterback: Eli Manning, New York Giants
Week 12 Opponent: Dallas Cowboys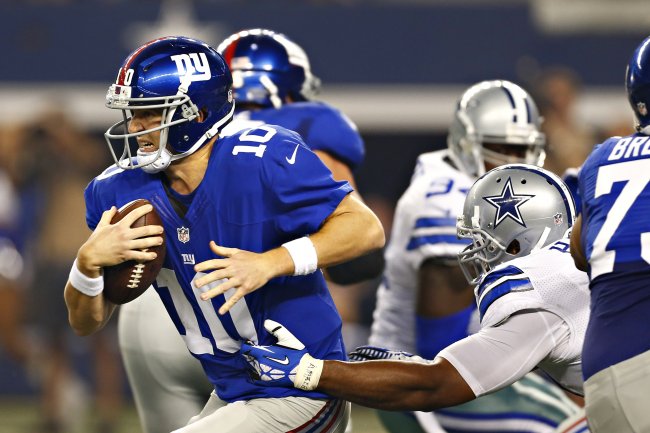 Wesley Hitt/Getty Images
With 12 touchdown passes against 17 interceptions, Eli Manning has not been a fantasy workhorse. Those numbers don't look any better in light of the fact that he threw four touchdowns in Week 1 and has only had one game with more than one touchdown pass since.
Guess whom that Week 1 contest was against, though. That's right, the Dallas Cowboys, and the boys from Big D have not been offering more resistance to opponents as the season has progressed.
The Cowboys enter this contest coming off a bye. While that gives them extra time to craft and prepare for a game plan, it doesn't necessarily mean they will be able to take advantage of that. I could prepare for five years to take on LeBron James one on one, but that wouldn't help me from getting shut out.
Directly before the bye, the Cowboys, who are 32nd against the pass and 29th against the rush defensively, were absolutely embarrassed by the New Orleans Saints.
Now, I'm not trying to compare the Giants offense to the Saints offense, but the Giants could have half as much success as the Saints and still have a decent day. The Saints went for 624 yards of offense, with Drew Brees throwing for 392 yards, four touchdowns and no interceptions.
Even Eli Manning will be able to carve up that defense.
Running Back: Steven Jackson, Atlanta Falcons
Week 12 Opponent: New Orleans Saints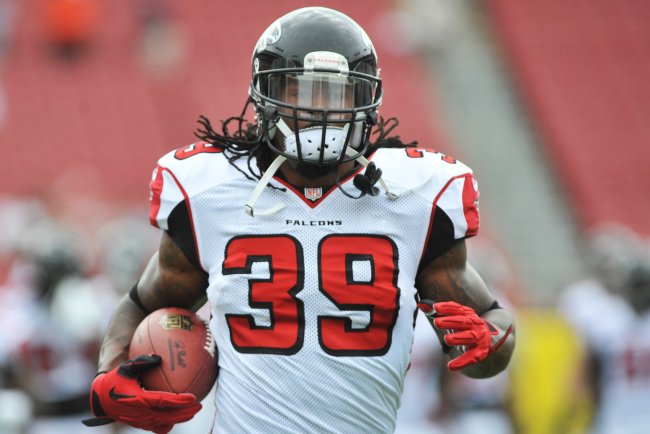 Al Messerschmidt/Getty Images
Checking in with 192 rushing yards for the season, veteran running back Steven Jackson has been a bust that would make the movie John Carter proud. This has helped him fit in with his new team, as the Falcons have been one of the year's biggest flops.
Still, every dog has his day, and Jackson is about to have his.
Due to injury, Jackson has played in just six games this year. He has played in four games since his return and doesn't have a touchdown, nor has he rushed for more than 57 yards in any of those games.
However, those four games have come against the Arizona Cardinals, Carolina Panthers, Seattle Seahawks and Tampa Bay Buccaneers. Those teams are ranked, respectively, second, third, 15th and ninth against the rush.
The Saints are 17th against the run but are not even as good as that number suggests, as they are 32nd in yards allowed per rush.
There will be a risk of Atlanta falling behind in this game and resorting to a pass-heavy attack. However, I expect Jackson's inevitable success in this game to ensure that coaches find a way to keep him involved.
Wide Receiver: Kendall Wright, Tennessee Titans
Week 12 Opponent: at Oakland Raiders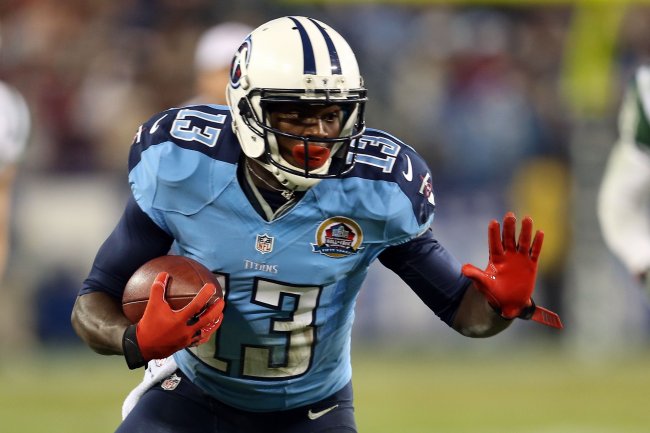 Andy Lyons/Getty Images
Kendall Wright will not be a candidate for sleeper lists for long. The 2012 first-round selection is having a hard time finding the end zone, with only one touchdown on the season, but he is getting a lot of looks in Tennessee lately.
Combined over the last four games, Wright has 28 catches off of 38 targets for 325 yards.
Wright has built a nice chemistry with current Titans starter Ryan Fitzpatrick, and Fitzpatrick should be able to find his target often this coming week.
The Raiders are 24th in the NFL by allowing 252.3 passing yards per game. They are a slightly better 21st in yards allowed per pass. However, at 24th in opponents' completion percentage, they have let receivers roam free.
That is exactly what the 5'10" Wright will do against Oakland, and he has a chance of busting off a big play.
Even if he doesn't hit for the home run, he will get enough action to be worth a start—especially in PPR leagues.
Tight End: John Carlson, Minnesota Vikings
Week 12 Opponent: at Green Bay Packers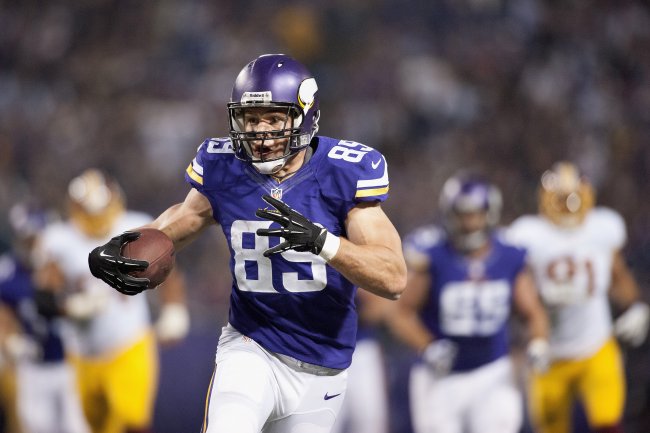 Hannah Foslien/Getty Images
Filling in for the injured Kyle Rudolph, John Carlson has done a solid job for the Minnesota Vikings.
Over the last three games, the 29-year-old tight end has 16 catches off 20 targets for 190 yards and a touchdown. The first two games of that stretch came against the terrible passing defenses of the Cowboys and Washington Redskins, but last week, Carlson produced five catches for 69 yards against the strong pass defense of the Seahawks.
This week, Carlson will face the Green Bay Packers and their 21st-ranked pass defense.
This will be the Packers' and Vikings' second meeting of the year. In the first game, Carlson had just one catch for three yards. Rudolph was healthy for that game, though, and he led the Vikings in catches and yards. That only meant pulling in four catches for 51 yards in this anemic passing attack, but that's still a decent day.
Given the limitations the Vikings present when it comes to scoring touchdowns, Carlson isn't likely to have a big day. However, he is a safe play this week and worth a start for those scrambling for help at tight end.
Defense: Green Bay Packers
Week 12 Opponent: Minnesota Vikings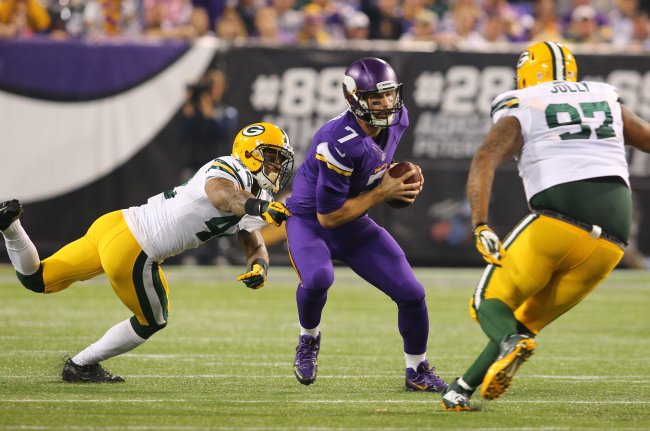 Adam Bettcher/Getty Images
Speaking of the Packers-Vikings matchup, I like the Packers' defense for a play this week.
These two first met in Week 8. The Packers did allow the Vikings 31 points in that game, but a further look at the stats shows a better effort; Minnesota had just 243 yards in that game.
Also, the Packers picked up three sacks and have been doing a good job of getting to the quarterback all season, ranking eighth in sack percentage.
The Packers will again be able to put pressure on the quarterback in this game. This will not only lead to a few sacks, but it will also cause the team ranked 31st in turnovers per game to cough up the ball a few times.
Team's season rankings and stats via TeamRankings.com.