Often times in fantasy football, you have to manufacture wins.
Although some bragging folk out there might tell you differently, not everyone has Peyton Manning, Drew Brees, Adrian Peterson, LeSean McCoy, A.J. Green, Calvin Johnson and Jimmy Graham on their team.
Most fantasy football squads, whether via injuries, byes or just subpar play, have holes in them, and a good way to counteract that is to play the waiver wire and exploit tasty matchups.
With that in mind, let's take a look at some under-the-radar wide receivers who are likely to get involved in fantasy-friendly shootouts in Week 11.
Emmanuel Sanders, Pittsburgh Steelers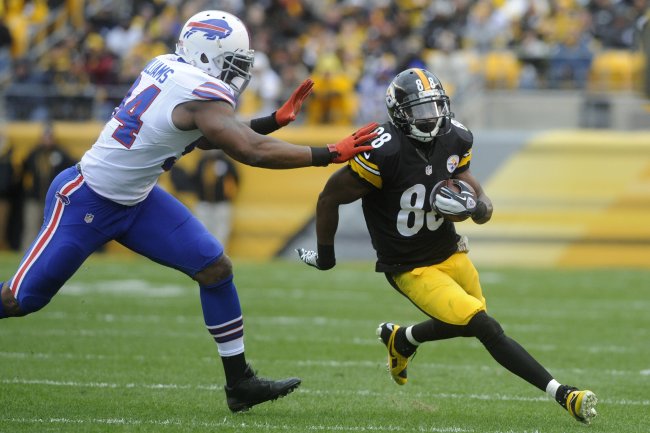 Vincent Pugliese/Getty Images
Sanders is probably one of the more unspectacular options in fantasy football. A player many believed to be dripping in upside, the fourth-year pro has yet to surpass 100 yards in a game and has just two touchdowns on the season.
Of course, he's also averaging 4.6 catches on 8.2 targets for just over 56 yards per contest, so he is just as much steady as he is unspectacular.
That being said, steady, unspectacular options aren't typically the "sleeper" type, so what gives here?
Well, the Steelers are playing the Detroit Lions. Although much improved defensively, Jim Schwartz's squad still has the propensity to get involved in shootouts—it gives up 276 passing yards per game and has allowed the third-most fantasy points to opposing wide receivers.
After a stout first three weeks in which the Lions gave up zero touchdowns to wide receivers, it has been a feeding frenzy ever since:
Wide Receiver Production Against the Lions

| | | | | |
| --- | --- | --- | --- | --- |
| 4 | Bears | 14 | 205 | 2 |
| 5 | Packers | 13 | 244 | 1 |
| 6 | Browns | 11 | 159 | 1 |
| 7 | Bengals | 12 | 231 | 2 |
| 8 | Cowboys | 6 | 144 | 3 |
| 10 | Bears | 18 | 263 | 2 |
With Ndamukong Suh and Nick Fairley controlling the trenches, Ben Roethlisberger will be forced to the air for much of this game. Antonio Brown will obviously benefit, but Sanders, No. 2 (by far) on the team in targets, is next in line for a big day.
Leonard Hankerson, Washington Redskins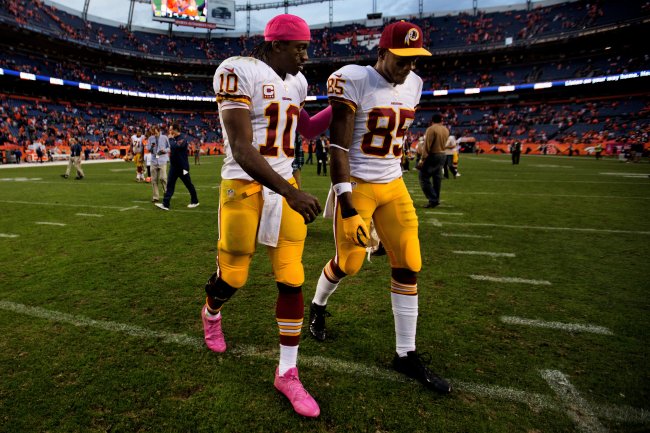 Justin Edmonds/Getty Images
When Washington and Philadelphia met up in Week 1, there were 60 total points and 532 passing yards.
This time around, the defenses are still just as shaky, Nick Foles is playing out of his mind and Robert Griffin is about (lots of research went into this number) 37 times more healthy than he was in the opener.
It's going to be a fantasy free-for-all. Foles, RGIII, DeSean Jackson, Riley Cooper, Pierre Garcon, LeSean McCoy, Alfred Morris, Brian Westbrook, Duce Staley, Steve Van Buren, Clinton Portis, Stephen Davis.
Everyone is going produce.
That certainly includes Leonard Hankerson, who has racked up 10 catches on 11 targets for 116 yards over the past two weeks and is quickly seeing his role in the offense expand.
The 24-year-old had 80 yards and two touchdowns in that Week 1 matchup against the Eagles, and while that second number might be difficult to replicate, 90 yards and a score are realistic expectations in what will turn into a thrilling offensive showcase.
Rishard Matthews, Miami Dolphins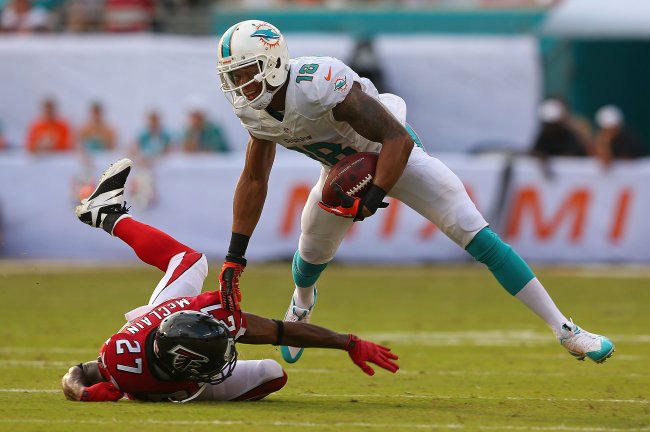 Mike Ehrmann/Getty Images
Matthews may not be underrated anymore after his 110-yard, two-touchdown outburst on Monday Night Football, but let's be honest, not many people outside of Florida were watching that game.
And even if they were, it's likely most would prefer to see another week of production before trusting the second-year Nevada product.
Nevertheless, I'm hoping on the Rishard Bandwagon and riding it all the way to Fantasy Championshipland.
Which underrated option will have the best Week 11 performance?
Which underrated option will have the best Week 11 performance?
Emmanuel Sanders

Leonard Hankereson

Rishard Matthews
The Dolphins offense is simply tailor-made for slot receivers. Ryan Tannehill's downfield accuracy has been, let's say, not ideal, while the mess on the offensive line means the young QB, who has been sacked a league-leading 37 times, needs to get the ball out quick.
It all adds up to slot-receiver heaven. Brandon Gibson had 30 catches on 44 targets for 326 yards and three scores in seven games, and now that he's out for the season, it's Matthews' job alone.
Against a San Diego defense that gives up 280 passing yards per game and is allowing the fifth-most fantasy points to wide receivers, Matthews is in line for an encore, especially in PPR leagues.