At this point of the season, fantasy owners are looking for the one guy to get them over the hump or to fill in for an injured player.
Now in Week 11, you may be looking for a running back to give you production this week, or perhaps you're scouting for the ball-carrier of the future. The same could be said for a receiver or tight end. By Sunday night, you may have found more than just a simple spot-fill player, you could walk away with a keeper.
QB: Nick Foles, Philadelphia Eagles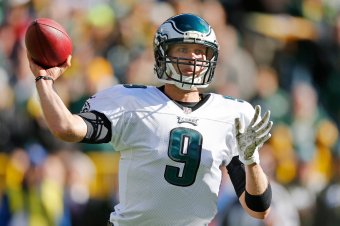 Gregory Shamus/Getty Images
Who saw this guy coming?
While in school, Foles was the complete opposite of what then-Oregon coach Chip Kelly coached. Entering Michigan State, Foles was a modestly rated 3-star recruit, per Rivals. He went on to bloom after transferring to Arizona.
Changing scenery paid dividends—the Eagles liked what they saw and drafted him in the third round of the 2012 draft. He was going to get a lot of time behind Mike Vick, a quarterback who was viewed as a much better fit in Kelly's uptempo offense, but he'd prove to be a serviceable No. 2 down the road.
In the wake of Vick's hamstring injury, Foles has Philadelphia at 5-5, in second place in the NFC East, and as winners of four the past five.
Will Vick and Foles flip-flop their roles?
There may not be a huge drop-off between the two. While Vick is viewed as a superior athlete, he's also been prone to turnovers and boo-boos. Foles hasn't thrown a pick all season, and he's connected for 16 touchdowns, the eighth most in the league.
And he can take a hit.
Just a couple of years ago, Foles was a relative unknown. Today, he's proving critics wrong as one of the most sought after fantasy players of 2013. He's on a team that can score a lot of points. He has weapons such as Riley Cooper and Le'Sean McCoy.
Under Kelly, Philadelphia provides a rich environment for Foles, who, just a week ago, was owned by just 10. 4 percent of ESPN users. As his popularity spread, so did his presence in other leagues; he's now owned by 97 percent and started by 73 percent of CBS users.
Daily Fantasy Football Start 'Em, SIt 'Em: Nick Foles and RG3 Will Light it Up Week 11 http://t.co/g8vepqNe30

— Fantasy Wired (@Fantasy_Wired) November 14, 2013
According to Michael Beller of Sports Illustrated, he's the No. 1 pick this week. He's gaining momentum. If he's available, get him. Secure him. Keep him for the year.
RB: Lamar Miller, Miami Dolphins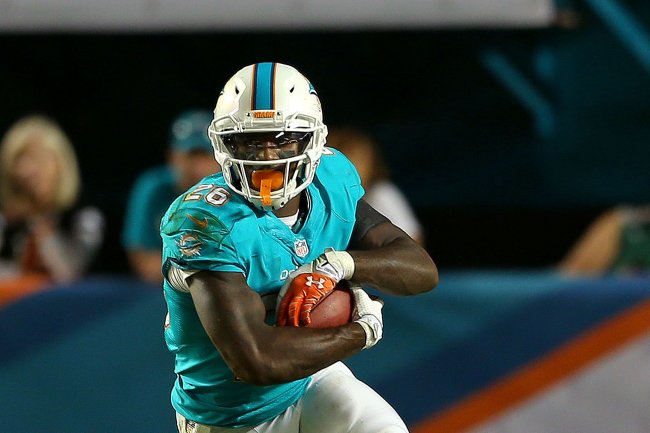 Mike Ehrmann/Getty Images
Lamar Miller has 100-yard potential. He could get there vs. San Diego.
The former University of Miami star has picked up the pace during the past couple of weeks, prompting some to take a closer look at his fantasy value.
According to Dustin Hockensmith of PennLive.com, owners should beware of Miller, who was held to two yards on seven carries during Monday night's 22-19 loss to Tampa Bay.
Miller, though, has an undeniable upside, despite the fact that Miami faces the New York Jets twice before the end of the year. The Jets have the No. 1 rushing defense, giving up 73.8 yards per game.
At 5'10" and 216 pounds, Miller has the size to be an NFL battleship back. He showed that he could take the punishment in the red zone during the Dolphins' 22-20 OT win over Cincinnati. He finished with 105 yards on 16 carries.
He can go head-to-head with athletic defenses.
The second-year pro hasn't rushed for a touchdown in five weeks. He's not a No. 1 back. But if he's available this week, don't be afraid to pull a grab-and-wait move for later in the year. He faced one of the best rush defenses this past Monday but now moves onto one of the worst Sunday versus San Diego (No. 20, 114 YPG).
Worth tracking because of his streak power, Miller could end up as a 1,000-yard back in the near future and prove to be a great value.
Prior to this year, he was owned in 96.1 percent of ESPN leagues. But, on average, he was the No. 58 pick. His average draft position on CBS is 43.28.
TE: Jordan Reed, Washington Redskins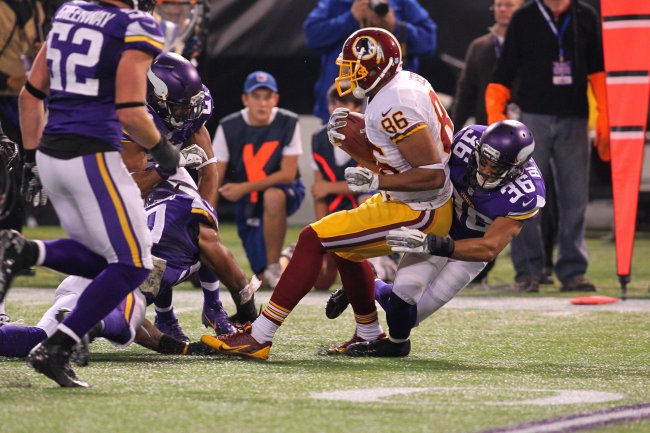 Adam Bettcher/Getty Images
Reed's Redskins take on Foles and the Eagles this week.
Fueled by Robert Griffin III, Washington's offense has the potential to breed fantasy stars for years. With a weapon such as RG3, receivers stand a chance at being on the end of big-time, big-yardage scoring plays on a regular basis.
Reed, a 6'2″, 243-pound rookie out of Florida, could evolve into one of the league's top young tight ends. His fantasy point forecast looks bright as long as he's paired with Griffin III.
Two weeks ago, Reed had nine catches for 134 yards and a touchdown during Washington's 45-41 shootout win over Chicago. He caught each pass thrown his way.
This past week against Dallas, he caught of four of six intended throws and averaged 14.5 yards per catch. Don't sleep on Reed.
WR: Rueben Randle, New York Giants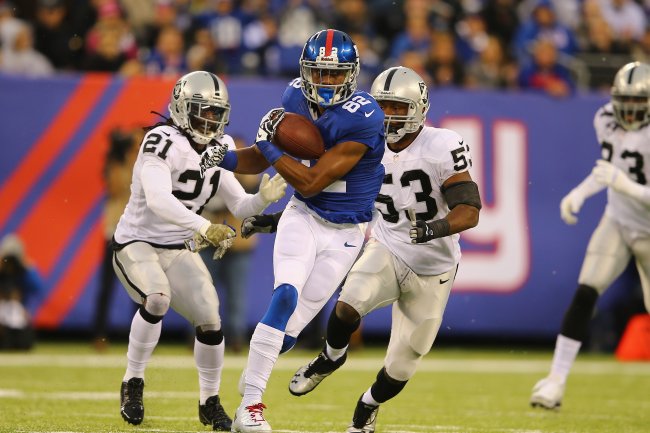 Al Bello/Getty Images
Rueben Randle has five TDs in his past five games.
Now in his second year out of LSU, Randle is coming along and learning from quarterback Eli Manning. The two have connected for five touchdown passes in the past five games, including a timely five-yarder that gave the Giants a 13-10 lead over Oakland this past week (W 26-21).
Manning's stats against the NFC this season aren't great, and that doesn't exactly bode well for Sunday's meeting with Green Bay. He threw three picks during a 27-21 loss to Chicago, too. The North hasn't been kind thus far.
At 6'2″ and 208 pounds, Randle has the frame to endure a pelting by the Packers, making him an attractive option for those looking for a quick fix.
Randle is owned in 77 percent of CBS leagues but is started by just 30 percent, according to his profile.
Which rising player/unit shoots highest this week?
Which rising player/unit shoots highest this week?
Foles

Randle

Reed

Miller

Cardinals D
Defense: Arizona Cardinals
This is taking a chance considering it's been exposed by Seattle and San Francisco, but grabbing the Cardinals defense this week might not be such a bad idea.
In a pinch, of course. There are other defenses out there, but don't get discouraged if you're forced to ride with the team that plays Jacksonville, a team that has one win and ranks near the bottom in every major statistical category known to mankind.
It's worth rolling the dice here. Arizona's defense could outscore the Jaguars, who have a minus-five turnover ratio.
Patrick Peterson and Co. don't have much to worry about when it comes to opposition, either. Jacksonville's offense has mustered 11 touchdowns and averages 12 points per game.
Follow Bleacher Report's Adam Biggers on Twitter @AdamBiggers