Every week a new bench player will get an opportunity to play an increased role because of an injury or a benching for a starting player. Week 9 of the NFL season is no different.
Here's a look at a few players who could become a major factor for their team in Week 10, thus becoming a notable fantasy football option.
Coming into Week 9, Ingram had only appeared in two games this season. He returned to the lineup on Sunday against the New York Jets. Ingram didn't set the world on fire, but here's why he could play a larger role in Week 10.
Third-down back Darren Sproles went down with a concussion, per John Clayton of ESPN.
Darren Sproles is done for the day. They are checking him for a concussion.

— John Clayton (@ClaytonESPN) November 3, 2013
Because he didn't return to the game on Sunday, there is a good chance he won't be available in Week 10 vs. the Dallas Cowboys.
Pierre Thomas could see the reps Sproles normally would, as he is the team's second-most reliable pass-catching back. That would mean Ingram could get more touches as the workload is distributed.
Ingram's hard, inside running style is attractive near the goal line. In the event you have a flex player injured or on a bye, Ingram may not be bad option in a pinch.
New York Jets Defense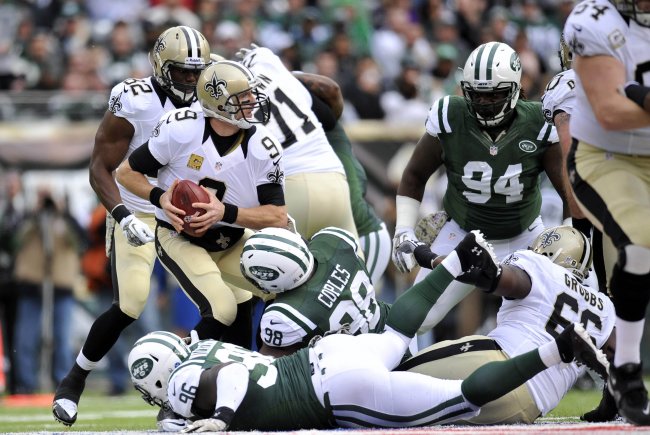 Joe Camporeale-USA TODAY Sports
Fresh off a 49-9 beatdown at the hands of the Cincinnati Bengals, some fantasy owners may have been turned off by the Jets defense. Lo and behold, Rex Ryan's unit inexplicably held the New Orleans Saints offense in check on Sunday.
Drew Brees came into the game with just five interceptions thrown all season. He had been picked off on just 1.8 percent of his throws. The Jets snagged two interceptions from the future Hall of Famer and held the running game to just 41 yards.
Depending on the scoring in your league and your current choice on defense, Gang Green is a solid unit if they are available.
John Carlson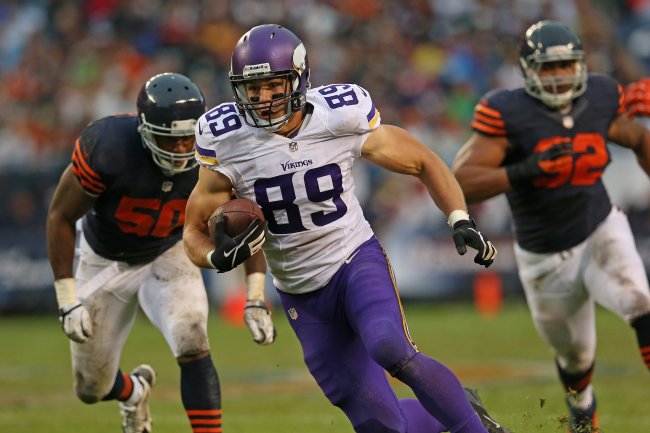 Jonathan Daniel/Getty Images
Kyle Rudolph made a great play on a 31-yard touchdown catch from Christian Ponder in the third quarter of the Minnesota Vikings' 27-23 loss to the Dallas Cowboys on Sunday. However, he was hurt on the play.
Per John Clayton, he was listed as questionable, but he never returned to the game.
On his touchdown, Kyle Rudolph of Vikings suffered a foot injury. Return is questionable.

— John Clayton (@ClaytonESPN) November 3, 2013
Who will have a bigger fantasy football impact in Week 10?
Who will have a bigger fantasy football impact in Week 10?
In the event Rudolph can't play in Week 10, the Vikings would be forced to go with John Carlson. Minnesota depends heavily on the tight end position, as Rudolph was leading the team in receptions coming into the game on Sunday.
Carlson isn't quite as talented as Rudolph, but he does have experience as a starter dating back to his days with the Seattle Seahawks.
He caught 55 and 51 passes his first two years in the league and is capable of filling in for Rudolph. Don't expect a Jimmy Graham-like performance, but he could help you avoid a goose egg if your top options aren't available.