Just because a player has a recognizable name, it does not mean he should automatically remain in your fantasy football lineup. Week 10 of the NFL season features plenty of chances to replace stars with some lesser-known options.
This season has seen a lot of players come out of nowhere to become legitimate options on a weekly basis. Few could have predicted in Week 1 that Philip Rivers, Knowshon Moreno or T.Y. Hilton would be must-starts at this point of the year.
While not all of this week's options will become regulars in your lineup, they still represent great choices for their upcoming games. Feel free to activate them over this set of struggling players.
Players to Sit
Colin Kaepernick, QB, San Francisco 49ers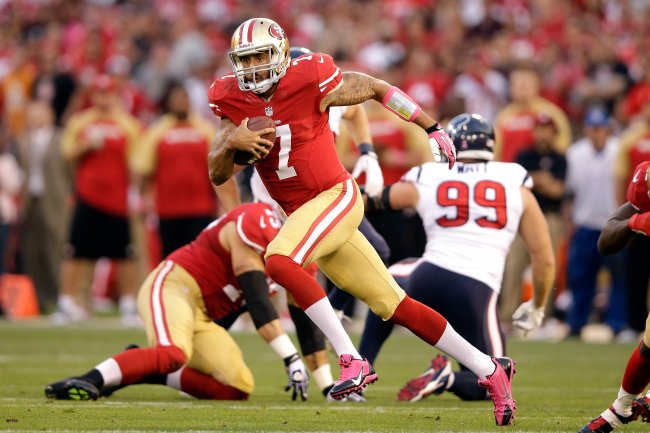 Ezra Shaw/Getty Images
As good as Colin Kaepernick has been in the last few weeks, it is hard to imagine this production being sustainable. He is getting most of his fantasy points thanks to his running ability, as he has only thrown for over 200 yards in a game once since Week 1.
This week, he faces the Carolina Panthers, who rank No. 2 in the league in both rushing defense and points allowed. The squad has one of the best defensive lines in the NFL, and the unit will stop Kaepernick from getting out of the pocket.
The quarterback will be forced to beat the defense through the air, which he has not proven he can do consistently. While San Francisco might find a way to get a win, it is hard to imagine Kaepernick doing well statistically.
Ray Rice, RB, Baltimore Ravens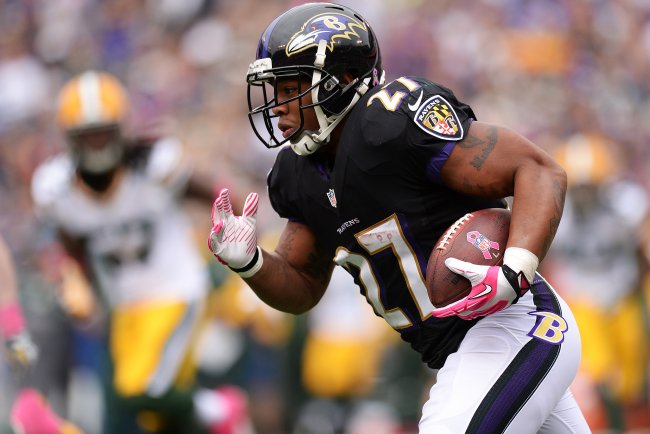 Patrick Smith/Getty Images
It is getting harder and harder to trust a turnaround is coming for Ray Rice. He finished with only 17 rushing yards on 11 carries last week, and this seems to be a regular problem.
At 2.7 yards per carry, only Willis McGahee has a lower average among qualified players.
While this is not all on Rice—the offensive line has struggled immensely—there is little sign that this lack of efficiency will pick up. Even without Geno Atkins, the Cincinnati Bengals should be able to keep the veteran running back in check in Week 10.
Cecil Shorts, WR, Jacksonville Jaguars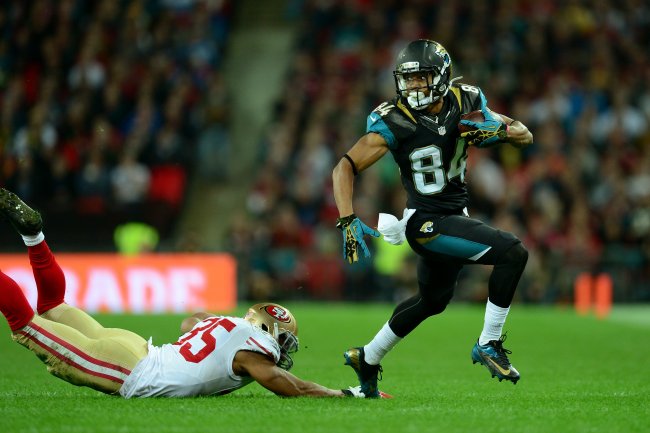 Jamie McDonald/Getty Images
Although Justin Blackmon is suspended for the remainder of the season, it does not automatically mean a boost for Cecil Shorts. Instead, he will receive increased coverage as one of the only legitimate options on the Jaguars offense.
Things will be even tougher this week against a solid Titans defense that has done well at defending receivers this season. Opposing players at the position have only averaged 13.3 points per game, which is the lowest mark in the NFL.
In fact, a receiver has not scored a touchdown against this unit since Week 2.
Shorts might get targeted more often, but that does not guarantee production, and he will probably have a slow day of work.
Players to Start
Nick Foles, QB, Philadelphia Eagles
Will Nick Foles throw for seven touchdowns every game like he did against the Oakland Raiders? Not a chance. However, he is still proving to be a solid quarterback for the Eagles.
The second-year player looked good against the Tampa Bay Buccaneers and New York Giants in previous weeks, and he is developing a good connection with receivers DeSean Jackson and Riley Cooper.
He should be able to keep this up against the Green Bay Packers, who just allowed Josh McCown to throw for 272 yards and two touchdowns. If you need a starting quarterback this week, Foles is the way to go.
Rashad Jennings, RB, Oakland Raiders
When Rashad Jennings gets a chance to shine, he makes it count. Last week, he totaled 176 yards from scrimmage and a touchdown after Darren McFadden left the game with a hamstring injury.
While McFadden's status remains unknown, head coach Dennis Allen admitted that the team is concerned about the injury, according to Paul Gutierrez of ESPN.
As a result, Jennings will likely get the bulk of the carries in Week 10 against the Giants. With his ability to contribute both on the ground and through the air, he should have another big day for the Raiders.
Kendall Wright, WR, Tennessee Titans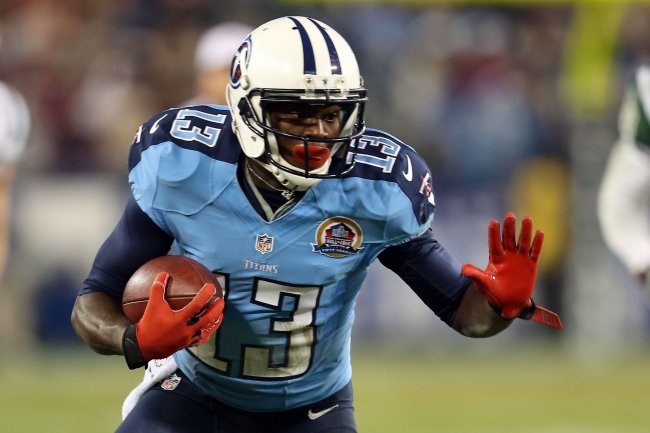 Andy Lyons/Getty Images
Although Kendall Wright is not much of a downfield threat, he is averaging almost eight targets per game and leads the Titans in catches and receiving yards.
As Jake Locker gets more comfortable with the offense, this will lead to more production for Wright.
This week represents a great opportunity for Locker to have a big passing day, as the Jaguars defense ranks dead last in the league in opponent passer rating while ranking in the bottom 10 in passing yards per play and passing touchdowns allowed.
Wright should be the biggest beneficiary, and he should have a strong showing in Week 10.
Follow Rob Goldberg on Twitter for the latest breaking news and analysis.