The NFL may be rapidly evolving into a pass-first league, but running backs still play a critical role in the outcome of fantasy football matchups every week.
While defending MVP Adrian Peterson already dashed the Washington Redskins' porous defense on Thursday, there will be plenty of other ball-carriers to rack up impressive stats in Week 10. Let's take a look at a few in particular.
Reggie Bush
The last time the Detroit Lions faced off with the Chicago Bears, Reggie Bush made mincemeat of their defense, and that was before Chicago suffered crippling losses on the injury front.
[embedded content]
Bush racked up 139 yards rushing on only 18 carries (which means he averaged almost eight yards a handoff) and added 34 yards in the receiving category on four catches. Detroit's offense has gradually turned into a give-the-ball-to-Bush-or-Calvin Johnson unit, and fantasy owners will benefit.
Furthermore, the Bears are a walking mash unit on defense right now. Henry Melton, Lance Briggs, D.J. Williams and Nate Collins are all out for the year, so there will be available holes for Bush to exploit. Christopher Harris of ESPN.com recently listed Chicago as the worst defense in the league against opposing running backs.
Fortunately for Bears fans, Bush won't be the only running back racking up impressive numbers in that game.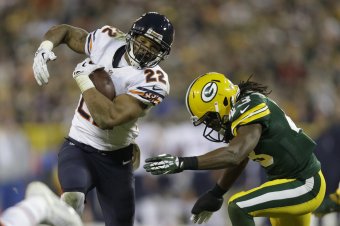 Mike McGinnis/Getty Images
Matt Forte has been quietly dominating in Marc Trestman's offense regardless of who lines up under center. He tallied 125 yards rushing and 54 yards receiving in the important division win over Green Bay on Monday and ran for 95 yards and a touchdown last time he faced Detroit.
Jay Cutler will be back for the Bears this week but expect a heavy dose of run plays to protect his injured groin, especially against Ndamukong Suh and Detroit's pass rush. Forte will take advantage of the extended opportunities and help keep pace with Bush and the Lions offense.
Mike James
Props to you if you picked up Mike James from the waiver wire when Doug Martin went down with injury. Regardless of his status as a starting running back in the NFL (which is always a valuable moniker in fantasy circles), James is still a rookie for a winless team.
Does Mike James get more than 100 yards Monday?
Does Mike James get more than 100 yards Monday?
However, that risk paid off big time last week when James tallied big numbers against the typically dominant Seattle Seahawks defense. James amassed an impressive 158 yards rushing and even threw for a touchdown at the goal line in the process.
Obviously, the sample size isn't there for James. Also, Tampa Bay often finds itself trailing in contests, which means less carries and more throws.
Despite these concerns, James will ride his momentum and newfound confidence from the performance against Seattle and carve up a much weaker Dolphins defense. Harris of ESPN.com listed Miami as the third-worst defense against opposing running backs this week, meaning James will have plenty of creases to run through Monday night.
Top Week 10 Running Backs

| | | |
| --- | --- | --- |
| Reggie Bush | Lions | Bears |
| Matt Forte | Bears | Lions |
| Mike James | Bucs | Dolphins |
| Eddie Lacy | Packers | Eagles |
| Marshawn Lynch | Seahawks | Falcons |
| LeSean McCoy | Eagles | Packers |
| Chris Johnson | Titans | Jaguars |
| Knowshon Moreno | Broncos | Chargers |
| Frank Gore | 49ers | Panthers |
| C.J. Spiller | Bills | Steelers |
Rankings are strictly personal opinion