This week presents some intriguing matchups in terms of fantasy wide receivers.
You've got your top guys who will deliver every week, but there are also plenty of players who are on the fringe of elite status set to drop boatloads of points this weekend.
The best owners will always be alert of whom their players are going up against, in order to put his or her team in the best position to win. For instance, Jordy Nelson's stock is taking a major dip, while Antonio Brown should remain a WR1 after starting the season so slowly.
Here's a look at the top 10 wideouts heading into this week based on matchups and their production up to this point in the season.
Top 10 Fantasy WRs—Week 10

| | | |
| --- | --- | --- |
| 1 | Calvin Johnson, DET | Chicago Bears |
| 2 | Wes Welker, DEN | San Diego Chargers |
| 3 | Brandon Marshall, CHI | Detroit Lions |
| 4 | DeSean Jackson, PHI | Green Bay Packers |
| 5 | AJ Green, CIN | Baltimore Ravens |
| 6 | Pierre Garcon, WAS | Minnesota Vikings |
| 7 | Demaryius Thomas, DEN | San Diego Chargers |
| 8 | Andre Johnson, HOU | Arizona Cardinals |
| 9 | Dez Bryant, DAL | New Orleans Saints |
| 10 | Keenan Allen, SD | Denver Broncos |
Joseph Zucker
These four players stand out for what they may or may not be delivering this weekend.
4. DeSean Jackson, Philadelphia Eagles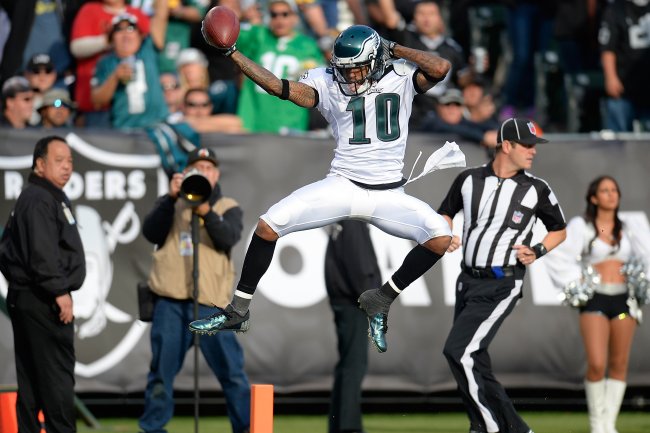 Thearon W. Henderson/Getty Images
As weird as it may sound, the Philadelphia Eagles offense could be one of the biggest benefactors of Aaron Rodgers' injury. The veteran quarterback looks to be out for a while after breaking his collarbone on Monday night, according to NFL.com's Chris Wesseling.
The more ineffective the Packers offense is, the more time Philadelphia is going to have on offense.
That's great news for the owners who are starting DeSean Jackson this week. He already looked to be a major player this weekend by going up against Green Bay's weak secondary. His value is only going to increase should the Packers offense fail to move the chains.
But just don't expect Nick Foles to go and throw for seven touchdowns again.
8. Andre Johnson, Houston Texans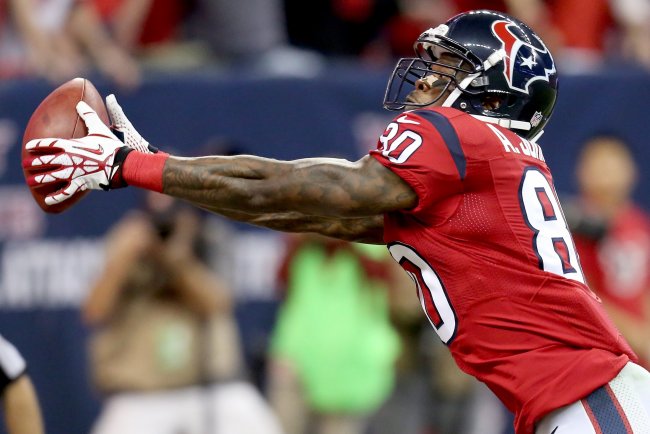 Thomas B. Shea/Getty Images
Andre Johnson must feel like a new man. Having Case Keenum under center is a stark contrast to the days of Matt Schaub and T.J. Yates starting for the Houston Texans. With Keenum, Johnson has a QB who can hit him with the long ball and won't kill drives by throwing interceptions.
Last week's nine receptions, 229 yards and three touchdowns served as a major sign that all is right with Johnson. He's taken his position as one of the best fantasy WRs around.
The veteran wideout might have had more value this week if the Texans weren't facing off with the Arizona Cardinals. They have a tough pass defense, and Keenum could be in for a rude awakening.
Considering Johnson will get the most targets of any Houston receiver, coupled with Keenum's emergence, the wide receiver still has plenty of value this week.
9. Dez Bryant, Dallas Cowboys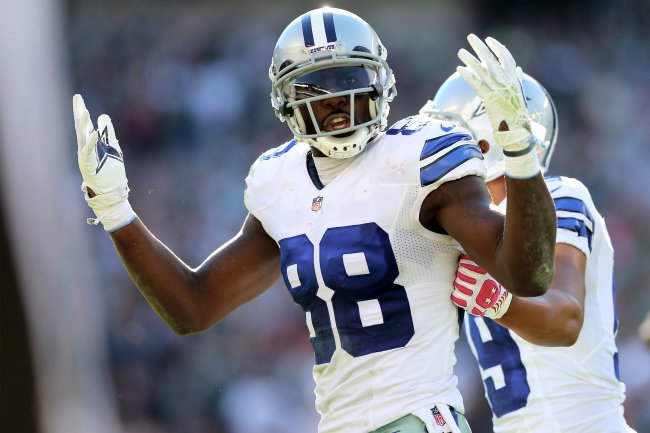 Elsa/Getty Images
Make no mistake about it, Dez Bryant is an elite fantasy receiver. Sometimes, though, there are those weeks when the top guys end up giving you below star-level production. This will be one of those weeks for Bryant.
The New Orleans Saints are very good against the pass. Football Outsiders ranks them sixth in the league. They're holding opposing quarterbacks to 212 yards a game with a 75.8 passer rating. Tony Romo isn't going to be able to cut apart the New Orleans secondary.
That will in turn hurt Bryant's fantasy value. He'll still put up numbers, but they'll likely be similar to his performance over his last two games—an average of 4.5 receptions for 68 yards.
10. Keenan Allen, San Diego Chargers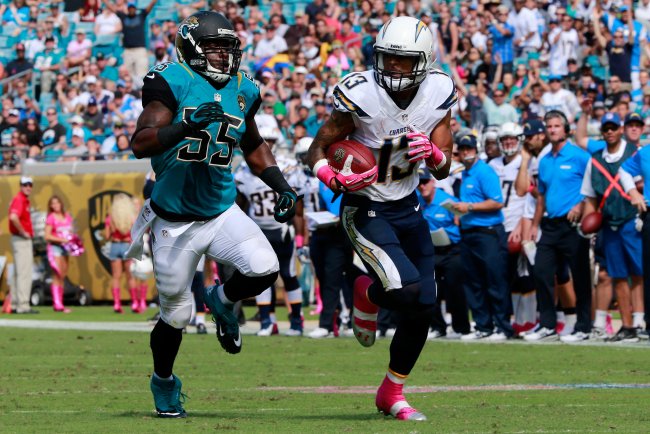 Sam Greenwood/Getty Images
Keenan Allen has transformed into a must-start wide receiver just about every week. After two subpar performances to start the season, the rookie wideout has recorded 31 receptions, 497 yards and three touchdowns in the following five games.
If you happen to be in a league where he's not been snapped up, make sure the first thing you do after reading this is grab him off the waiver wire.
While he's not a home-run threat, Allen presents a steady option in the San Diego Chargers passing game.
The opportunity will be there for him to continue that strong run of form. The Denver Broncos remain shaky against the pass, even after making some strides in recent weeks. Philip Rivers will have success, and Allen will be among his top targets.