While the Washington Redskins have hardly been a hotbed for fantasy studs in 2013, the Week 10 fantasy outlook for their top performers is looking quite promising.
In the Minnesota Vikings, their Week 10 opponent, the Redskins will be facing off against one of the NFL's worst teams.
With that said, let's find out what this matchup means for Washington's top performers from a fantasy perspective: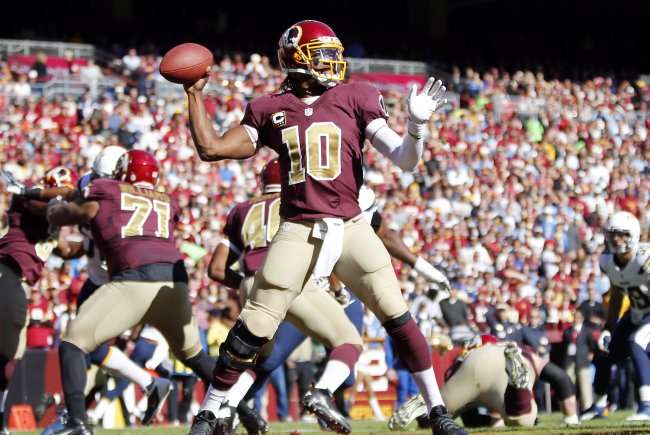 Geoff Burke-USA TODAY Sports
Griffin should have success passing against the Vikings' porous pass defense.
Whether it be in reality or the fantasy forum, Griffin hasn't matched expectations in his sophomore campaign. The sixth-ranked quarterback in ESPN.com fantasy football leagues in 2012—and he missed two games—Griffin is currently ranked 15th.
Griffin's Week 9 effort against the San Diego Chargers' 27th-ranked pass defense illuminates Griffin's drastic swoon in production.
Griffin flashed the accuracy he displayed last year, completing over 70 percent of his passes. But for the third time this season, he didn't register a touchdown. Mind you, he only had two such outings all of last season.
Then there's the absence of Griffin's ability to serve as a dual threat. He only rushed for 17 yards versus the Chargers. On the season, he only has 257 yards rushing.
Ask Griffin, as CBS' Will Brinson did, and you'll hear that this decline isn't related to his offseason knee surgery.
As Griffin put it, the opportunity to run just "hasn't presented itself."
This is in stark contrast to the comments Pierre Garcon relayed to Brinson, in regards to his quarterback's diminished rushing numbers.
"Robert obviously can't run as fast as he did last year because of his knee brace and his knee," Garcon said.
Either way you slice it, Griffin can't be counted on to produce anything of value running the ball. His fantasy value at this point is solely tied to his passing ability. With only nine touchdowns—and nine interceptions—Griffin can't be looking too good as a fantasy option at the moment.
Still, the saving grace for Griffin's fantasy value this week is Minnesota's atrocious pass defense.
Who hasn't put up numbers on its defense?
Jay Cutler, Cam Newton and even Brian Hoyer have had big days against the Vikings.
With Minnesota giving up 18 touchdowns via the pass this season, Griffin would be hard-pressed to not find the end zone in this one.
Prediction: 250 yards passing and two touchdowns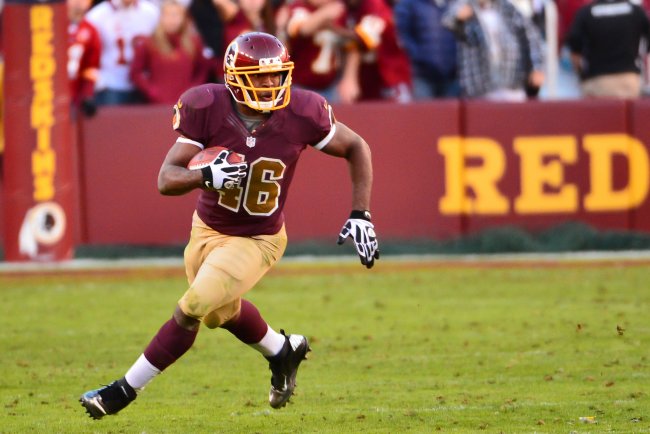 Tommy Gilligan-USA TODAY Sports
Morris has been the most consistent performer on the Redskins this season.
In a season in which many top fantasy backs have disappointed—Ray Rice, Doug Martin and Arian Foster ring a bell?—Morris has delivered.
As Cody Williams of RantSports.com notes, Morris has been fairly consistent this season.
In his last four games, Morris hasn't finished with less than 80 yards on the ground. In addition, minus the Chicago game, he has a touchdown in each of those games.
If not for the out-of-nowhere, three-touchdown performances from Roy Helu and Darrel Young, Morris' numbers would look even better.
Seeing that these touchdown thieves have only one touchdown between them outside of these outings, fantasy owners shouldn't expect these vultures to prey on Morris' touchdown opportunities going forward.
Enter the Vikings' rush defense.
Minnesota held, if you want to call it that, the Dallas Cowboys to 36 rushing yards in Week 9, but its rushing defense is far from elite.
The Vikings' 11th-ranked rush defense is merely a result of teams exploiting their bad pass defense. Dallas' choice to throw the ball 51 times and only run it nine times serves as credence to this very fact.
Such an imbalance won't happen on Mike Shanahan's watch. The Redskins are seventh in rushing yards and 13th in attempts.
Minus the touchdown vultures, you can expect Morris to have a big outing in this one.
Prediction: 170 total yards and two touchdowns
Pierre Garcon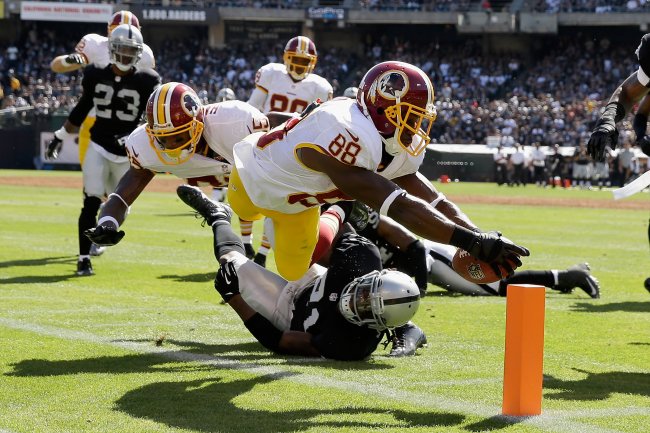 Ezra Shaw/Getty Images
Garcon has struggled to find the end zone this season.
On pace to set career highs in receiving yards and receptions, Garcon has again emerged as Griffin's favorite target. Unfortunately for Garcon, those targets haven't come in the end zone too often.
Even after posting a season-high 172 receiving yards last week against San Diego, Garcon once again failed to score a touchdown.
For the season, Garcon only has two touchdown receptions.
As the No. 1 receiver in Washington, this might not change against the Vikings.
Minnesota has had some success shutting down opponents' top receivers. The likes of Calvin Johnson, Dez Bryant, Steve Smith and Victor Cruz have all been held in check against the Vikes.
So, while it's true that Minnesota has allowed a receiver to score in every contest, chances are, Garcon won't be that guy in this game. He'll, instead, be the decoy.
Prediction: 70 receiving yards and no touchdowns
Jordan Reed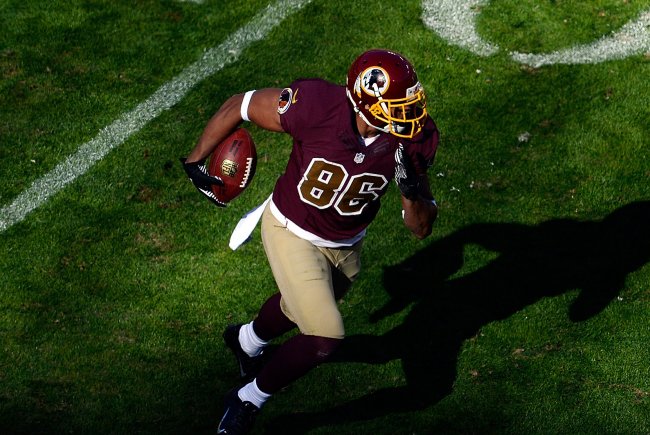 Patrick McDermott/Getty Images
With Minnesota's focus on stopping Morris and Garcon, Reed should have ample room to operate.
After a stellar run of fantasy production, Reed came back to earth against the Chargers. With 37 receiving yards and no scores, it was his worst fantasy game since his NFL debut.
Good thing the Vikings' pass defense has been the elixir for many tight ends this season.
Jason Witten, Jordan Cameron and Martellus Bennett are all tight ends who have had big days at the expense of Minnesota's safeties and linebackers.
Not only from a yardage standpoint but with touchdowns as well.
With Garcon garnering most of the focus on Minnesota's end, Reed should be able to exploit the Vikings safeties and linebackers in one-on-one matchups.
Prediction: 85 receiving yards and one touchdown
Washington Defense/Special Teams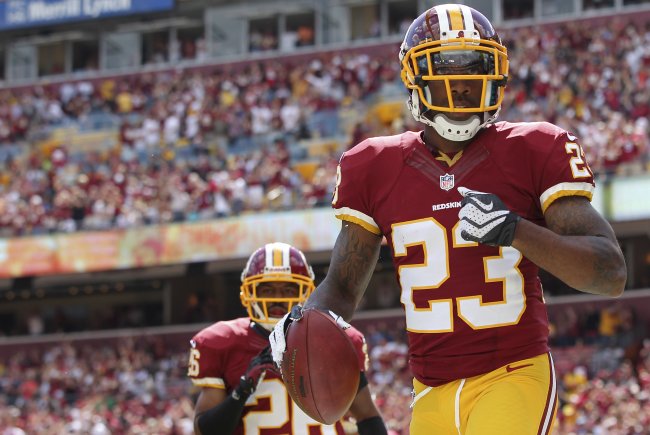 Geoff Burke-USA TODAY Sports
DeAngelo Hall shouldn't have too much trouble getting his hands on the ball against the turnover-prone Vikings.
Ranked 30th in total defense, Washington's defense has been a godsend for opposing offenses.
Besides holding the Oakland Raiders to 14 points, the Redskins have surrendered more than 27 points in every contest.
Nonetheless, it's an Oakland offense that Minnesota should envy. The Raiders are 20th in total offense, and the Vikings are 28th.
Additionally, the Vikings are second in the NFL in giveaways, with 18.
With the Washington defense already returning five turnovers for touchdowns, Minnesota appears to possess the one offense that Redskins defenders can actually salivate at.
Seventh in the NFL against the run, Washington should be able to corral Adrian Peterson to an extent.
This places the offensive burden on Christian Ponder. Considering he is an owner of only three touchdown passes this season, it shouldn't be too daunting of a task for Washington to squelch his production as well.
Don't expect the Vikings to muster a lot of points in this one. Furthermore, Washington will add to its defensive touchdown total.
Prediction: 13 points allowed, two interceptions and a return touchdown