New York Giants wide receiver Victor Cruz is one of the best fantasy football stars in the NFL, but a neck injury in the team's Week 8 victory over the Philadelphia Eagles has owners scared for his immediate future and that beyond Week 10.
Even after the Giants' bye week, Cruz is still experiencing discomfort in his neck, according to Conor Orr of The Star-Ledger. He was forced to miss practice on Wednesday, and while the team expects him to play Sunday, there is still a genuine concern about the injury.
Running back David Wilson also injured his neck earlier this season against Philadelphia and will reportedly be placed on season-ending injured reserve, per Orr. The Giants understand the complexities of neck injuries and will not test their luck with Cruz if he isn't 100 percent healthy.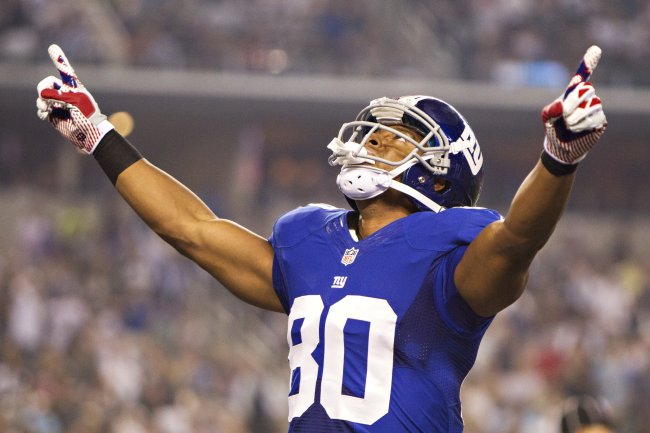 Wesley Hitt/Getty Images
If New York says Cruz should be ready for Sunday's game against the Oakland Raiders, though, fantasy owners must believe the franchise and ride with him.
It's always a smart idea to check his status for the Friday practice before a game. And if Cruz is ready for the game against Oakland, that's bad news for the Raiders.
After being destroyed in Week 9 by the Eagles and backup quarterback Nick Foles in Week 9 (who threw for an NFL record-tying seven touchdowns), the Oakland secondary will be in serious trouble against a Giants passing offense that is starting to find a rhythm.
Over/Under on how many Yards Cruz will have in Week 10.
Over/Under on how many Yards Cruz will have in Week 10.
With quarterback Eli Manning looking to regain his own elite form, expect Cruz to blast past the league's 25th-ranked pass defense (allowing 262.6 yards per game) and put up a huge statistical day of his own.
Cruz started the season red hot—three 100-yard days in the first four weeks—but has cooled off dramatically since. While he hasn't been very consistent in recent weeks, his best game since the hot start came against the Eagles in Week 8 (seven receptions for 86 yards), and he will be looking to carry the momentum into the matchup with the Raiders.
If a receiver like Riley Cooper can catch five balls for 139 yards and three touchdowns against Oakland's porous defense, fantasy owners should expect big numbers from the more talented Cruz.
Predicted Final Stat Line: Eight receptions for 150 yards and one touchdown.
All stats via NFL.com. Based on standard-scoring leagues.