Quarterbacks are becoming more and more valuable in fantasy football as offenses become exceedingly pass-happy around the NFL.
It is somewhat difficult to predict a quarterback's success, especially because many of the mainstream statistics are extremely volatile and unpredictable for all but the top few signal-callers in the league.
There is also a whole brand-new element with the influx of dual-threat and read-option quarterbacks like Cam Newton and Colin Kaepernick invading the NFL over the past few seasons.
While it is hard to narrow down exactly where to look when predicting a quarterback's fantasy success, these eight statistics should serve as a useful place to start.
Touchdown-Attempts Ratio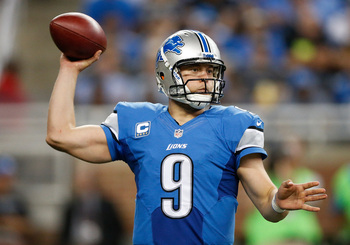 Gregory Shamus/Getty Images
When looking at a quarterback's statistics, it can be misleading to project their future production based strictly off of their raw total touchdowns thrown.
It is important to put those into context and compare them to attempts. Say over a two-game stretch, quarterback A throws 100 passes in two shootout games and quarterback B throws 60 in two normal games. Both throw seven touchdowns in that span.
It is a lot more likely that quarterback B will give more consistent production over the rest of the season based off of his 1-to-8.5 touchdown-attempts ratio.
Last season, Matthew Stafford had an abysmal 1-to-36 touchdown-attempts ratio, so people were confused about his potential for this year. The attempts have come down, but his ratio is now 1-to-13 through three games, so his value has held somewhat steady.
Time Spent Behind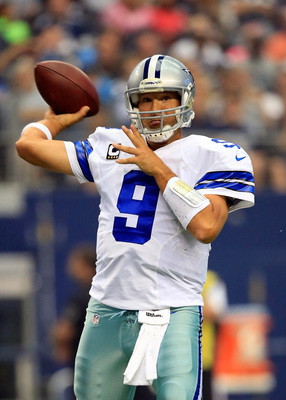 Jamie Squire/Getty Images
The logic behind this one is relatively simple, although it can be more involved and revealing than simply looking at passing attempts, which is obviously what is at stake here.
In theory, the more often a team is behind in a game, the more it will have to throw the ball in an attempt to catch up faster. Analyzing this statistic requires going a little above and beyond, as well as taking into account a team's strategy and its quarterback's attempt history.
This chart over at footballperspective.com is a great place to start. It helps explain why Tony Romo put up big numbers last year, because Dallas trailed so often. If they start taking more leads in games, Romo's attempts should regress back to the mean and limit his potential to be a great fantasy quarterback.
Rushing Totals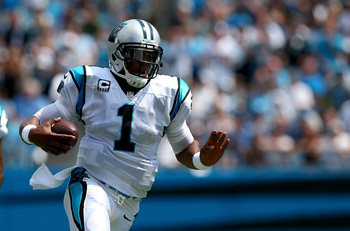 Streeter Lecka/Getty Images
In many fantasy leagues, running backs are extremely valuable not just because they are in short supply, but because they offer the chance to score a lot of points in bunches.
Most leagues give a point per 30-40 passing yards but only per 10 rushing yards, as well as four points per passing touchdown vs. six per rushing score.
This gives running quarterbacks a distinct advantage, as one simple rushing score can turn an average fantasy performance into a good one. Cam Newton, Robert Griffin III, Russell Wilson and Colin Kaepernick all get a boost in value from their running ability.
But it is also important to note pass-first guys who have some ability to run. Aaron Rodgers is usually good for 250-350 yards and a few scores per season, and even Tom Brady had four rushing touchdowns in 2012. Andrew Luck also had five scores on the ground last year and already has two this season.
Adjusted Net Yards Per Attempt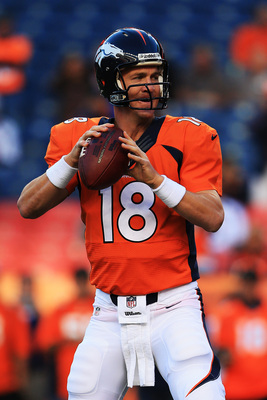 Doug Pensinger/Getty Images
Chase Stuart over at footballperspective.com says that his favorite explanatory passing statistic for quarterbacks is adjusted net yards per attempt, or ANY/A.
It seems like an advanced metric, but it is really quite straightforward and easy to both understand and compute. Stuart simply uses the following formula to give insight about a quarterback's value:
(Passing Yards + 20 * Passing Touchdowns – 45 * Interceptions – Sack Yards Lost) divided by (Pass Attempts + Sacks)
The chart, which you can find here, gives a pretty safe and reliable view of who the most effective quarterbacks are when it comes down to a pure numbers standpoint, which is all fantasy is really about.
The article also goes on to look at defenses and comparisons between strength of schedule, which isn't as relevant for fantasy but is still worth a read.
Total Turnovers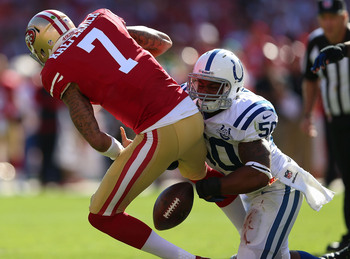 Jed Jacobsohn/Getty Images
This fascinating read on interceptions from footballperspective.com is a bit detailed but gets at a basic premise: Bad teams throw the ball farther and more often and are therefore more susceptible to throwing interceptions.
Looking at the context of the entire team, the offense surrounding a player and the season schedule can help you get a better idea of how likely a quarterback is to throw interceptions.
But even though interceptions are the most widely discussed negative quarterback statistic, fumbles can be equally as damaging from a fantasy points perspective in the fantasy world.
Getting hit a lot can cause fumbles. Just ask Philip Rivers, who had 24 in 2011 and 2012 combined. But guys who run a lot and don't protect the ball well can also be a liability. Colin Kaepernick had an astonishing nine fumbles, while starting only six games last year.
Touchdown-Interception Ratio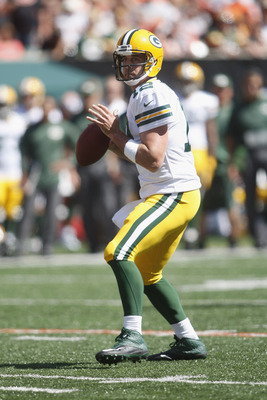 John Grieshop/Getty Images
Another way of looking at touchdown totals is in comparison to interceptions thrown. This can help measure a quarterback's accuracy, efficiency and decision-making.
Throwing 28 touchdowns in a season is great, but when they are accompanied by 19 interceptions (Tony Romo in 2012), they look a bit less appealing. Throwing about 0.68 interceptions for every touchdown really takes away from a quarterback's fantasy production.
Compare that to a guy like Aaron Rodgers, who threw just 0.21 interceptions for every touchdown while racking up 39 scores in 2012. A better comparable in value to Romo would be Russell Wilson, whose 0.38 interceptions for every touchdown was impressive for a rookie.
Red-Zone Touchdowns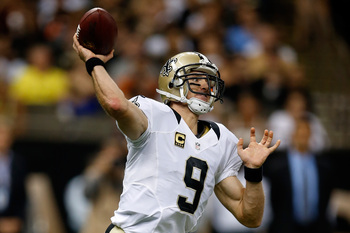 Chris Graythen/Getty Images
If you can't tell by now, I really like the work that's done over at footballperspective.com, and not just because it's free, unlike ProFootballFocus and FootballOutsiders.
Perhaps their most intriguing recent work was done on the repeatability of touchdown passes based on how long a quarterback's touchdown passes were. They said that, on the whole, shorter touchdown passes carried over more consistently year-to-year.
They found that Drew Brees throws a ton of touchdown passes from inside the 20 and even 10-yard lines, and it's no wonder that he's at or near the top of that category at the end of every season.
Meanwhile, guys like Tony Romo, Jay Cutler and Jay Flacco all relied on more touchdowns outside the red zone, and all three (but mostly Cutler and Flacco) are considered more volatile, mid-tier fantasy options.
Completion Percentage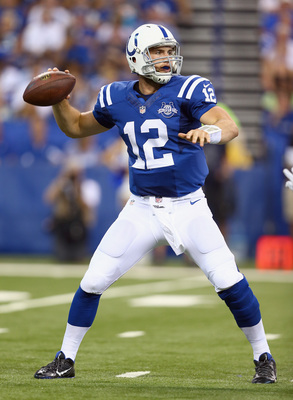 Andy Lyons/Getty Images
And to finally close things up, we get to probably the simplest and most well-known stat in the book. While completion percentage usually takes a back seat to touchdowns and yards, it can reveal more than both of them.
Accuracy is ultimately the most important attribute a quarterback can possess. But there is more to it than just throwing the ball accurately; a quarterback has to be able to anticipate holes in coverage and get the ball into tight spots in extremely tight windows. This is an ability that usually gets better with age.
Veterans like Aaron Rodgers, Tom Brady and Drew Brees dominate this category every year, and that is why Robert Griffin III's percentage of 65.6 was so impressive as a rookie.
Andrew Luck, on the other hand, had a dismal 54.1 completion percentage as a rookie, but he has improved it to 65.6 this year and has seen his fantasy value rise in parallel.
Begin Slideshow
This article is
What is the duplicate article?
Why is this article offensive?
Where is this article plagiarized from?
Why is this article poorly edited?
Flag This Article