Football Outsiders' playoff odds; NFL's most likely teams to reach postseason
Updated: November 12, 2013, 2:17 PM ET

By Danny Tuccitto | ESPN Insider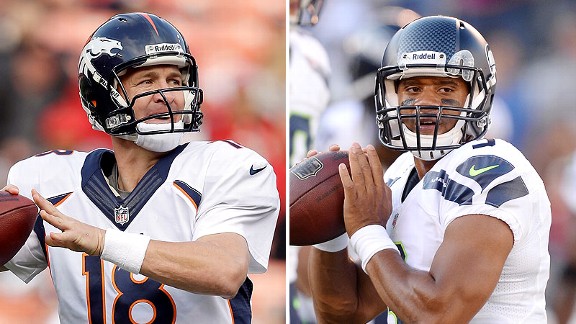 Getty ImagesPeyton Manning and Russell Wilson have their respective teams in prime playoff positions.
Kansas City is the last undefeated team in the NFL, but the road to Super Bowl XLVIII still goes through Denver and Seattle, according to the Football Outsiders' playoff odds report.
Each week from now until the end of the regular season, we'll be taking a look at the projected playoff field based on the Football Outsiders' playoff odds simulation that plays out the rest of the season 50,000 times. A random draw assigns each team a win or loss for each game. (Like Donovan McNabb, the playoff odds simulation does not believe in ties.) The probabilities are based on each team's current weighted DVOA rating as well as home-field advantage. (DVOA is Football Outsiders' proprietary defense-adjusted value over average metric which looks at a team's performance on every play and adjusts based on situation and opponent; weighted DVOA then takes that rating and adjusts it to lower the strength of games that took place more than a month ago.)
If your favorite team doesn't appear too high in this report, don't get discouraged just yet. A year ago at this time, we gave Cincinnati a 20.1 percent chance of making the playoffs, and Washington was even worse at 4.5 percent. Both teams not only made the playoffs but won their divisions.
You can find the full playoff odds report, including the odds of each team winning each of the six seeds, on FootballOutsiders.com.
To read Danny Tuccitto's full breakdown of the NFL's best playoff odds, sign up for Insider today.