Tiquan Underwood caused quite an uproar in fantasy football circles on Sunday, but he's nothing more than fool's gold heading into Week 13.
Underwood caught three passes for 108 yards and two touchdowns last weekend, helping the Tampa Bay Buccaneers win a tough game on the road against the Detroit Lions.
His monster game amounted to 22.8 fantasy points, which was more than he'd accounted for all season leading up to Week 12, as noted by Michael Fabiano of NFL.com:
Tiquan Underwood has 22.8 fantasy points today. He had 22.6 entering the week … all season.

— Michael Fabiano (@Michael_Fabiano) November 24, 2013
A fifth-year pro out of Rutgers, Underwood had a career year with the Bucs last season, catching 28 passes for 425 yards with two scores. But his production has waned a bit in 2013, and he's caught just 13 passes all year long.
The breakout game against Detroit was the first time in his entire career that Underwood eclipsed the 100-yard mark in a game. It was also his first multi-touchdown performance, as noted by ESPN Stats & Info:
Tiquan Underwood- 85 yard TD catch– 3rd-longest TD catch in Buccaneers history. It's Underwood's 1st game with multiple TD catches

— ESPN Stats & Info (@ESPNStatsInfo) November 24, 2013
Unfortunately, Underwood's impressive showing won't be duplicated this weekend.
Tampa Bay is on the road in Week 13 for an NFC South showdown with the red-hot Carolina Panthers.
Carolina has won seven games in a row, thanks in large part to a stifling defense that is particularly brutal to opposing pass-catchers. The Panthers feature the NFL's No. 3-ranked fantasy defense against wide receivers, allowing just 14.2 fantasy points per game.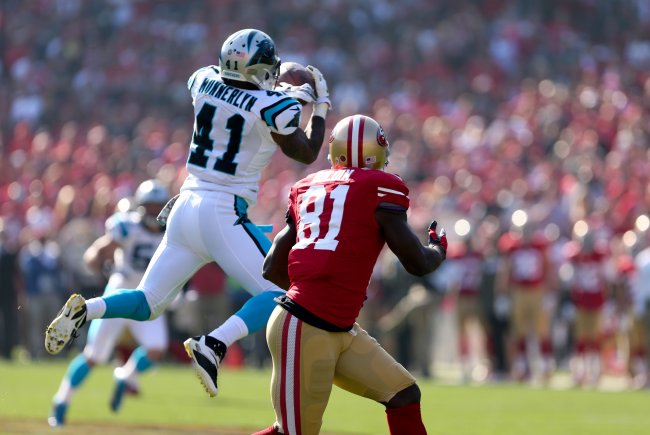 Kelley L Cox-USA TODAY Sports
Furthermore, Carolina has allowed just three touchdowns to receivers all year long.
Given the fact that Underwood is purely a big-play threat who hasn't caught more than three passes in a game this season, nobody should expect him to be a fantasy star this weekend.
Another big game could be coming up in Week 14, however, as the Buffalo Bills will come to Florida to take on the Bucs. Buffalo features the league's third-worst fantasy defense against receivers, allowing 27.5 points per game.
Underwood is worth ______ in fantasy leagues.
Underwood is worth ______ in fantasy leagues.
Starting

A spot on the bench

Nothing
After that, though, Tampa Bay travels to Candlestick Park for a battle against the San Francisco 49ers, who feature the fifth-best fantasy defense in the league.
Long term, Underwood's fantasy value is marginal—at best.
He's not a reliable receiver to lean on as the playoff push continues to ramp up, and fantasy owners would be smart to look elsewhere for their production. A spot on the bench is about as much action as I'd advise for this receiver.
Follow me on Twitter @JesseReed78