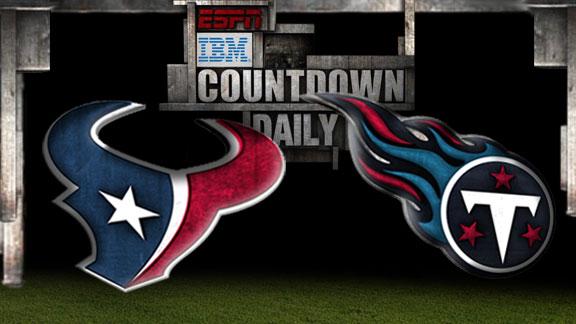 Countdown Daily Prediction: HOU-TEN
VIDEO PLAYLIST
NASHVILLE, Tenn. — Mike Munchak can start arguing he deserves to coach the Tennessee Titans in 2014.
Texans owner Bob McNair can hire a new coach before Houston decides who will be the No. 1 draft selection in May.
Chris Johnson ran for 127 yards and a touchdown in what might be his last game with the Titans, who beat the Houston Texans 16-10 Sunday for a win that might help Munchak's argument to stay on the job.
With their 14th straight loss, the Texans (2-14) at least made sure whoever their next coach is will have the top draft pick.
The Titans (7-9) scored 16 straight points in snapping a five-game home skid that was their longest since leaving Houston for Tennessee in 1997. They also won a second straight game for the first time since September, when they started 3-1.
Rob Bironas kicked three field goals, including a season-long 55-yarder. Linebacker Akeem Ayers intercepted a pass and forced a fumble as the Titans got four turnovers they turned into 10 points.
The Texans had one last chance with the ball and 66 seconds left, but Michael Griffin intercepted an overthrown pass by Matt Schaub. That was the third turnover by the Texans quarterback.
Johnson became the sixth man in NFL history to run for at least 1,000 yards in each of his first six seasons with a 23-yard run in the second quarter, joining Barry Sanders, Curtis Martin, LaDanian Tomlinson, Eric Dickerson and Corey Dillon. But Johnson, who ran for 2,006 yards in 2009, is due $8 million in 2014, with $29 million left on his contract. That might be too much to pay for someone who posted only his second 100-yard rushing game of the season Sunday.
The Texans now can focus on 2014 after a miserable season that saw Jonathan Grimes, signed Dec. 18, become the fifth running back to start this season.
McNair already has been interviewing possible replacements for Gary Kubiak, fired Dec. 6, with interim coach Wade Phillips hoping his performance as defensive coordinator earns him the job.
Tennessee outgained Houston 311-288 in total offense, with 165 coming on the ground thanks to Johnson.
The Texans were up 7-6 at halftime thanks to an opening drive where they looked like the two-time AFC South champs they came into the season as. The banged-up team even got good production from Grimes, who capped the drive with his first NFL TD on a 3-yard carry and ripped through the Titans early.
Houston didn't score again until Randy Bullock kicked a 19-yard field goal with 2:53 left when Phillips decided not to go for a touchdown on fourth-and-goal at the Titans 1.
Tennessee finally got took its first lead late in the third quarter. Ayers intercepted a ball that clanked off the face mask of Titans safety Bernard Pollard on Schaub's pass a little behind Texans tight end Ryan Griffin. Johnson's 11-yard TD put them ahead to stay 13-7.
Copyright by STATS LLC and The Associated Press