You know what? You should start Drew Brees this week.
If only fantasy football was that easy every week. Unless you're in some sort of four-team league, every week is fraught with difficult decisions. You have to always be on the alert for which players are due for a huge performance, and which ones won't give you anything.
These three players aren't generally considered must-starts for every week, so you have to do your research before you can determine whether they have any value. In an effort to help you out, here's their final verdicts.
Jake Locker, QB, Tennessee Titans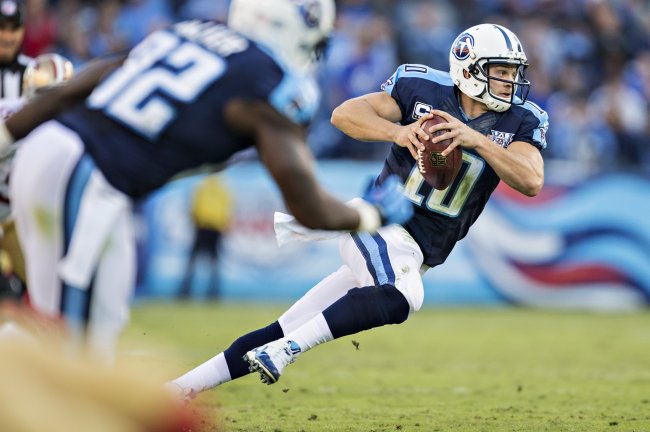 Wesley Hitt/Getty Images
For the most part, Jake Locker has been a competent quarterback. Before getting hurt against the New York Jets, he began making the steps necessary to becoming a franchise quarterback. After going down, you wondered if he'd continue with that high level of play once he was healthy again.
But Locker picked up from where he left off upon his return last week. Against what's been a tough San Francisco 49ers secondary, he had 326 yards, two touchdowns and an interception.
It's an encouraging sign for the rest of the season.
You can't get a good read on the St. Louis Rams. Sure their offense is terrible, following Sam Bradford's injury, but their defense did very well against the Seattle Seahawks.
Of course, you have to weigh that against so many other marginal performances.
Don't expect Locker to have a record day, but 250 yards and a couple of touchdowns is a realistic prediction. The Rams secondary still has the potential to put in a major stinker, and Locker has enough talent at his disposal and his scrambling threat to inspire some confidence.
Verdict: Start
Steven Jackson, RB, Atlanta Falcons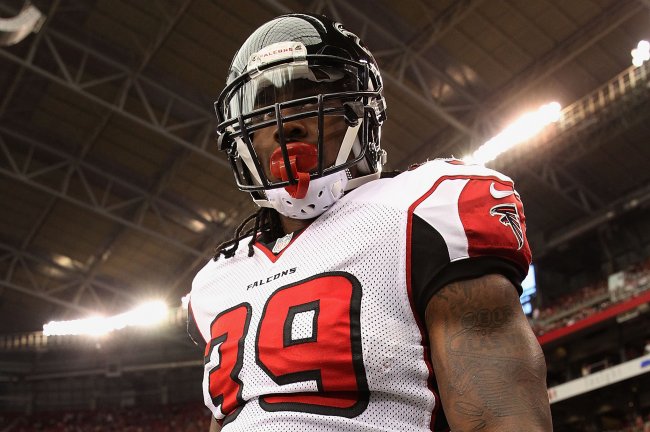 Christian Petersen/Getty Images
The good news for Steven Jackson is that it can't get any worse than last week's six yards on 11 carries. It was a terrible return for the veteran running back, after he had missed the Falcons' previous four games.
The bad news for Steven Jackson is that he's now got a date with the Panthers. Carolina is one of the best defensive teams in the league, holding opponents to just 79.3 yards a game, which is second best in the NFL.
Jackson is going to find yards extremely hard to come by. Atlanta's passing isn't good enough to demand a ton of attention from the Panthers defense.
Sure he's going to be healthier than he was last week, but it's doubtful he'll be up to 100 percent.
On a good day, Jackson is a borderline RB1/RB2. In his second week back from injury and playing against a tough Panthers defense, you're better off keeping him on the bench.
Verdict: Sit
Ted Ginn Jr., WR, Carolina Panthers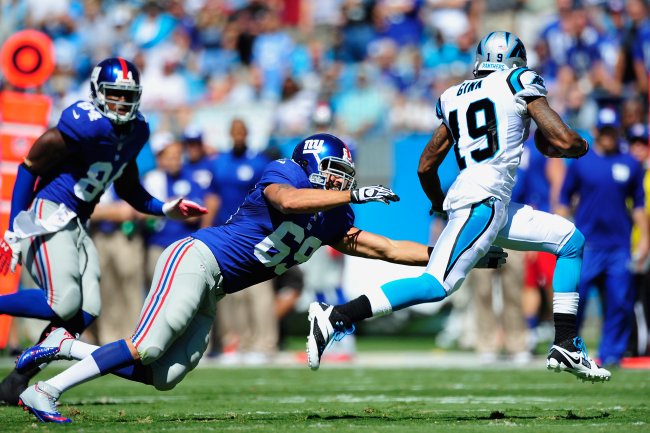 Grant Halverson/Getty Images
If you're in a really tough position with your wide receivers, you may want to consider starting Ted Ginn Jr. He's coming off one of his best fantasy performances of the season last week against the Tampa Bay Buccaneers (5 rec., 80 yds.).
Believe it or not, Ginn actually has 22 more receiving yards this season than Steve Smith, despite getting 26 fewer targets.
Ginn definitely has some value for the rest of the season. You'll just have to monitor the Panthers' matchup from week to week.
Going against Atlanta would appear to be one of those more favorable games for the veteran wideout. Football Outsiders ranks the Falcons 31st in pass defense. Although they're keeping opponents to 250 yards a game (21st), they're also letting opposing QBs hold a rating of 105.5 (31st).
Cam Newton has been great since that horrible performance against the Arizona Cardinals. He's avoiding interceptions and spreading the ball around to his receivers. Ginn should get enough targets this week to be a viable WR3.
Verdict: Start