There's nothing more frustrating for fantasy football owners than counting on a boom-or-bust playmaker every week.
Guys like DeSean Jackson and Adrian Peterson can go off for 30-plus points on any given Sunday, but they can also just as easily pull off a disappearing act.
Taking a look at Week 9's slate of games, there are certainly some matchups that stand out as highly favorable, while others appear to be stinkers.
Check out these sleeper picks for Week 9.
So, which playmakers will bust out with monster games, and which will disappear?
Start: Adrian Peterson vs. Dallas Cowboys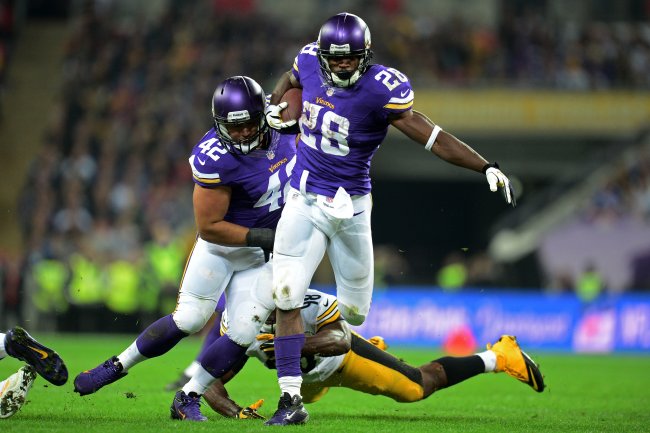 /Getty Images
Peterson fantasy owners have been agonizing over their star player's lack of production the past few weeks. For reasons that escape logic, the Vikings have handed the ball to Peterson no more than 13 times in each of the past three games, and his production has not surprisingly suffered.
You have to believe that someone with a modicum of deductive reasoning will ensure the league's best running back gets his quota of touches this weekend, however, when the Vikings take on the Dallas Cowboys.
Dallas features the ninth-worst fantasy defense against running backs, allowing 17.3 points per game, and teams are averaging 4.4 yards per carry.
If Peterson doesn't touch the ball at least 25 times, then someone needs to get fired. Whether it's Christian Ponder, Josh Freeman, Matt Cassell or any other quarterback behind center, Peterson is the No. 1 option on offense for the Vikings.
Projected Stats: 130 total yards with two touchdowns.
Sit: DeSean Jackson vs. Oakland Raiders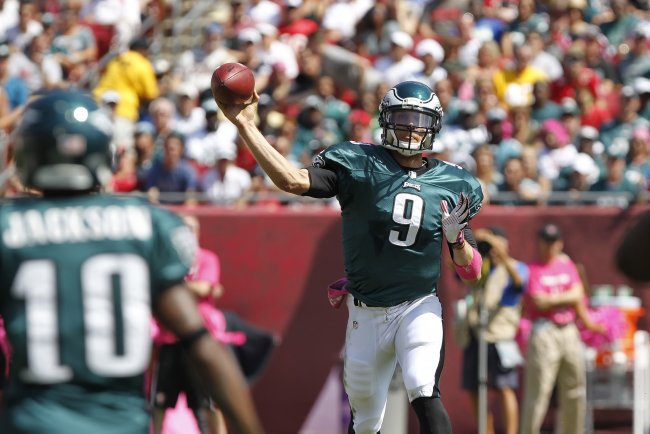 If you follow the pattern for DeSean Jackson's season, he's due for a "boom" performance after two bad games in a row the past couple of weekends. Two games on and two games off has been his pattern in 2013.
However, Philly's offense is in serious trouble right now. Backup Nick Foles is slated to start after missing Week 8 with a concussion, as noted by the Eagles on Twitter:
Coach Kelly: Nick Foles will be our starting quarterback this week and he'll take first-team reps to prepare for #PHIvsOAK.

— Philadelphia Eagles (@Eagles) October 30, 2013
The last time Foles took the field, the Eagles couldn't move the ball on offense against the Cowboys. Before leaving the game with his concussion, Foles had passed for just 80 yards on 29 attempts. Jackson finished that game with just three catches for 21 yards.
Oakland's defense isn't stellar, but the Raiders feature the league's No. 4-ranked rush defense, allowing just 3.6 yards per carry, and have tallied 21 sacks already this year.
Playing at home, the Raiders will give Foles and Jackson fits.
Projected Stats: Four catches for 50 yards and zero touchdowns.
Start: Eddie Royal vs. Washington Redskins
Eddie Royal was the toast of the NFL for the first two weeks of the season, catching five touchdown passes in those two games while creating a rush on the fantasy waiver wires for his services in the process.
Fast forward to Week 9, and you can be sure most of the fantasy owners who rushed out to land the receiver in Week 3 have long since dumped him in favor of another flavor-of-the-week scorer.
In the four games following his first two breakout performances, Royal totaled eight receptions for 102 yards and zero touchdowns. He didn't even catch a single pass in Week 6 against the Indianapolis Colts, thanks to a toe injury that slowed him down.
Right before the team's Week 8 bye, however, Royal emerged from his slump against the Jacksonville Jaguars, catching four passes for 69 yards and a touchdown.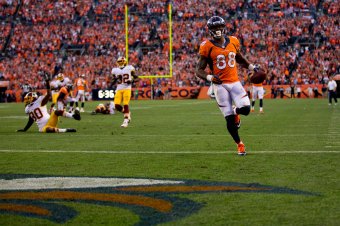 /Getty Images
He's due for another huge game against the Washington Redskins on Sunday. Washington's secondary allows more fantasy points to opposing receivers than all but two teams.
Even better, as it concerns Royal and his fantasy owners, is the fact that the Redskins are allergic to tackling, which means Royal will make some big plays after the catch.
Projected Stats: Six catches for 100 yards and two touchdowns.
Sit: Vincent Jackson vs. Seattle Seahawks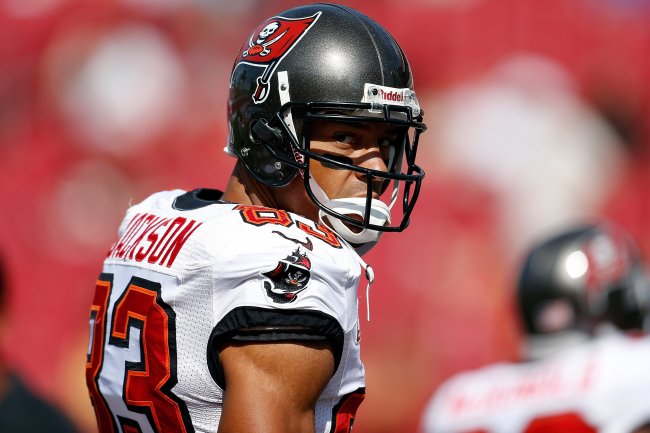 /Getty Images
Richard Sherman is going to stick to Vincent Jackson like glue on Sunday in Seattle.
The Seahawks feature one of the league's top defenses and secondaries, and opposing receivers have only caught four touchdown passes all year long—two of which came against the Indianapolis Colts.
Seattle's home-field advantage is the best in all of football. The Seahawks haven't lost a game at home since 2011, thanks to the "12th Man" that rocks CenturyLink Field.
Rookie quarterback Mike Glennon has never before played in such an environment—neither as a pro nor during his time at North Carolina State.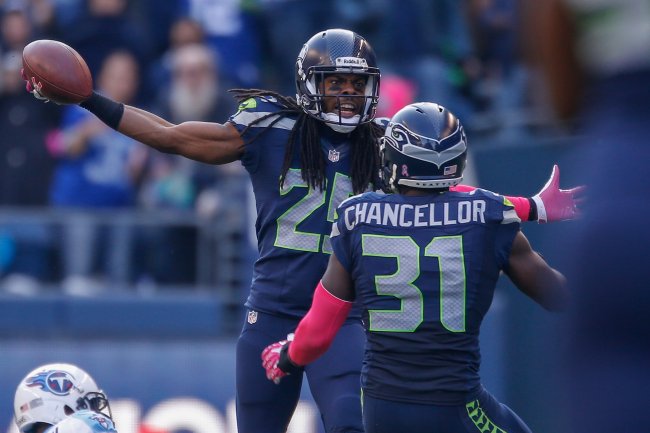 /Getty Images
The Buccaneers are going to be completely stymied by Seattle's "Legion of Boom" defense, and Jackson will get shut out by Sherman.
Projected Stats: Three catches for 50 yards and zero touchdowns.
Follow me on Twitter @JesseReed78