Having to sit a top fantasy player is never an easy thing to do, but sometimes it's absolutely necessary as a result of injuries and/or unfavorable matchups.
This week, running backs Arian Foster of the Houston Texans and Fred Jackson of the Buffalo Bills are smart bets to sit for various reasons. Foster is ranked No. 10 at his position while Jackson is ranked No. 9 (ESPN standard league).
One of the bigger must-sit surprises in Week 9 is New Orleans Saints tight end Jimmy Graham, who is the No. 1 tight end in fantasy leagues (ESPN standard league).
Let's delve a little deeper and find out why each of these fantasy studs is a must-sit this week.
Arian Foster, RB, Houston Texans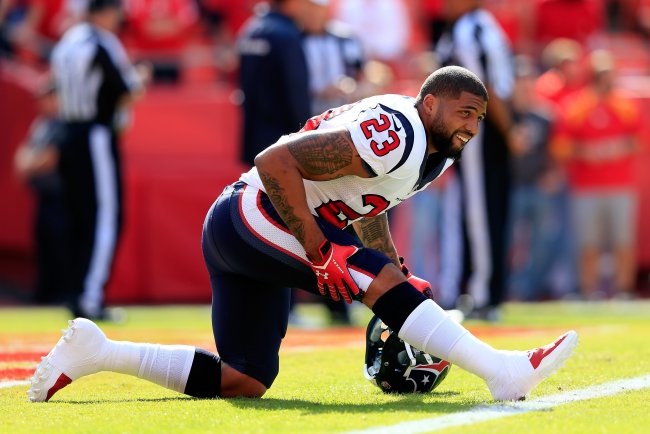 Jamie Squire/Getty Images
Injury concerns for Foster have been a season-long trend for the star running back and the Texans. This week is much of the same as Foster is being called a game-time decision because of a hamstring injury that forced him out of the Texans' Week 7 matchup with the Kansas City Chiefs, per Drew Dougherty of HoustonTexans.com.
As if you needed any more reasons not to start Foster, it's been two weeks since he was pulled from that game, and he still isn't certain to take the field. At best, Foster may be hampered by the injury in the game against the Indianapolis Colts and that could limit his workload and production in Week 9.
The viable handcuff option would normally be backup running back Ben Tate, but thanks to four cracked ribs, Tate is far from a certainty to be at 100 percent for this game and that could also affect his output. Regardless, Tate will play, per Dougherty's report, but approach with caution.
All of this is a shame considering the Colts are ranked No. 29 against the run this season, but that won't do owners any good if either of these two have to leave the game early or don't play at all. And with the way the Texans are playing, the Colts may grab an early lead, thus forcing Houston to throw the ball more.
Possible Replacement: Willis McGahee, Cleveland Browns
Jimmy Graham, TE, New Orleans Saints
Despite a partially torn plantar fascia, Graham still found the end zone twice last week, although he only caught three passes in total for 37 yards. The star tight end also saw limited snaps as he participated in just 20 of the team's 73 offensive plays.
To make matters worse, Graham's injury isn't likely to heal while he continues to take the field week in and week out. That makes him a risk, and he could be taken out of games early or miss games entirely. For Week 9, Graham is listed as questionable, per ESPN.com.
The Saints' Week 9 opponent, the New York Jets, are even floating the idea of sending top cornerback Antonio Cromartie to cover the hobbled Graham, according to head coach Rex Ryan, per Seth Walder of the New York Daily News:
"It's a thought," Ryan said. "I think from a size and skill-wise (standpoint), yeah I think he could handle it. But that guy is a unique cat now. Graham has the speed of a receiver (and) the size of an offensive tackle."
Normally the person covering Graham wouldn't be much of a concern, but things are different because Graham isn't at 100 percent and won't have his normal abilities at his disposal. While his stock is still high, even trading Graham doesn't seem like a bad idea if he will be battling through this injury the rest of the way.
Available Replacement: Delanie Walker, Tennessee Titans
Fred Jackson, RB, Buffalo Bills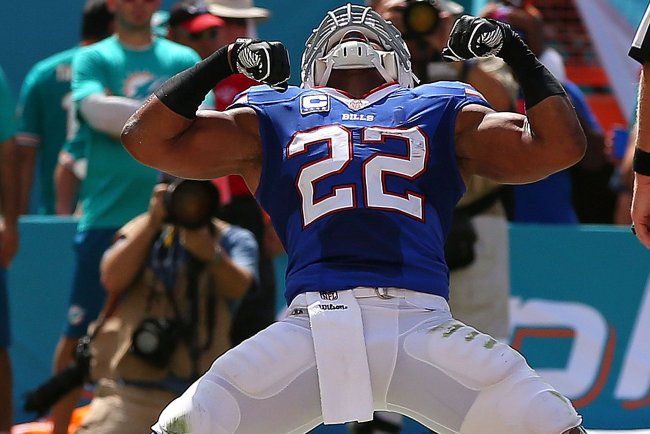 Mike Ehrmann/Getty Images
Jackson has been a great fill-in for the Bills and fantasy owners alike while C.J. Spiller has been hurt, but with Spiller likely to return in Week 9, Jackson's value is taking a serious hit. Buffalo's official Twitter account spilled the beans on Spiller's status:
Marrone on C.J. Spiller and Manny Lawson: "Should be good to go" #Bills

— Buffalo Bills (@buffalobills) November 1, 2013
As a result of Spiller's injury, Jackson has seen more snaps and made the most of them by scoring at least double digits in every game with the exception of one. The Bills aren't likely to just bury Spiller as the season moves along and that has put Jackson's consistent production at risk this week and beyond.
Not to mention, the Bills will be up against the undefeated Chiefs in Week 9, and KC has a stellar front seven that leads the NFL in sacks and can stop the run. As a whole, the Chiefs defensive unit ranks No. 10 against the run this season.
Available Replacement: Mike James, Tampa Bay Buccaneers