It is time to believe in Andy Dalton as a legit fantasy stud. There was some hesitation to buy in after Dalton strung together back-to-back 300-yard passing games in Weeks 6 and 7. However, after watching him torch the New York Jets for 325 yards and five touchdown passes in Week 8, it seems his high statistical output is here to stay.
He's a definite start for fantasy owners this week as his Cincinnati Bengals take on the struggling Miami Dolphins on Thursday night.
Miami's pass defense is ranked just 20th in the NFL. It is safe to project Dalton should at least produce a decent amount of fantasy points to keep his momentum going.
Here are two other players who figure to be fantasy studs this weekend.
Tony Romo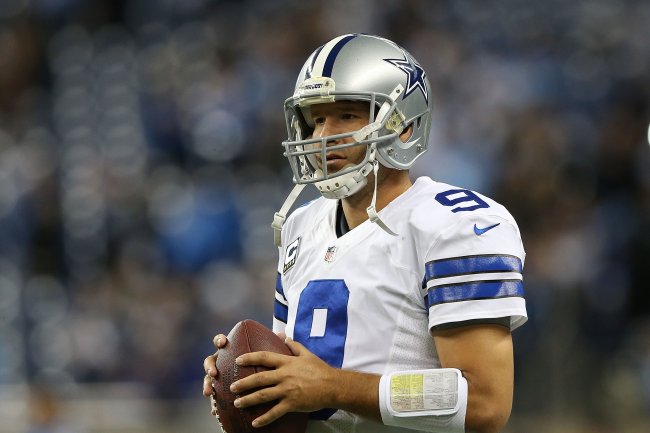 Leon Halip/Getty Images
Consistency isn't a word that is often used to describe Romo, but it is fitting if you're looking at his fantasy football production in 2013. The Dallas Cowboys quarterback has averaged 277 yards and 2.25 passing touchdowns this season.
On Sunday, the Cowboys host the woeful Minnesota Vikings. Why are the Vikings so bad this season? The first place to look is the 29th-ranked pass defense. The unit has allowed over 300 yards three times and over 250 yards passing five times this season.
With Romo, Dez Bryant and Jason Witten on the ledger in Week 9, both of those numbers stand to increase. Start Romo without hesitation.
Marques Colston or His Replacement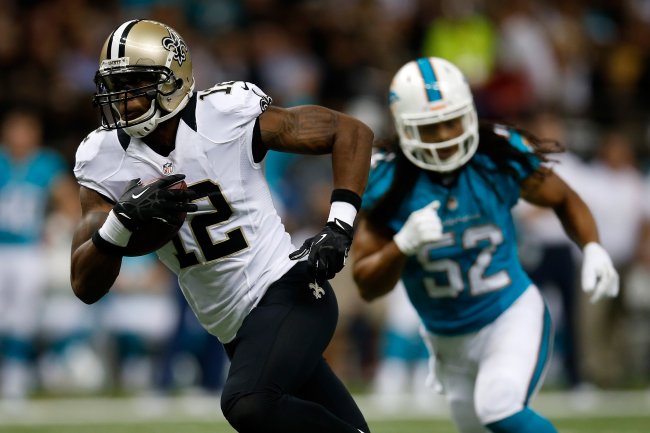 Chris Graythen/Getty Images
Per Larry Holder of The Times-Picayune, Colston missed practice this week. If he plays on Sunday against the Jets, fantasy owners should give him a strong look.
Obviously, the 30-year-old veteran is more than capable of producing based on his career and season accomplishments; aside from that, the Jets' passing defense was shattered on the outside by a similar receiver in Week 8 against the Bengals.
Marvin Jones went for eight receptions, 122 yards and four touchdowns.
While Colston may not generate that kind of output, about half of the production would be a solid fantasy performance. The Jets keyed on A.J. Green, limiting him to three catches, though he still had 115 yards receiving, and Jones made New York pay for the one-on-one coverage.
This Sunday, the Jets figure to key on Saints tight end Jimmy Graham. Quarterback Drew Brees is great at spreading the ball around. Look for Colston to be the beneficiary of his share of targets.
If Colston doesn't play, take a long, hard look at his replacement as a viable option as well—if you have him or can pick him up from the free-agent pool.
Sit 'Em
Jacquizz Rodgers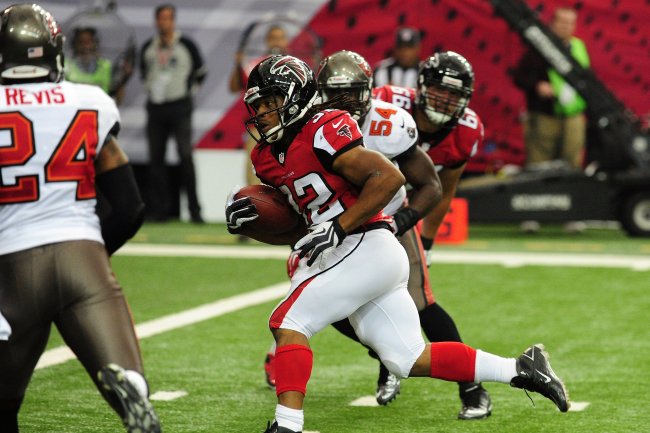 Scott Cunningham/Getty Images
The Atlanta Falcons' running game has struggled all season, and that figures to continue on Sunday. The team travels to Charlotte to take on the Carolina Panthers. The Panthers have the second-best run defense in the NFL, so Rodgers isn't likely to have a breakout performance.
In his last two games, he has only amassed 24 yards on 10 carries. Stay away from Rodgers and any other Falcons running back this week.
Joe Flacco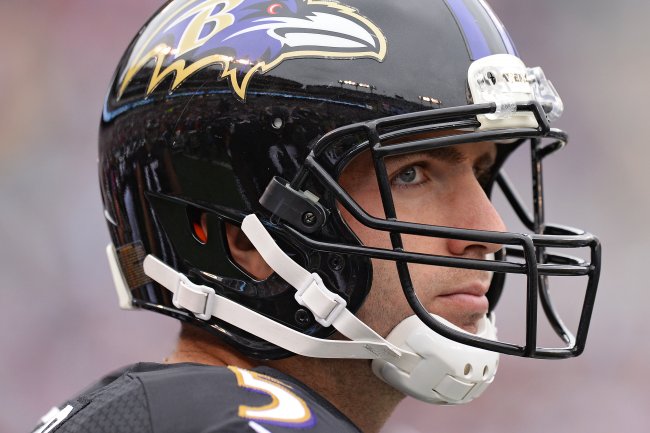 Patrick Smith/Getty Images
Don't start Flacco against the Cleveland Browns this week if you can help it. Inconsistency has been a major issue for him. He has thrown as many interceptions as he has touchdowns (eight). Though he has exploded for the occasional 300-yard game, fantasy owners can't pretend to know what to expect from him.
In addition to Flacco's up-and-down performances, his numbers against the Browns in Week 2 were nothing to write home about. Flacco had just 211 yards passing and a touchdown. This is consistent with what most quarterbacks have managed against Cleveland.
The Browns' pass defense is ranked sixth in the NFL. Look for other options at quarterback.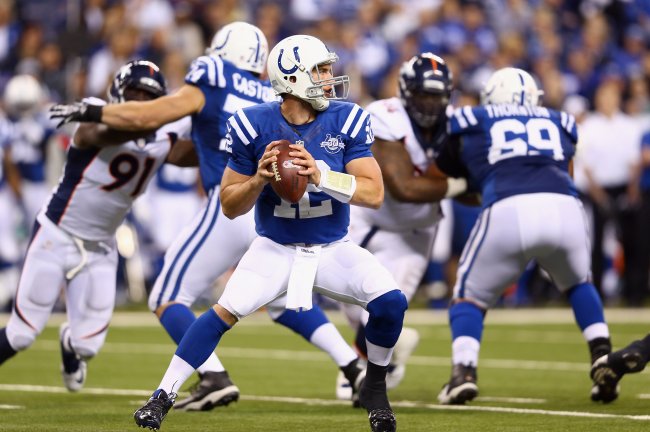 Andy Lyons/Getty Images
Which QB will have the biggest fantasy day in Week 9?
Which QB will have the biggest fantasy day in Week 9?
As solid as the Indianapolis Colts have been this season, Luck hasn't been a fantasy monster. He ranks 22nd in the NFL in passing yards, and he's tied for 14th in the league in passing touchdowns. He's had just one 300-yard passing game and one three-touchdown game this season.
Against the Houston Texans on Sunday night, one might be tempted to give Luck the start because Gary Kubiak's team is struggling overall.
While the Colts should win the game, Luck probably won't go off statistically. The Texans' pass defense is No. 1 in the NFL. Part of this is because their run defense is 28th and teams have pounded them there.
Either way, the trend should continue this weekend, and Luck's statistics should be modest.