With only five or six regular-season weeks remaining in most fantasy football leagues, it's time for owners to put up or shut up. There isn't much time left to make a playoff run, so teams that are hovering around the .500 mark or worse desperately need to string some wins together.
Just like any real NFL team, though, how you finish matters more than how you start. Momentum is immeasurable when it comes to fantasy leagues, but going on a late-season run to make the playoffs can be extremely gratifying, and it breeds a great deal of confidence heading into the most important games of the season as well.
Making smart lineup decisions is paramount in Week 9, especially with six teams on the bye. Here is a breakdown of how a number of intriguing players will fare this weekend.
Quarterbacks
Start: Alex Smith (KC)
While Smith can safely be categorized as a winner due to the fact that he owns a sparkling winning percentage over the past several years and has the Chiefs off to an 8-0 start, he generally isn't a great fantasy contributor. After all, Smith is a game manager who protects the football rather than making huge plays down the field, but he is actually a more skilled signal-caller than he is given credit for.
Before throwing two touchdowns against the Cleveland Browns in Week 8, Smith had gone three consecutive weeks without throwing for a score. In Week 9, however, Smith will face a Buffalo Bills defense that has allowed a league-high 20 passing touchdowns. With that in mind, look for Andy Reid to let Smith play a little more loose than usual this week.
Week 9 Fantasy Projection: 285 passing yards, two touchdowns and 30 rushing yards
Sit: Andrew Luck (IND)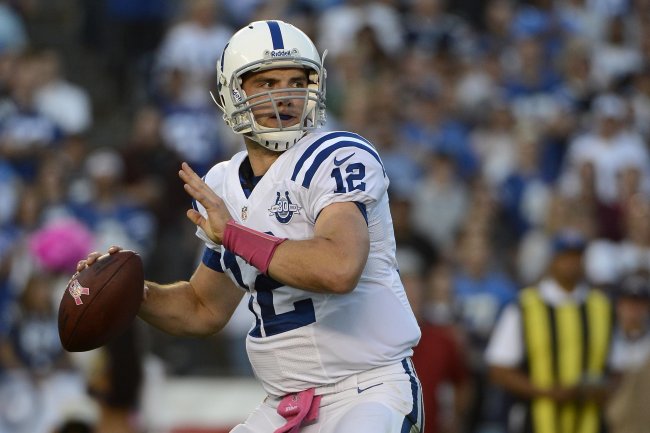 /Getty Images
Most owners probably feel as though Luck is a must-start player on a weekly basis, and while that may normally be true, he is best off being left on the bench this week assuming a suitable replacement is available. For as talented as Luck is, he isn't having an elite season by any means. He has thrown for more than 300 yards just once this season, and it's unlikely that he will add to that total in Week 9.
The Colts are facing a Houston Texans team that is seemingly in disarray, but Houston still boasts one of the league's best defenses. The Texans are surrendering a league-low 146 passing yards per game, and since Luck won't have the injured Reggie Wayne to throw to, his fantasy ceiling isn't particularly high this week.
Week 9 Fantasy Projection: 182 passing yards, one touchdown, one interception and 20 rushing yards
Running Backs
Start: Stevan Ridley (NE)
Most fantasy owners left Ridley for dead after the season's first five weeks as he failed to score a touchdown or top 53 rushing yards in a single game. New England's bell cow back has experienced a renaissance of sorts in recent weeks, however, as he has scored a touchdown in three straight games and has made four trips to the end zone in total over that time. He still has some work to do in order to get back to the level at which he played last season, but he's making progress.
Ridley's matchup with the Pittsburgh Steelers this week may seem difficult on the surface, but the normally stout Steelers are allowing 122 rushing yards per game and have surrendered nine touchdowns on the ground. Since quarterback Tom Brady is struggling and Pittsburgh has one of the NFL's best pass defenses, expect a heavy dose of Ridley.
Week 9 Fantasy Projection: 102 rushing yards and two touchdowns
Sit: Steven Jackson (ATL)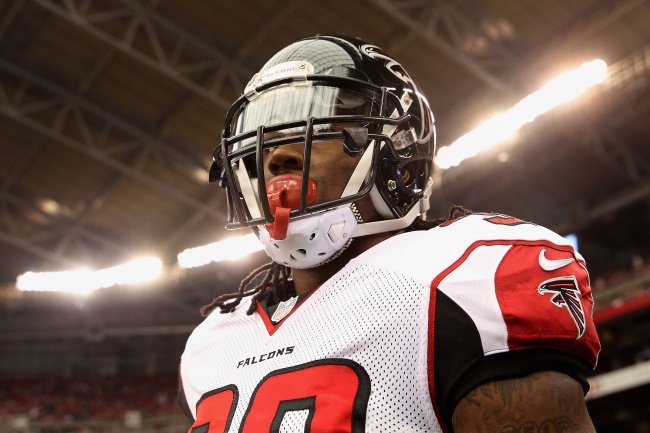 /Getty Images
After missing five weeks due to injury as well as a bye week, there was plenty of excitement surrounding Jackson's return to the Falcons lineup in Week 8. To say that Jackson disappointed would be an understatement, as he gained just six yards on 11 carries. While Jackson obviously is nowhere near that bad, it would be foolish to expect a huge improvement in Week 9.
The Falcons will face the Carolina Panthers, who are No. 2 in the league against the run. Carolina is allowing just over 79 yards per game on the ground, and it has given up a mere two rushing touchdowns as well. Even with the Falcons' receiving corps depleted, they are a pass-first team, and quarterback Matt Ryan will have the game in his hands on Sunday since the Panthers won't give up much in the running game.
Week 9 Fantasy Projection: 41 rushing yards and two receptions for 15 yards
Wide Receivers
Start: Keenan Allen (SD)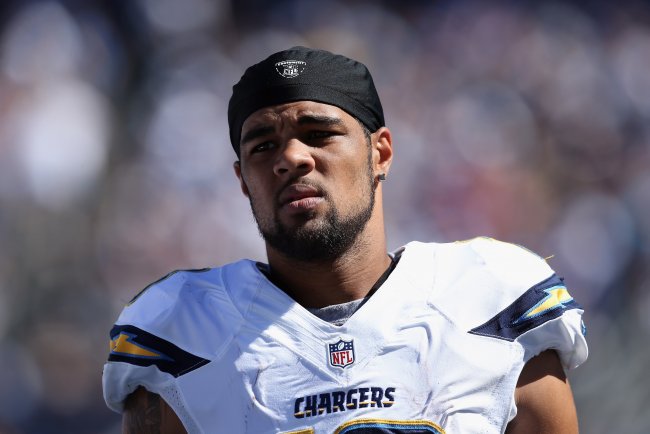 /Getty Images
The Chargers offense has been surprisingly good this season under new head coach Mike McCoy, and quarterback Philip Rivers appears to be revitalized. He has spread the ball around quite a bit. However, rookie Keenan Allen has developed into his favorite receiver as of late. Allen has eclipsed 100 yards receiving in two of his past three outings, and he has an ideal matchup ahead of him on Sunday.
San Diego will face a Washington Redskins defense that has been victimized all season long. The 'Skins have allowed 274 passing yards per game and 15 touchdowns through the air in total. Allen has at least 67 receiving yards in each of his past four games since a slow start, and his rapport with Rivers should continue to grow this week.
Week 9 Fantasy Projection: Six receptions for 115 yards and one touchdown
Sit: Vincent Jackson (TB)
Jackson has turned out to be a great signing for the Buccaneers despite their struggles this season, and he has been especially good since rookie quarterback Mike Glennon took the reins under center. Jackson racked up a total of 19 catches in Weeks 6 and 7, while eclipsing 100 yards and scoring two touchdowns in each of those games. Despite his recent dominance, Jackson could be in for a rude awakening in Week 9.
The Bucs are big underdogs against the Seattle Seahawks, and while that could conceivably allow Jackson to rack up some garbage-time points, he figures to be shadowed by superstar cornerback Richard Sherman all day long. Sherman isn't going to let up, regardless of what the score is, so Jackson will have a hard time replicating his recent success.
Week 9 Projection: Four receptions for 44 yards
Tight Ends
Which player will have the best Week 9 fantasy performance?
Which player will have the best Week 9 fantasy performance?
Alex Smith

Stevan Ridley

Keenan Allen

Kyle Rudolph
Start: Kyle Rudolph (MIN)
After making the Pro Bowl and even being named Pro Bowl MVP last season, things haven't gone quite as smoothly for Rudolph this year. His fantasy value hinges largely on scoring touchdowns as he doesn't rack up a ton of yardage, but he only has two scores on the season. The Vikings have been a mess in general, and while they still are, there is plenty to like about his matchup.
Minnesota will face the Dallas Cowboys, who have the league's worst pass defense. They are surrendering 315 yards per game through the air, and even though the Vikes' starting quarterback is Christian Ponder, he should be able to do some damage. Ponder isn't great by any means, but he looked to Rudolph quite often in the red zone last season, and he'll likely do the same on Sunday.
Week 9 Fantasy Projection: Five receptions for 76 yards and two touchdowns
Sit: Jared Cook (STL)
Based on how things have gone since Week 1, Cook is certainly one of the biggest fantasy disappointments around. It seemed like he was finally ready to deliver on his promise as he went for 141 yards and two touchdowns to open the season, but he hasn't found the end zone or eclipsed 45 receiving yards in a game since. Add in the fact that Kellen Clemens is now St. Louis' starting quarterback, and there isn't much to like about Cook.
The one thing that could possibly work in his favor this week is the fact that he is facing the Tennessee Titans, which is his old team. Perhaps that will allow some type of intangible desire to lead him to fantasy relevance for one week, but based on what we have seen this season, that isn't a particularly smart bet to make.
Week 9 Fantasy Projection: Three receptions for 28 yards
Follow @MikeChiari on Twitter