One of the hardest parts of being a fantasy owner is figuring out which players are worthy of starting and which potential duds need to find their way to the bench.
The task only gets tougher in Week 8.
With a unique mix of marquee injuries and bye weeks taking their toll on rosters across the sport of fantasy football, all of the following studs will have a porous statistical output and should find their way to your bench.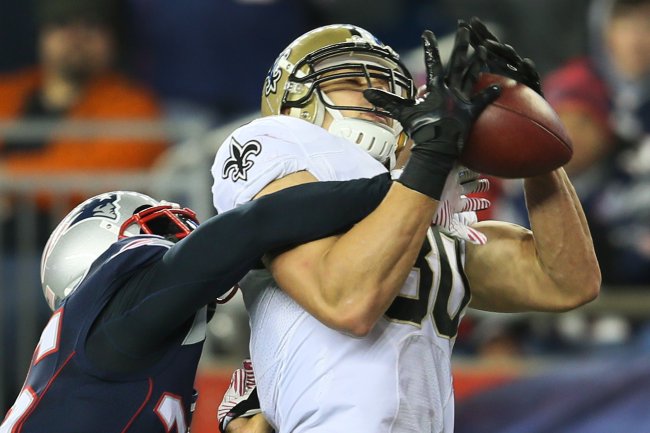 /Getty Images
Jimmy Graham, TE, New Orleans Saints
There is no better tight end in the league right now than New Orleans Saints star Jimmy Graham, but an injury to his foot has his status for Sunday's matchup with the Buffalo Bills in question, according to ESPN's Adam Schefter.
Had Saints played Sunday, it would have been difficult for TE Jimmy Graham to play with his foot injury. Status for Sunday vs BUF uncertain.

— Adam Schefter (@AdamSchefter) October 21, 2013
Fantasy owners rode Graham into Week 6 against New England, but an injury and a zero catch performance were devastating. Unless owners want to get low points once again, this is a risk not worth taking.
Graham is the top player at his position when healthy, but he is coming off a tough foot injury that could plague him as the season progresses. New Orleans understands it needs Graham for the postseason, so fantasy owners shouldn't expect the franchise to risk making the injury worse.
If Graham guts it out and plays Sunday, fantasy owners still shouldn't expect a monster statistical day. Sit him on the bench this week and ride the backup plan you used in Week 7 while he was on bye.
Predicted Fantasy Stat Line: Three receptions for 30 yards and zero touchdowns.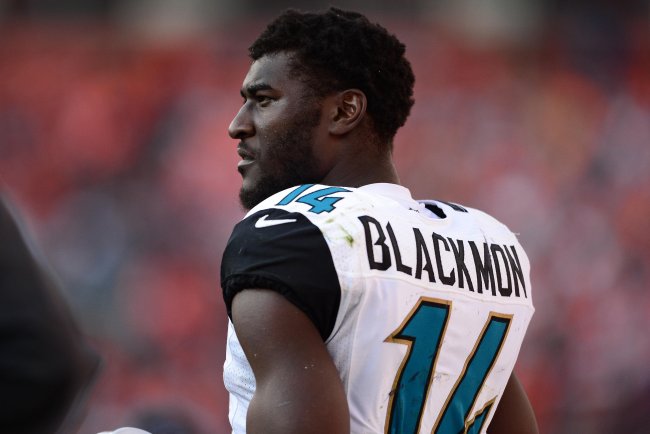 Ron Chenoy-USA TODAY Sports
Justin Blackmon, WR, Jacksonville Jaguars
Fantasy owners jumped on Jacksonville Jaguars wide receiver Justin Blackmon after he was done serving his four-game suspension to start the season, and he has rewarded them with solid performances.
With 25 receptions for 384 yards and a touchdown in his three games since returning, Blackmon has established himself as a fantasy juggernaut. Unfortunately for the owners that took the educated risk on the receiver, he will struggle in Week 8.
Not only is fellow wideout Cecil Shorts returning to elite form after injuring his shoulder (caught eight passes for 80 yards and zero touchdowns Sunday), but the fact that rookie Mike Brown is also stealing receptions (five receptions for 120 yards) means less of a workload for Blackmon.
Owners need big points this week, and there are too many hands in the Jaguars' cookie jar to warrant a start in Week 8 for Blackmon.
Predicted Fantasy Stat Line: Four receptions for 50 yards and zero touchdowns.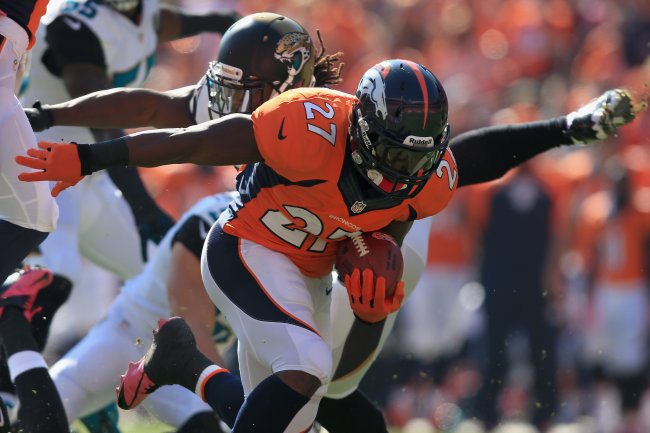 /Getty Images
Knowshon Moreno, RB, Denver Broncos
The Denver Broncos were an offense on fire through the first six weeks, but a tough loss against the Indianapolis Colts is bad news for fantasy players that own running back Knowshon Moreno.
While the goal line touchdowns have saved Moreno's lackluster yardage performances (hasn't run for over 100 yards yet this season but has six touchdowns over the last four games), there will come a time when he doesn't score in the red zone.
The matchup against Washington will hold him without a TD.
Add in the fact that backups Montee Ball and Ronnie Hillman should get more work against the smaller Redskins defensive unit, and Moreno will not have the ample chances needed to shine Sunday afternoon.
Predicted Fantasy Stat Line: 16 carries for 40 yards and zero touchdowns; two receptions for 20 yards and zero touchdowns.