Essentially every fantasy football team has the potential to beat another in any given week, but things often come down to who makes the best lineup decisions. You may have enough points on your roster to come out on top, but it ultimately comes down to whether those points are helping you in your starting lineup or hurting you on your bench.
Getting the most possible points often means making choices that may not make a ton of sense on the surface. After digging a bit deeper by looking at matchups and trends, however, it isn't difficult to justify starting a player who isn't viewed as a fantasy stud.
Here is a breakdown of some tough but necessary lineup decisions that you absolutely must make in an effort to pick up a victory in Week 7.
Quarterbacks
Start: Brandon Weeden (CLE)
He may not be among the league's most popular quarterbacks, but Weeden has actually been quite productive since being forced to step in for an injured Brian Hoyer a couple weeks ago. Not only did Weeden lead Cleveland to a win over the Buffalo Bills in that game, but he followed that up with a strong effort in Week 6. Despite that, Browns fans seem to what him gone, according to NFL on CBS.
.@LeadOffTV Cleveland #Browns fans posted and ad for Brandon Weeden's job on Craigslist. http://t.co/SwRSF4aBkF

— NFLonCBS (@NFLonCBS) October 17, 2013
Weeden may not be the long-term answer for the Browns, but he is a solid option in Week 7. Weeden threw for 292 yards, two touchdowns and two interceptions last week against the Detroit Lions. He has a cushy matchup against the Green Bay Packers this week, as the Packers are surrendering over 293 passing yards per game.
With Cleveland likely playing from behind, Weeden is a great bye week fill-in at the very least.
Week 7 Projection: 301 passing yards, three touchdowns and two interceptions
Sit: Joe Flacco (BAL)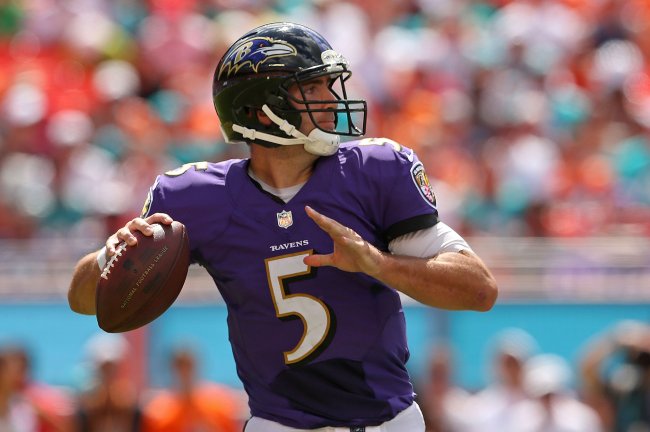 Mike Ehrmann/Getty Images
While Flacco has eclipsed 340 passing yards and thrown for at least two touchdowns in two of his past three outings, that run is likely to come to an end this weekend.
The Pittsburgh Steelers' 1-4 record isn't a proper representation of how good the team can be and how good the defense has been overall. In fact, Pittsburgh is fourth in the league against the pass, which doesn't bode well for Flacco on the road.
Flacco's career results against the Steelers are mixed, but there have been plenty of disappointing outings. Flacco threw for a total of 352 yards, one touchdown and one interception in two games against Pittsburgh last season. These clashes are generally low-scoring bloodbaths, and those types of games don't lend themselves to big quarterbacking days.
Week 7 Projection: 190 passing yards, one touchdown and two interceptions
Running Backs
Start: Gio Bernard (CIN)
He may only be a rookie, but it can be argued that Bernard is already one of the most electrifying players in the NFL.
While he may not be utilized as often as his fantasy owners would like him to be, he makes the most of the touches he does receive. Bernard's scintillating touchdown catch last week against the Bills showcased how good he can be, as he forced a number of defenders to miss thanks to some shifty maneuvers.
Pass-catching has been Bernard's biggest strength, as he has six receptions in two of his past three games. He also has a nose for the end zone with four total scores on the season. Even though BenJarvus Green-Ellis steals plenty of carries, especially in the red zone, Bernard is in line for a big game on Sunday.
The Detroit Lions are giving up nearly 125 rushing yards per game, which means that big plays will be available to Bernard all day long.
Week 7 Projection: 71 rushing yards, five receptions for 55 yards and one touchdown
Sit: Zac Stacy (STL)
Another rookie back who has been making waves recently is Stacy. The Rams had no semblance of a running game for the first month of the season as Daryl Richardson and Isaiah Pead scuffled, but Stacy has changed that.
There is nothing flashy about the fifth-round pick out of Vanderbilt, but as ESPN's Matthew Berry put it while watching him against the Houston Texans in Week 6, Stacy simply runs with authority.
Every time I look at the HOU STL game, Zac Stacy is running hard.

— Matthew Berry (@MatthewBerryTMR) October 13, 2013
That's a great sign for his value moving forward, but it won't help him much in Week 7. After racking up 78 and 79 yards on the ground over the past two weeks respectively, the sledding will be much tougher on Sunday.
The Rams will face the Carolina Panthers, who are quite stiff against the run, as they are surrendering a mere 89 yards per game on the ground. Because of that, it's easy to imagine St. Louis abandoning the run and putting the game in quarterback Sam Bradford's hands.
Week 7 Projection: 43 rushing yards and one reception for six yards
Wide Receivers
Start: Justin Blackmon (JAC)
There were plenty of question marks surrounding Blackmon entering the season due to the suspension that forced him to miss the first four games, but it hasn't taken him long to establish himself as a bona fide superstar.
Blackmon showed flashes of brilliance last season as a rookie, however, he has already reached another level. According to NFL Network, fantasy expert Michael Fabiano views Blackmon as a top-15 wide receiver for the remainder of the season.
'Justin Blackmon is going to be a Top 15 WR the rest of the way.' – @Michael_Fabiano #NFLFantasyLive

— NFL Network (@nflnetwork) October 15, 2013
It's tough to argue with that assessment after watching Blackmon rack up 19 receptions, 326 yards and a touchdown through just two contests. Blackmon also has a favorable matchup against the San Diego Chargers in Week 7, as the Bolts are giving up nearly 273 passing yards per game.
Fellow receiver Cecil Shorts is questionable for Sunday's game with a shoulder injury, and if he ultimately has to sit out, Blackmon will receive virtually all of quarterback Chad Henne's targets.
Week 7 Projection: Eight receptions for 122 yards and one touchdown
Sit: Kenbrell Thompkins (NE)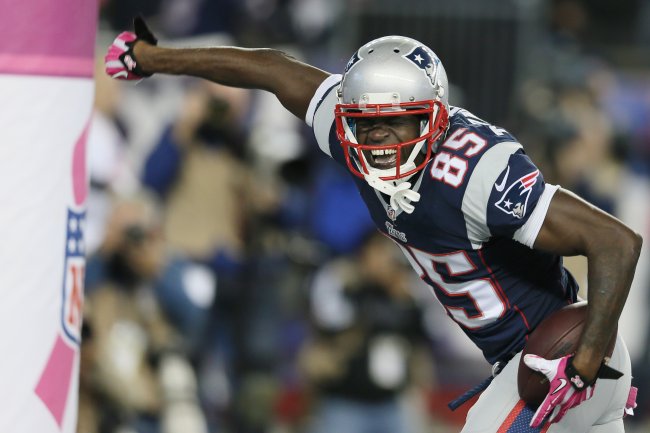 Rob Carr/Getty Images
With the likes of Danny Amendola and Rob Gronkowski missing a significant amount of time this season, Patriots quarterback Tom Brady has had to rely on some unlikely options.
One of them has been undrafted rookie Kenbrell Thompkins, who has lived up to much of hype surrounding him prior to the season. With that said, Thompkins is very much dependent on touchdowns, and there is reason to believe that New England won't score many of them on Sunday.
The Pats will face the New York Jets for the second time this season after escaping with a 13-10 win in Week 2. Thompkins had just two catches for 47 yards in that game with no scores. Aside from a 127-yard outburst against the Atlanta Falcons a few weeks ago, Thompkins hasn't eclipsed 47 yards in a game.
Also, with cornerback Antonio Cromartie likely covering him outside, his scoring potential isn't great.
Week 7 Projection: Three receptions for 41 yards
Tight Ends
Start: Charles Clay (MIA)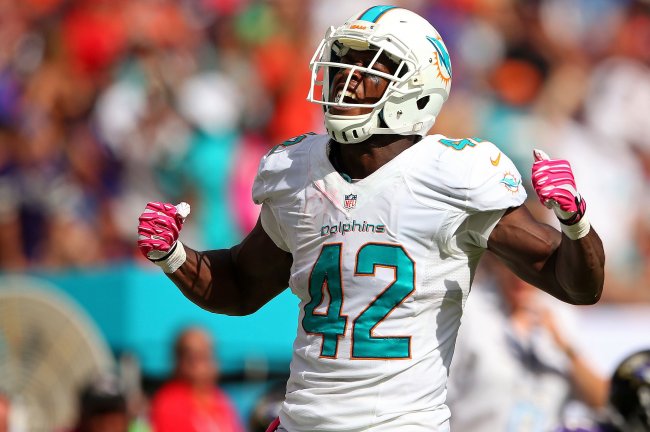 Mike Ehrmann/Getty Images
Which player will have the best fantasy performance in Week 7?
Which player will have the best fantasy performance in Week 7?
Brandon Weeden

Gio Bernard

Justin Blackmon

Charles Clay
The tight end position has been difficult to predict this season in fantasy, but Clay has been a pleasant surprise. He hasn't been dominant aside from a 109-yard showing in Week 2, but he is quite steady.
Clay has at least three catches and 40 yards in every game this year, and he also has a touchdown in three of his past four games. It wouldn't be a surprise to see him rack up another score in Week 7 against the Bills.
Clay didn't do anything against the Bills last year, but he does have a history of success versus Buffalo as he beat the Bills for five catches, 99 yards and a touchdown in a game as a rookie in 2011.
Clay is a much bigger part of the offense currently, and he is at least a low-end start on a weekly basis. Expect another strong performance on Sunday.
Week 7 Projection: Five receptions for 63 yards and one touchdown
Sit: Joseph Fauria (DET)
After reeling in three touchdowns in Week 6, there is a ton of fantasy buzz regarding Fauria. There is no doubt that it was an impressive performance, but it probably isn't sustainable. To put Fauria's hot scoring start into perspective, he has more touchdowns than some of the NFL's biggest stars, including teammate Calvin Johnson, according to NFL on ESPN.
Lions TE Joseph Fauria has 5 TD catches this year, more touchdowns than Calvin Johnson, Arian Foster and Ray Rice.

Wow!

— NFL on ESPN (@ESPNNFL) October 15, 2013
Fauria is a dangerous target in the red zone, but he has no fantasy value unless he is catching touchdowns. Fauria has just seven catches and 66 yards on the year. He didn't catch a single pass in three of his six games.
On top of that, the Lions are facing the Browns and their solid pass defense, which is allowing just 214 yards per game. Starting Fauria would be a huge roll of the dice, and it's likely to come up snake eyes this week.
Week 7 Projection: One reception for 10 yards
Follow @MikeChiari on Twitter