Fantasy football gurus are the players that understand matchups and use them to their advantage.
They constantly outwit their opponents by starting unknown and unheralded talents that are hot or playing poor teams over name-brand players facing brick wall defenses.
Here are a handful of must-start sleepers, as well as some busts you should keep on the bench in Week 7.
Start 'Em: Nick Foles, QB, Philadelphia Eagles
Foles dominated the tough Tampa Bay Buccaneers secondary in his first start of 2013. Now he has a cushy matchup against the Dallas Cowboys with a chance to solidify his status as the Eagles' starting quarterback.
The youngster has accumulated 493 yards and five touchdowns since taking over for Michael Vick against the New York Giants. He's a fantasy dynamo and should be starting over all but the most elite signal-callers in the league.
Sit 'Em: Matt Ryan, QB, Atlanta Falcons
With Julio Jones out for the season and Roddy White slated to miss his first contest after 133 straight starts, it's time to send Matty Ice to the bench.
The Falcons are a dismal team in 2013 and will only regress further without their top weapons. Ryan is going to suffer with the aging Tony Gonzalez and awful Harry Douglas as his top two targets.
Don't be surprised if he finishes well under 200 yards and has zero touchdowns against a tough Bucs secondary on Sunday.
Start 'Em: DeAngelo Williams, RB, Carolina Panthers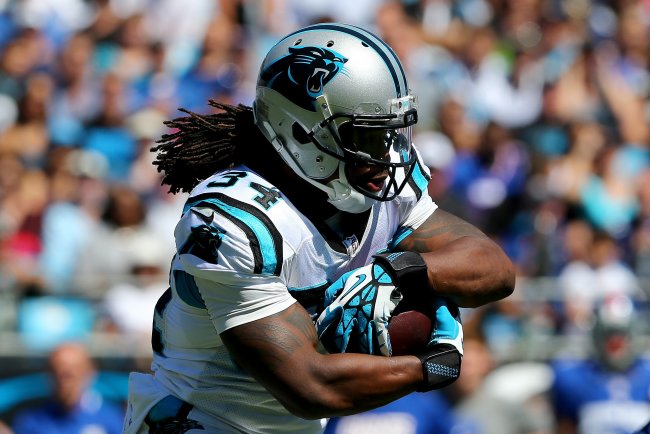 Streeter Lecka/Getty Images
Many expect Williams to regress significantly now that Jonathan Stewart is eligible to return to the backfield, but this star back has a dream matchup against the St. Louis Rams and will take full advantage of it—especially with Stewart unlikely to make an appearance.
He's coming off a 117 total yard performance against the Minnesota Vikings and could keep contributing as both a pass-catcher and primary rusher in this Carolina offense.
Don't sleep on Williams getting plenty of touches and turning them in to big gains against this soft defensive front.
Sit 'Em: Stevan Ridley, RB, New England Patriots
Ridley has a brutal matchup with the New York Jets and isn't likely to be worthy of a start in Week 7.
The Pats are going to focus their efforts on the passing game with the likely return of Rob Gronkowski. He'll open up the vertical offense significantly and become a valuable weapon—especially down in the red zone.
That leaves little room for Ridley in the game plan and he should not be a factor on your fantasy team.
Start 'Em: Keenan Allen, WR, San Diego Chargers
Donald Miralle/Getty Images
Philip Rivers is having a renaissance season and Keenan Allen is becoming the top beneficiary of the Chargers' improved passing attack.
Over the past three games the rookie receiver has compiled 20 receptions for 302 yards and two touchdowns, solid numbers that should only get better against the lowly Jacksonville Jaguars on Sunday.
What would you consider Anquan Boldin going forward?
What would you consider Anquan Boldin going forward?
Sit 'Em: Anquan Boldin, WR, San Francisco 49ers
The 49ers are winning games with old school, smashmouth football techniques. They are running the ball a ton of times and winning with defense and clock management, tactics that are severely hurting Boldin's production.
He's fallen off significantly since his hot start to the 2013 campaign and posted just five catches for 49 yards and zero touchdowns over the past two games.
Those numbers don't figure to get better against an extremely tough Tennessee Titans defense that plays well at home, so keep this veteran on the pine in Week 7.