Just as certain NFL teams are battling to remain in the playoff race already, plenty of fantasy football teams are experiencing the same struggle. Only six weeks have passed, but with most fantasy leagues' regular seasons lasting through Week 13, the year is essentially half over already.
There is still time to make a comeback if you've gotten off to a less-than-ideal start, but the turnaround has to happen as soon as possible. That means some bold maneuvers may need to be made. It's never easy starting a player who isn't necessarily reliable or sitting one whom you drafted early, but it often has to be done.
Here are some tough-to-call lineup decisions that you should make in Week 7 as you search for a much-needed victory.
Quarterbacks
Start: Philip Rivers (SD)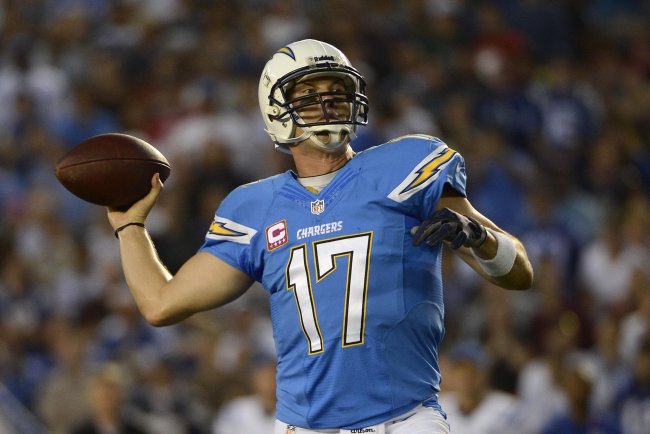 Donald Miralle/Getty Images
It's hard to believe that anyone drafted Rivers as a starter prior to the season, but he has played so well that he is in the starting conversation on a weekly basis. Rivers wasn't great in Week 6 as the Chargers leaned on the running game, which resulted in Rivers throwing for 237 yards and one touchdown, but he has a fantastic Week 7 matchup that makes him a must-start player.
Rivers incredibly has three 400-yard games this season along with 14 touchdowns on the year, so it's fair to say that he has returned to the form he displayed a few years ago. Rivers will face the Jacksonville Jaguars this week. While the Jags are surrendering just 232 passing yards per game, much of that has to do with teams taking their foot off the gas with a big lead. That is the only thing capping Rivers' potential this week, but he should have a pretty big game regardless.
Week 7 Projection: 314 passing yards, three touchdowns and one interception
Sit: Sam Bradford (STL)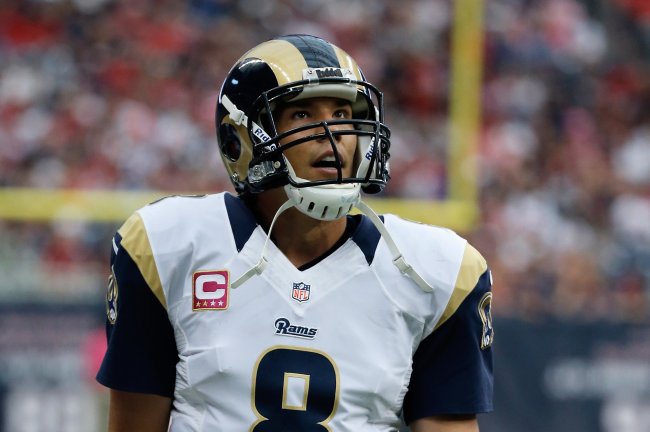 Scott Halleran/Getty Images
Bradford hasn't thrown for more than 240 yards in a game since Week 2, but he has remained a solid fantasy contributor since then thanks to better-than-expected touchdown production. Bradford has thrown for three touchdowns in each of his past two contests, and he has 13 on the season, which makes the Rams quarterback an intriguing fantasy option when he has a good matchup.
Unfortunately for Bradford, though, that isn't the case this week. St. Louis will travel to Carolina to take on the Panthers and their ferocious defense in Week 7. Bradford did throw for three touchdowns against the Houston Texans' league-best pass defense in Week 6, but he only totaled 117 yards. That touchdown luck won't continue against a Carolina defense that is allowing just 210 passing yards per game this season.
Week 7 Projection: 178 passing yards, one touchdown and two interceptions
Running Backs
Start: Ryan Mathews (SD)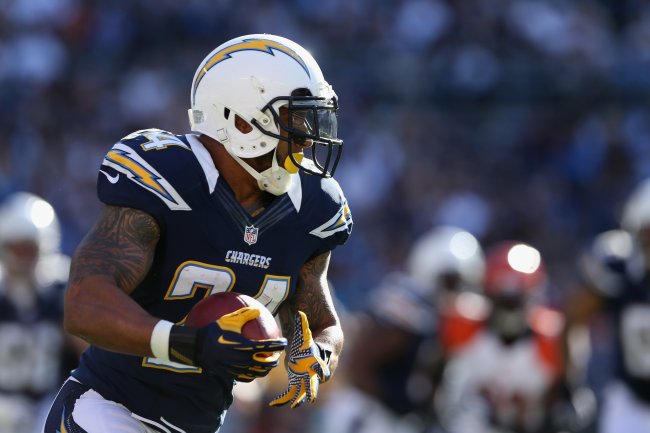 Jeff Gross/Getty Images
While the Jaguars haven't been torched by opposing passing games this season, the same can't be said for opposing running games. Jacksonville sports the league's worst run defense as it is allowing nearly 153 yards per game on the ground, which is more than 20 yards per game worse than the Indianapolis Colts in 31st. San Diego doesn't exactly have a dominant running game, but it was able to take advantage of the aforementioned Colts in Week 6.
Mike McCoy's offense is somewhat maddening as Ryan Mathews, Danny Woodhead and Ronnie Brown all get touches out of the backfield, but Mathews has the most talent, and he is coming off his first 100-yard effort of the season. Woodhead may be an even better fantasy play this week due to his pass-catching ability, but Mathews will get his licks in late against the Jags as the Chargers attempt to run out the clock.
Week 7 Projection: 106 rushing yards, one reception for 10 yards and one touchdown
Sit: Stevan Ridley (NE)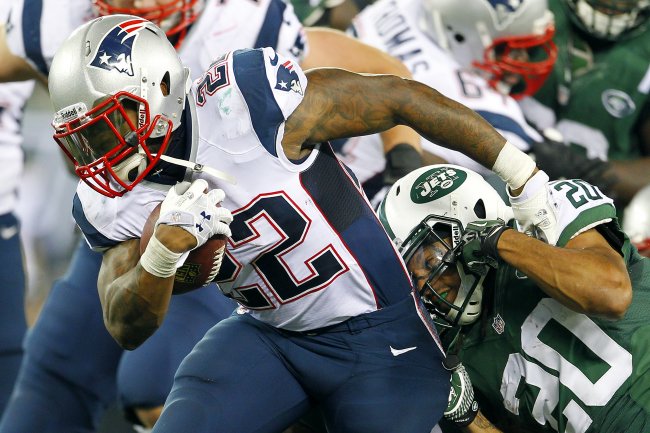 Rich Schultz/Getty Images
Most fantasy owners were ready to give up on Ridley after the season's first five weeks as he hadn't broken 53 rushing yards in a single contest nor had he scored a touchdown. Good things came to those who waited in Week 6, though, as Ridley beat the New Orleans Saints defense for 96 yards and two touchdowns. Ridley's owners are suddenly encouraged, but expectations shouldn't be particularly high in Week 7.
Ridley will have to deal with a New York Jets defense that is among the league's best against the run. New York is giving up less than 76 yards per game, and it shut down Ridley in Week 2. Ridley gained just 40 yards on 16 carries against Gang Green earlier in the year, so it's pretty much a given that it will be tough sledding for Ridley. He could salvage the day with a touchdown, but since those are so tough to predict, you'd be best off sitting him.
Week 7 Projection: 48 rushing yards, one reception for seven yards
Wide Receivers
Start: Rueben Randle (NYG)
Randle is the Giants' No. 3 wide receiver in title, but he has been more productive than Victor Cruz and Hakeem Nicks over the past few weeks, and he seems to be developing a great rapport with quarterback Eli Manning. While Manning has been a disaster this year, he has a history of taking guys low on the depth chart (such as Cruz and Mario Manningham) and turning them into fantasy gems. Randle was highly touted coming out of LSU, and there is no question that he has the ability to be a great player.
Randle has three touchdown catches over the past two games, and he had 75 or more yards in each of those contests as well. In addition to that, the G-Men will face the Minnesota Vikings on Monday night, and the Vikes are allowing 308 yards per game. This is the perfect time for Eli to right the ship, and Randle should be a big part of it.
Week 7 Projection: Six receptions for 115 yards and one touchdown
Sit: Dwayne Bowe (KC)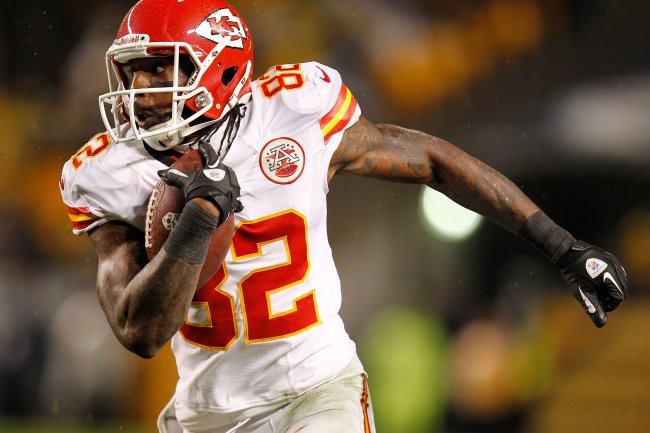 Gregory Shamus/Getty Images
There is no doubt that quarterback Alex Smith has been great for the Kansas City Chiefs as KC is currently undefeated, but he hasn't exactly been a catalyst for huge receiving numbers. Smith likes to spread the ball around, and he usually doesn't throw for a great deal of yardage. That hasn't hurt the Chiefs as a team; however, it has destroyed Bowe's fantasy value. Don't look for things to improve much in Week 7 either.
Bowe has just one touchdown this season, and he hasn't had more than four catches or 58 receiving yards in a single game. Smith's conservative ways have been tough on Bowe, and so will the Houston Texans defensive backs on Sunday. Houston is allowing a league-best 131 passing yards per game, and that doesn't bode well for Bowe.
Week 7 Projection: Three receptions for 34 yards
Tight Ends
Start: Coby Fleener (IND)
Fleener is one of the most athletic and talented tight ends in the NFL, but the Colts' balanced offense and Andrew Luck's penchant for getting everyone involved has made Fleener an inconsistent fantasy commodity. Fleener is the unquestioned No. 1 tight end in Indy's offense, and he has shown some flashes, including a 77-yard, one-touchdown effort against the Jaguars a couple weeks ago, but there are far too many rough outings thrown in there.
While Fleener has had fewer than 20 yards receiving in three of his past four games, this is the week to take a leap of faith. The Colts are hosting the Denver Broncos on Sunday night in what figures to be a shootout, and the Broncos are surrendering a league-worst 338 passing yards per game. Fleener is too talented to disappoint yet again.
Week 7 Projection: Five receptions for 82 yards and one touchdown
Sit: Garrett Graham (HOU)
Which player will have the worst fantasy performance in Week 7?
Which player will have the worst fantasy performance in Week 7?
Sam Bradford

Stevan Ridley

Dwayne Bowe

Garrett Graham
Graham became an instant waiver-wire favorite when the Texans placed Owen Daniels on injured reserve, but he wasn't particularly impressive in his first start. Graham caught just two passes for 25 yards against the St. Louis Rams, and he didn't reel in a touchdown, which is where most of his value comes from. Graham has scored three times on the year, which is great, but aside from one 69-yard game, he doesn't have more than 30 yards in a single game.
To make matters worse, the struggling Texans will face the undefeated Chiefs on Sunday. Kansas City's defense has been great this season as it is allowing just 190 passing yards and 10.8 points per game. Teams have had an extremely difficult time finding the end zone against the Chiefs, and Graham likely won't be able to in Week 7 either.
Week 7 Projection: Three receptions for 37 yards
Follow @MikeChiari on Twitter