We're getting close to the midway point of both the NFL regular season and the fantasy football season. It's becoming more and more important you make the right decisions with your lineup.
You cannot simply ignore it anymore and hope everything will turn out right. The games are starting to take on an added significance as you fight your way up in the standings and into a playoff spot.
Since most of the best possible waiver-wire selections have been picked up already, you've got to make best with what you've got. Take advantage of favorable matchups and plan for whatever players look destined for poor performances.
Here are key players to either start or sit if you've got them in your fantasy lineup, followed by three of the more important decisions you should consider.
Week 7 Start 'Em, Sit 'Em

| | | |
| --- | --- | --- |
| QB | Andy Dalton (CIN) | Sam Bradford (STL) |
| RB | Ryan Mathews (SD) | Stevan Ridley (NE) |
| WR | Alshon Jeffery (CHI) | Calvin Johnson (DET) |
| TE | Heath Miller (PIT) | Jared Cook (STL) |
| K | Alex Henery (PHI) | Mason Crosby (GB) |
| DEF | Kansas City Chiefs | Denver Broncos |
Joseph Zucker
Start 'Em: Andy Dalton, QB, Cincinnati Bengals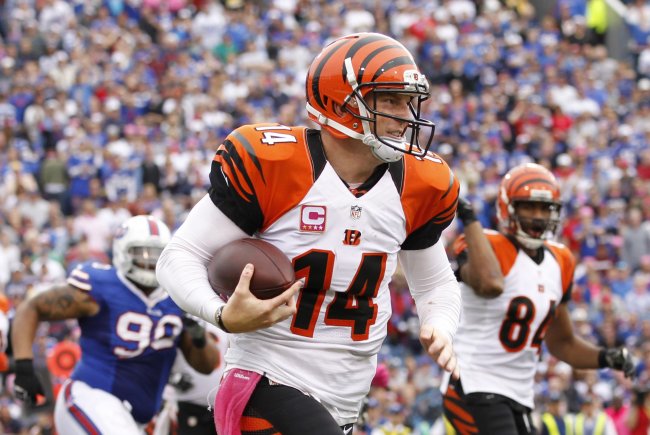 Kevin Hoffman-USA TODAY Sports
Say what you want about Andy Dalton. I've been one of his biggest critics all season. He's looked shaky at times and not the kind of quarterback who can lead the Cincinnati Bengals to the promised land. The organization should trade up and take Teddy Bridgewater.
OK, that's a bit extreme, but that's the level of frustration Dalton has caused.
However, last week against what was a tough Buffalo Bills secondary, he had 337 yards and three touchdowns. It's the first time he'd broken the 300-yard mark and passed for three touchdowns in 2013.
The Bengals had the perfect game plan in order to allow Dalton to thrive. He didn't throw too many deep passes. Instead, he was hitting his receivers with screens and posts. In turn, those receivers would rack up the yards after catch.
It was simple, yet effective.
Against the Detroit Lions, Jay Gruden should continue going with what worked. Dalton is still a good quarterback on the short to intermediate throws, and the Bengals may have figured out how to get the best out of him.
Sit 'Em: Stevan Ridley, RB, New England Patriots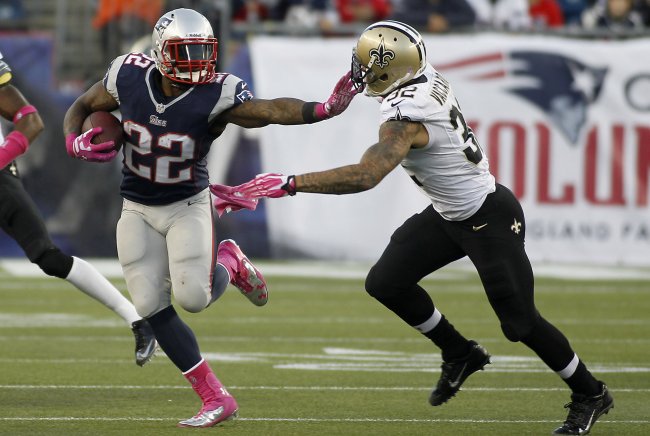 Stew Milne-USA TODAY Sports
As bad as the New York Jets have been over the last few years, their defense was never in doubt. It continues to be one of the best in the league. Football Outsiders ranks the Jets defense No. 4 in the league, including No. 1 against the run.
The latter half is bad news for Stevan Ridley owners.
When the New England Patriots hosted the Jets in Week 2, Ridley had only 16 carries for 40 yards. Some of that could be chalked up to how poor the weather was, but a lot of it was down to how good the Jets are.
Danny Amendola's status looks to be in doubt for Sunday's game. According to ESPN Boston's Field Yates, he picked up a concussion last week and wasn't able to practice Wednesday.
As we figured, Patriots WR Danny Amendola officially suffered a concussion on Sunday. He did not practice today.

— Field Yates (@FieldYates) October 16, 2013
That's one less weapon for Tom Brady, meaning New York might be able to load up even more to stop Ridley and the rest of the Patriots running game.
Sit 'Em: Calvin Johnson, WR, Detroit Lions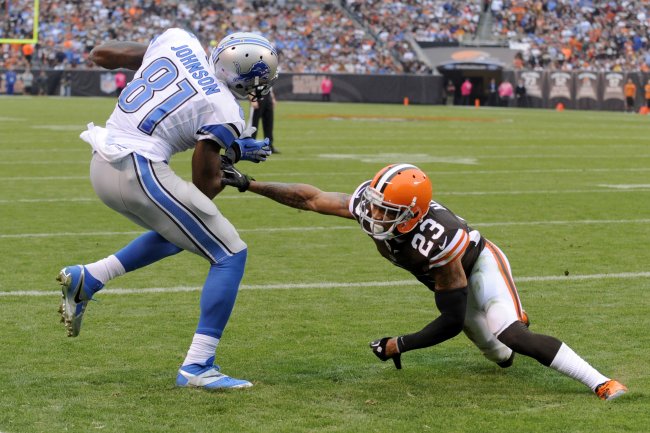 Ken Blaze-USA TODAY Sports
Speaking as somebody who owns Calvin Johnson on his fantasy team, these last two weeks have been unbearable. He didn't play Oct. 6 against the Green Bay Packers, and then last week, he had just three receptions for 25 yards.
Johnson participated in limited practice Wednesday, via DetroitLions.com's Tim Twentyman. On one hand, it's encouraging that he's practicing. On the other, he's still only limited. How close to 100 percent is he?
With the way he's performed this season, you don't want to put too much faith in him. Sure he's one of the best receivers in the league, but the numbers aren't backing that up.
Weeks 2 and 3 have been the only good fantasy performances for Megatron, and Week 3 came against the Washington Redskins' porous secondary, so don't put too much weight into that.
The Bengals defense has done a great job cleaning up the offense's messes. Cincinnati has a habit of playing either up or down to its competition. Don't forget this secondary kept Brady to 197 yards and zero touchdowns in Week 5.
Knowing it will have to play well against the Detroit Lions, the defense will be at its best Sunday, keying on Johnson in particular.