After six weeks of the 2013 NFL campaign, we're starting to gain a little bit of clarity.
We've seen enough from each player to know which guys are reliable and which are not in terms of fantasy production, but that doesn't mean that there won't be a variety of difficult decisions for each and every owner.
Every week, we see guys who are typically fantasy studs run into difficult opponents and leave the field as frustrated as their owners who burned a roster spot on them—and Week 7 will be no different.
Heading into this weekend's full slate of games, here's a look at who you can trust, as well as who you can't, to deliver for your fantasy teams.
Joe Flacco
Less than a year removed from leading the Ravens to a Super Bowl title, Joe Flacco's struggled to remain consistent for Baltimore, as the former University of Delaware star has tossed six picks against four touchdowns in his last three outings.
And now, with Flacco set to face a surprisingly stingy pass defense on the road in Pittsburgh, it's not time to assume he'll turn things around.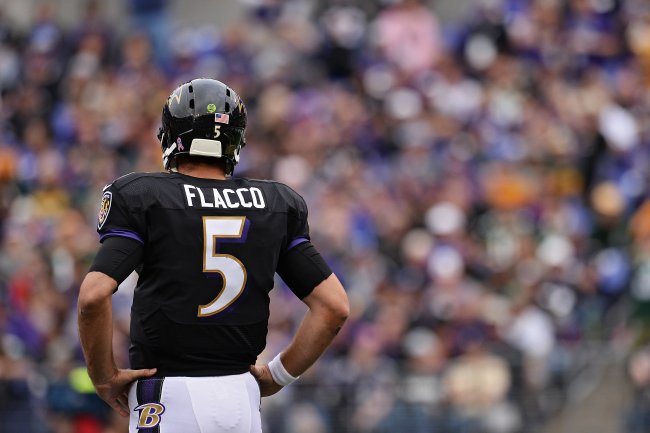 Patrick Smith/Getty Images
Though Flacco's on pace for a career year in terms of yardage, the 28-year-old has turned the ball over 11 times in six games, and given how the Steelers defense looked against Geno Smith last week, one has to assume that he'll be in for a rough afternoon.
Heading into this tilt, the Steelers have allowed just over 190 passing yards per game—good for fourth in the league—so in order for Flacco to have a positive impact on your team, he'll have to buck that trend.
Verdict: Sit
Despite not having a completely healthy Calvin Johnson in the fold last weekend, Matthew Stafford still managed to go 25-of-43 for 248 yards and a wildly impressive four touchdowns against one of the league's most dominant defenses in Cleveland.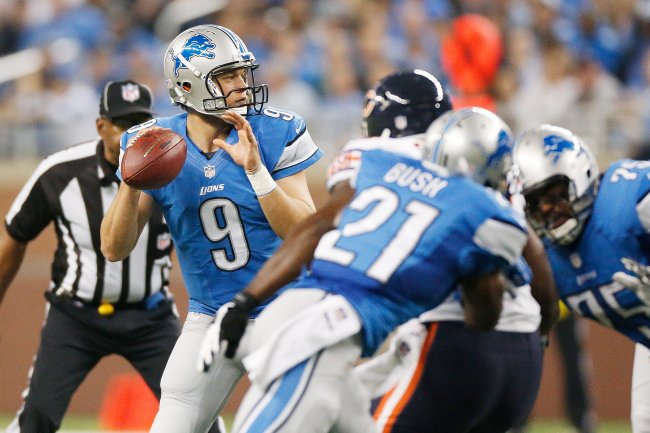 Gregory Shamus/Getty Images
So, with the former No. 1 overall pick set to face another quality defense when the Lions take on the Bengals, it's logical that he'll be solid again in Week 7.
With Calvin Johnson's status improving, according to SB Nation, Stafford has the potential to be even more dangerous, even against a strong secondary that's allowed just over 216 yards per game through the air.
Thus far, Stafford has eclipsed that total in each of his four games and has managed to throw at least one touchdown every Sunday this season.
He may not throw four scores against Cincinnati, but he'll do more than enough to merit a start today, as he proved last week that he's much more than just a delivery boy for Johnson.
Verdict: Start
Since arriving in Indianapolis earlier this season, Trent Richardson has needed more time than expected to get comfortable in the Colts offense, which is to be expected.
However, the former No. 3 overall pick has not been the rushing threat the Colts were hoping for when they dealt a first-rounder in exchange for the Alabama product, as Richardson still has yet to run for more than 60 yards in a game with Indy.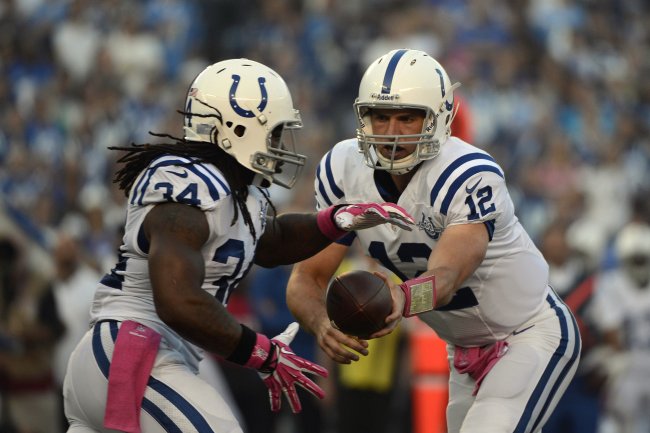 Donald Miralle/Getty Images
And now, with the Colts taking on Peyton Manning and the Broncos in a crucial clash, fantasy owners should not expect Richardson to break out in Week 7.
That's because Denver currently boasts the league's stingiest defense against the run, allowing just under 70 yards per game on the ground, so it's more than likely that Chuck Pagano is planning to have Andrew Luck and the passing game carry the mail tonight.
While Richardson hauled in nearly 370 yards receiving as a rookie with the Browns, he's managed just two catches for 19 yards as a Colt, so if Indianapolis relies on Luck to generate offense, don't assume that Richardson will get you points through the air.
Verdict: Sit
When a team has a quarterback as consistently brilliant as former Super Bowl MVP Aaron Rodgers, it's generally acceptable to assume that the team's offense will primarily run through him.
And that's been the case for a while in Green Bay, but now that the Packers are without two of their best receivers in Randall Cobb and James Jones, Eddie Lacy has to be viewed as a must-start in the backfield.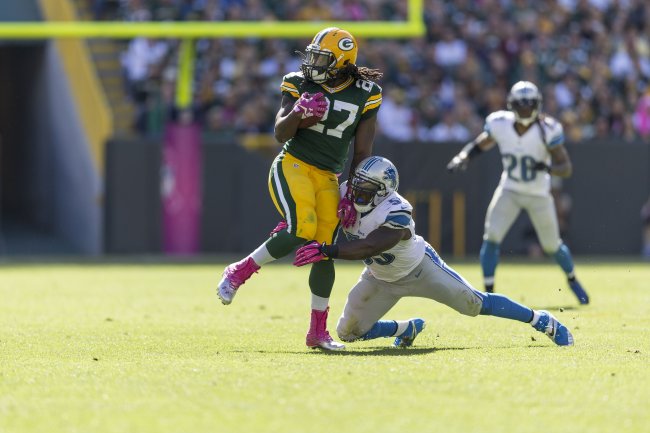 Tom Lynn/Getty Images
It's no coincidence that Lacy broke out in a big way in Week 6 against the Ravens, rushing for 120 yards on 23 carries, as the Packers were forced to rely more heavily on the rushing attack once Jones and Cobb went down.
Yes, the Packers will be up against a good Browns defense that is allowing under 100 yards per game on the ground, but Green Bay's still got Jermichael Finley and Jordy Nelson for Rodgers to throw to, which will keep Cleveland honest.
He won't put up the kind of numbers he did last week, but Lacy will be an impact player today, and really until at least Jones returns.
Verdict: Start