While you never want to take an early fantasy draft pick out of your starting lineup, sometimes you are better off making a switch.
We have come to the point of the season where it is time to reevaluate each player as to whether their value has really reached preseason expectations. Some stars who were predicted to be dominant have been anything but to this point of the year.
Not only should these players be put on the bench, but some of the more inconsistent ones should only be started when the matchup fits. In these cases, Week 6 is a time to find alternatives if they are available to you.
Tom Brady, QB, New England Patriots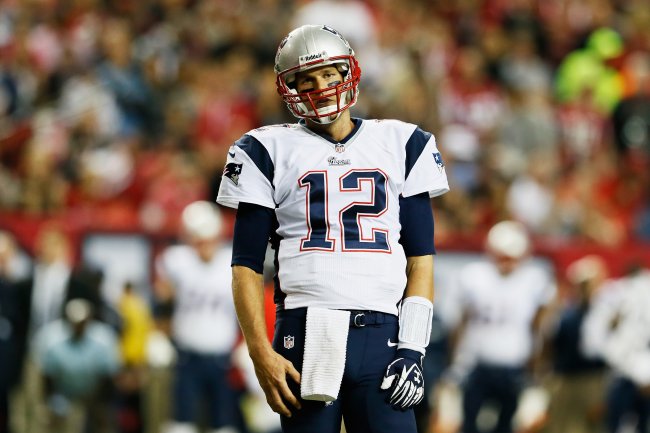 Kevin C. Cox/Getty Images
It is amazing how much of a difference a year makes. Last season, you could have started a middle-school quarterback against the New Orleans Saints and expect a good performance, but not anymore.
After allowing the second-most points in football in 2012, the Saints currently rank fourth in the league in points allowed per game this year. New defensive coordinator Rob Ryan has done a great job bringing aggressiveness to the unit, and the result is more sacks and more interceptions.
This could cause problems for Tom Brady, who is already having an up-and-down season trying to adjust to his new receivers. Last week, he managed only five fantasy points while facing another tough defense. He also failed to throw a touchdown pass for the first time in 53 games.
To make matters worse, Rob Gronkowski is unlikely to make his debut this weekend after it seemed hopeful he would early on, according to Tom Pelissero of USA Today.
Brady should still be fine as the season progresses, but this is not the week for him to shine.
Possible Alternatives: Philip Rivers, Terrelle Pryor, Alex Smith, Joe Flacco
Maurice Jones-Drew, RB, Jacksonville Jaguars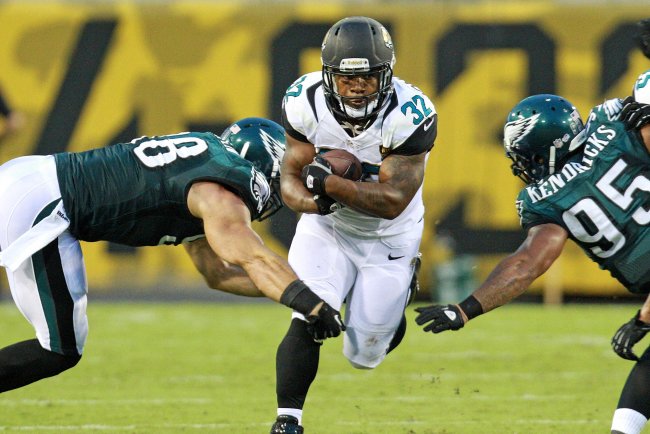 Brian Cleary/Getty Images
Finally, Maurice Jones-Drew was somewhat productive on the ground in Week 6. He carried the ball 17 times for a season-high 70 rushing yards against the St. Louis Rams, giving fantasy owners hope for a turnaround.
Whether or not there are better days ahead, Sunday will not be one of them as he goes up against the Denver Broncos.
This season, the Broncos statistically have the best run defense in the NFL as well as the worst passing defense. Part of that is thanks to the stout front, which has held running backs to only 3.3 yards per carry this season, although most of it is due to the fact that teams have to throw the ball to keep up.
Both factors will affect Jones-Drew in this game. When the Jaguars likely start to trail by double digits in the opening minutes of the game, it will limit the running back's carries. When he does get the ball, he will have nowhere to run.
He might have a chance to succeed if he gets more involved in the passing game, but only six receptions on the year does not provide much hope for the veteran this week.
Possible Alternatives: Zac Stacy, Willis McGahee, Andre Ellington
Larry Fitzgerald, WR, Arizona Cardinals
After an impressive Week 1 performance that reminded people how dominant he can be, Larry Fitzgerald has fizzled over the past month. The receiver is averaging only 6.25 fantasy points per game in the last four weeks, scoring only one touchdown in that time.
Considering his inability to get into the end zone and his lack of yards (his 80-yard performance in Week 1 was his most this season), there is little reason to trust the veteran from a fantasy perspective.
Similar to the past few seasons, this is not entirely Fitzgerald's fault. While the quarterback play has improved from last year, the offensive line has not, and the result is that plays have not been able to develop down the field.
Since Week 1, Carson Palmer has not thrown for over 250 yards or more than one touchdown in a game.
This week, Fitzgerald will go up against a San Francisco 49ers defense that has allowed the second-fewest fantasy points to opposing receivers this season, including only two touchdowns. That does not bode well for a good game.
Possible Alternatives: T.Y Hilton, Kenbrell Thompkins, Keenan Allen, DeAndre Hopkins
Brent Celek, TE, Philadelphia Eagles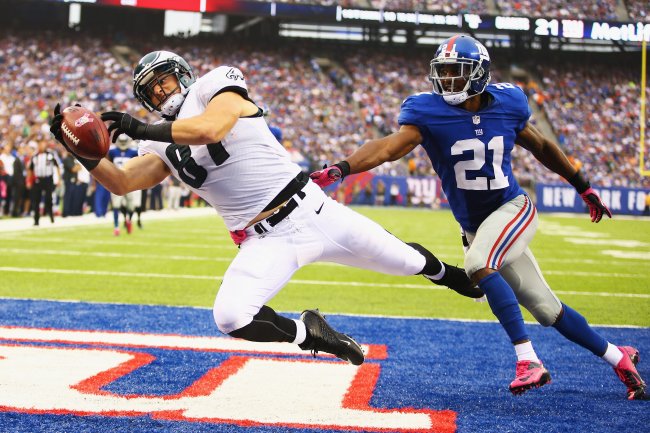 Al Bello/Getty Images
Touchdowns from fantasy players are great when you have them in your lineup, but be cautious about them going forward.
Brent Celek scored last week on a touchdown pass from Nick Foles, leading many to believe he is set for a big week with the backup quarterback. However, the tight end remains dependent on touchdowns to be of any value in fantasy.
Celek only ended up with three catches against the New York Giants, which ties him for a season high. If he does not find a way into the end zone, he is completely useless as a fantasy player.
Additionally, he will be going up against the Tampa Bay Buccaneers defense, which allowed a combined four catches for 64 yards to tight ends in the past two games. Celek might find a way to be productive, but it is simply not worth the risk.
Possible Alternatives: Garrett Graham, Heath Miller, Brandon Pettigrew
Follow Rob Goldberg on Twitter for the latest breaking news and analysis.