It's not always easy to catch a break at wide receiver.
At the mercy of the quarterback, wideouts can star one week only to disappear the next. Show of hands, how many of you are still angry that Alshon Jeffery caught one pass on Thursday night after collecting 325 yards and two scores the previous two weeks.
I know, it still stings. Does it make it better or worse to know that Jay Cutler missed him deep twice on what could have amounted to substantial gains?
Wide receiver presents us with the trickiest guessing game of all, but let's examine the matchups of a new noteworthy names to determine whether they warrant starting in Week 6.
Marques Colston (at New England Patriots)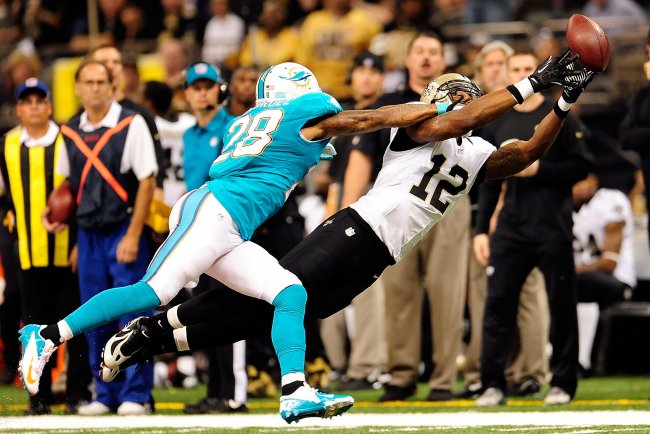 Stacy Revere/Getty Images
Marques Colston, who has averaged 8.5 touchdowns per season over the last four years, has not scored since Week 1.
Besides last weekend, when he only caught two catches for 15 yards, targets have not eluded the 30-year-old wideout. Colston has turned at least six targets into at least 60 yards in every other game, despite reaching the end zone just once.
Over/Under: Six touchdowns for Marques Colston this season?
Over/Under: Six touchdowns for Marques Colston this season?
Eventually the scores will normalize for Colston, who has grabbed at least seven touchdowns in all but one of his seven NFL seasons.
None of New Orleans' other wide receivers have factored much into its potent passing game, and Jimmy Graham is unlikely to sustain his current 118-catch, 1897-yard, 19-touchdown pace. Eventually Colston will steal away some of those fantasy points.
Having allowed 229 passing yards per game, New England is not exactly the friendliest matchup. Then again, a game with Tom Brady and Drew Brees on opposing sides is bound to feature an array of points, so don't overthink your lineup and bench Colston.
Verdict: Start
Dwayne Bowe (vs. Oakland Raiders)
That's it. I'm calling it.
There's only so much benefit of a doubt you can give someone before giving up and realizing that it's simply not meant to be. Dwayne Bowe just isn't a dependable fantasy starter.
The maddening wideout has caught 17 passes for 183 yards and two touchdowns through five games. He has yet to tally five receptions or 60 yards in a game, making him dependent on scoring a touchdown to generate any fantasy value.
At first, teaming up with a solid quarterback gave Bowe potential to approach top receiver status yet again, but Alex Smith relies too heavily on quick, short throws to properly utilize a deep threat such as Bowe.
Opponents complete 72.3 percent of his passes, so Smith should have himself a nice day. But expect Jamaal Charles, Donnie Avery and perhaps even Sean McGrath to benefit more.
Although now that I'm ready to look elsewhere, Bowe will probably go off this Sunday, so feel free to exploit my sacrificial reverse jinxing.
Verdict: Sit
Cecil Shorts (at Denver Broncos)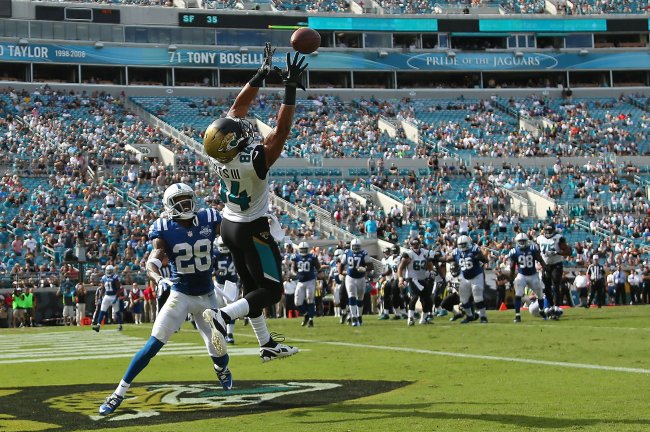 Mike Ehrmann/Getty Images
Your first instinct is to run from a player wearing a Jacksonville Jaguars uniform. Nobody is telling you to add Blaine Gabbert (if they are, point them my way so I can revoke their fantasy advice-giving license), but Cecil Shorts is quietly putting up nice numbers in a derelict situation.
Barring a monstrous miracle, the Broncos will trounce the Jaguars, and it won't be that close. Don't, however, expect a 50-0 shutout. Jacksonville will put up some points in a losing effort against a defensive in dire condition, with Shorts one of the main benefactors.
Although they reside as a Super Bowl favorite, the Broncos rank last with 347 passing yards allowed per game. Tony Romo put their shortcomings front and center with 506 passing yards and five touchdowns, including 151 yards and a touchdown from rookie Terrance Williams.
Chad Henne is no Romo, but he's also no Gabbert. Henne is capable enough of finding Shorts, who has been targeted more than any other receiver this season.
It won't be pretty for Jacksonville, but Shorts should finish with seven or eight catches while broaching the 100-yard plateau.
Verdict: Start
Other WR Options for Week 6

| | | | | |
| --- | --- | --- | --- | --- |
| Player | Matchup | Thoughts | Verdict | |
| Justin Blackmon | at Denver Broncos | He came back with a bang and merits a start for all the same reasons as Shorts. | Start | |
| Kenbrell Thompkins | vs. New Orleans Saints | Inconsistency plus the potential return of Rob Gronkowski makes Thompkins not worth the trouble. | Sit | |
| DeAndre Hopkins | vs. St. Louis Rams | He could be in line for a big day if Andre Johnson can't play. | Start | |
Andrew Gould