There is no harder group of players to judge in fantasy football than the running backs. Week 6 is no different, as it will require a true judgement call to decide whether to start or sit these key players.
This piece isn't going to be looking at guys like Adrian Peterson or Arian Foster. You know that they are must-start players regardless of who they're playing.
Instead, we will be looking at those true boom-or-bust players and decide whether or not to put them in your starting lineup. These judgement calls will be based off of how they've performed so far this season, along with who they're going up against.
Note: Any information regarding points scored is based off of ESPN's standard scoring leagues.
Trent Richardson, Indianapolis Colts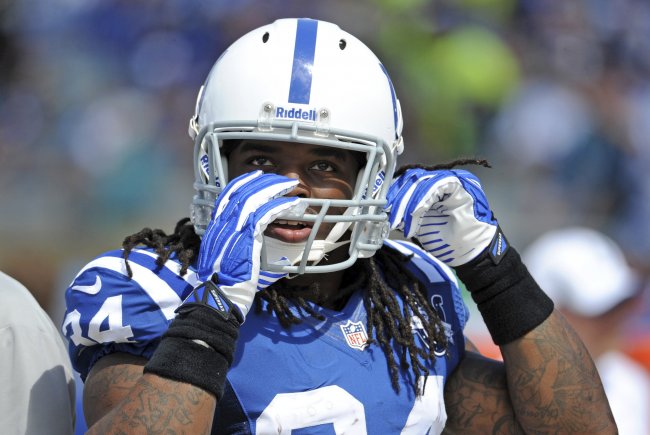 Melina Vastola-USA TODAY Sports
Fantasy owners with Trent Richardson have likely been quite frustrated by his overall performance so far this season.
Through the first five games of the season, Richardson has had just one game with at least 10 points. That game came against the Jacksonville Jaguars, putting up 12 points after rushing for 60 yards and a touchdown.
The trade in the middle of the season from the Cleveland Browns to the Colts has had Richardson take a bit of a step back in fantasy production. However, he's continuing to get more and more involved in the offense, and he should start getting more comfortable as the season progresses.
This week, the Colts will be taking on the San Diego Chargers on Monday Night Football. This is an ideal matchup for Richardson, as the Chargers have one of the worst defenses in the league.
The Chargers rank 24th in the NFL in opposing rushing yards, allowing 117.2 yards per game on the ground. They're also giving up 4.9 yards per carry, the fifth-worst mark in the league.
With Ahmad Bradshaw out for the year with a neck injury according to Mike Wells of ESPN.com, the Colts are going to continue giving Richardson the majority of carries. That means plenty of opportunities to break out big runs this week, and he will put up some nice points against this weak Chargers defense.
Verdict: Start 'Em
Chris Johnson, Tennessee Titans
We stay in the AFC South with this next running back decision. It seems like CJ2K makes this list every week, and for good reason. He's one of the riskiest players in all of fantasy football, struggling to have consistent performances each week but also with the upside to put up huge numbers.
What kind of value would you put on Chris Johnson?
What kind of value would you put on Chris Johnson?
RB1

RB2

Flex

Bench

Free Agent
The latter is going to be quite difficult this week as the Titans will be playing in Seattle against the Seahawks. Seattle's defense allows just 109 rushing yards and 16.2 points per game. According to Pro Football Focus (subscription required), the Seahawks have the sixth-best run defense with a grade of 15.5.
So far this year, Johnson has had just one game with at least 10 fantasy points, and that came last week. Almost all of those points came from the 49-yard shovel pass from Ryan Fitzpatrick that resulted in a touchdown. He hasn't been a productive back on the ground, running for 294 yards and zero touchdowns while averaging just 3.1 yards per carry.
As much as we know that Johnson has huge upside, it's highly unlikely he breaks out any big plays against this talented and deep defense. Unless you're in a really deep league and don't have any other options, avoid Johnson this week.
Verdict: Sit 'Em
Giovani Bernard, Cincinnati Bengals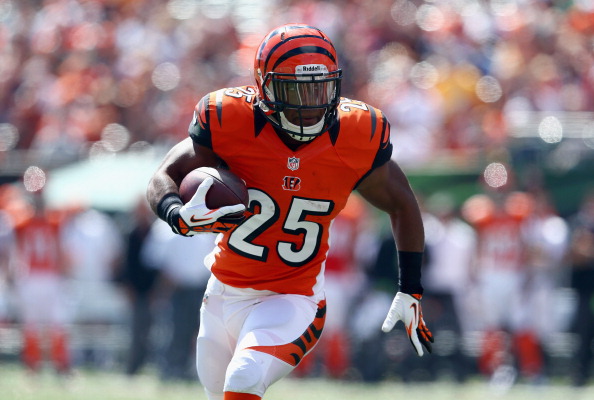 Andy Lyons/Getty Images
There have been few rookies that have been as entertaining to watch this season as Giovani Bernard. He had his breakout game in Week 2 against the Pittsburgh Steelers, putting up 17 points thanks to a touchdown on the ground and another one through the air.
Unfortunately for fantasy owners, Bernard hasn't been as productive the past couple of weeks, putting up a total of 10 points in the past two games. Last week's game is understandable, as the conditions were poor with it pouring down rain. Bernard has also continued to split carries with BenJarvus Green-Ellis, despite the fact that he's been the more efficient running back.
The Bengals will be playing the Buffalo Bills this week, which is good news for Bernard. The Bills rank 22nd in the NFL, allowing 116 rushing yards per game. Their offense will likely struggle as well without EJ Manuel under center, meaning that the Bengals will likely be in ideal field position for most of the game.
As disappointing as Bernard has been the past two weeks, we now know that he has legitimate upside in fantasy football. Even if he continues to split carries with Green-Ellis, he will still get 10 to 20 touches a game. Put him in as a flex player or an RB2 in deeper leagues, and look for some big plays from the rookie out of North Carolina this week.
Verdict: Start 'Em