Difficult matchups once again litter the fantasy football landscape in Week 6 as it pertains to the running back position.
As always, owners able to efficiently navigate the tumultuous waters will emerge on top when the dust has settled.
This week there are some obvious starts that will not be detailed below. Doug Martin against Philadelphia is a given. So is Arian Foster against St. Louis. Jamaal Charles against Oakland? Of course.
We could go on, but instead, let's take a gander at some of the most intriguing names this week and how owners should handle each situation.
Start 'Em: Alfred Morris, Washington Redskins vs. Dallas Cowboys
Alfred Morris is a strange commodity this season in a Washington offense that has been forced to consistently play from behind courtesy of its defense, which ranks worst in the NFL.
Morris is healthy after a bye week and has a date with a bottom-five Dallas defense. As a rookie, Morris exploited Dallas for over 300 yards and four touchdowns in two games.
Expect his success to continue in a shootout.
Sit 'Em: Chris Johnson, Tennessee Titans vs. Seattle Seahawks
Chris Johnson looked great on paper last week—until closer analysis reveals most of his production came from a bail-out flip pass that went for 49 yards and a score.
Eliminate that and Johnson only rushed for 1.7 yards per carry. That's a negative way of looking at things, but Johnson will not always be gifted with a lucky play that goes the distance.
That's especially the case against Seattle, a top-10 defense which has stuffed most backs with ease and is playing at home in the NFL's noisiest stadium.
Start 'Em: Zac Stacy, St. Louis Rams vs. Houston Texans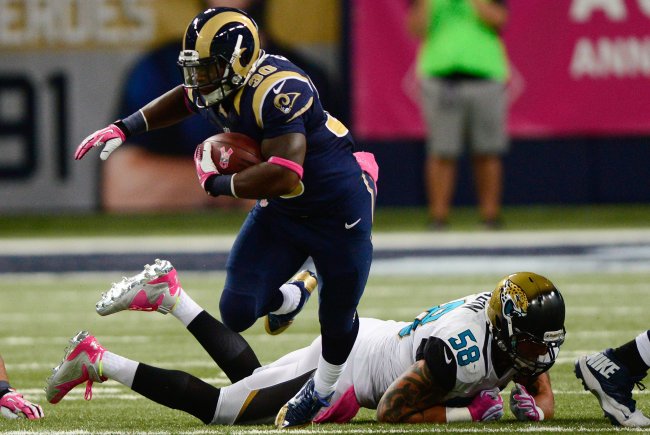 Jeff Curry-USA TODAY Sports
Let's roll with a rookie section here, as the 2013 draft was much kinder to the position than most anticipated.
Here's Zac Stacy, who received his first start last week and made the most of things by going for 78 yards on 14 carries, good for a stellar 5.6 yards per carry average.
Even better, it sounds as if Stacy has won the starting gig courtesy of that performance as detailed by the team's Twitter account:
"He'll probably start the game off, just like he did yesterday." – Fisher on starting @ZSTACY_ against the @HoustonTexans

— St. Louis Rams (@STLouisRams) October 7, 2013
Houston touts an elite defense, but it appears the Rams have found their guy in the backfield. He'll contribute solid numbers while getting the start.
Sit 'Em: Eddie Lacy, Green Bay Packers vs. Baltimore Ravens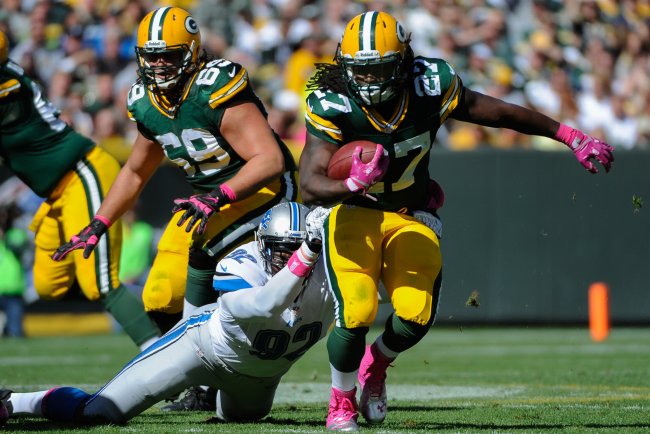 Benny Sieu-USA TODAY Sports
Eddie Lacy is easily an every-down back in Green Bay, and he is exactly what the doctor ordered for the offense, but it is advisable to monitor his matchup more than anything before making a decision.
This week Lacy encounters a Baltimore defense that has quietly only allowed one rushing touchdown and the fewest points to running backs this season.
Lacy simply won't find enough room against Baltimore to warrant a start.
Start 'Em: Le'Veon Bell, Pittsburgh Steelers vs. New York Jets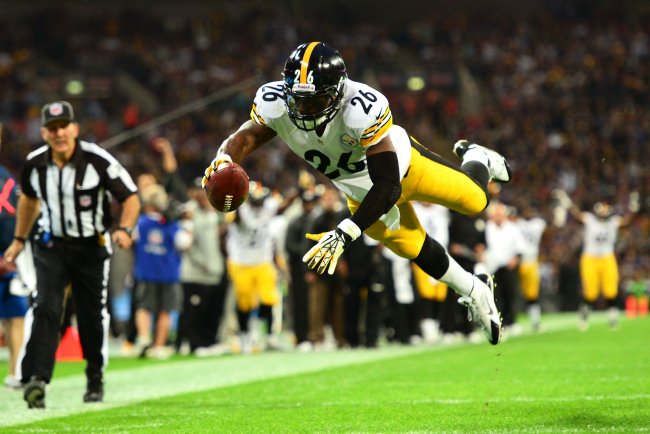 Jamie McDonald/Getty Images
Let's go rookie one more time. The issue with Le'Veon Bell is health. Now that he is in the clear once more, Bell has a date with a solid New York defense.
Bell is exactly what the Steelers have missed on offense, which was apparent in Week 4 as he rushed for 57 yards and two scores and contributed through the air with four receptions for 27 yards.
Bell won't find that level of success against a defense that has mostly held backs in check, but he will see enough opportunities in all phases to make a significant fantasy contribution worthy of a start.
Sit 'Em: Rashard Mendenhall, Arizona Cardinals vs. San Francisco 49ers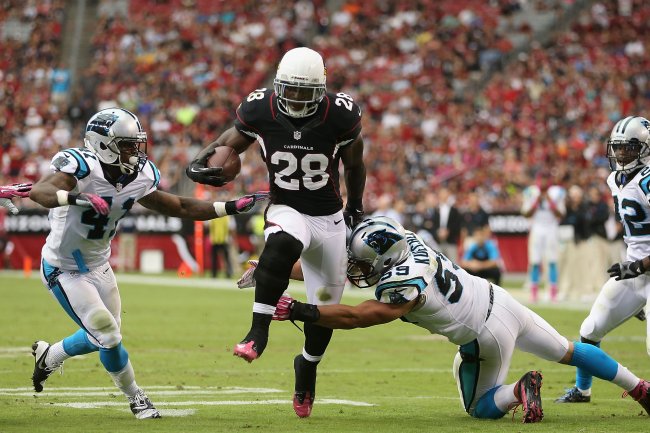 Christian Petersen/Getty Images
Rashard Mendenhall's time in the spotlight as an intriguing fantasy option—in what many hoped would be an explosive offense thanks to Bruce Arians and Carson Palmer—is over.
Mendenhall rumbled for 43 yards and a score last week, but rookie Andre Ellington continues to eat into his total snap numbers.
Last week Ellington exploded for 52 yards on seven carries and caught four passes for 31 yards while playing his highest snap-count of the season at 30.
Forget the fact Mendenhall has a tough game against a strong San Francisco defense, there's a bigger fantasy issue—he's not the back to own from Arizona anymore.
Follow me on Twitter for more NFL, NBA and MLB news and analysis @Chris_Roling