There's nothing more maddening for fantasy football owners than starting a wide receiver who gets shut down.
Regardless of how frustrating it is, it's something that happens every single week.
Houston Texans receiver Andre Johnson was held to just three catches for 39 yards in Week 5 against the San Francisco 49ers, and Larry Fitzgerald was held to three catches for 43 yards.
These are guys you'd normally expect to thrive, but they both suffered against difficult matchups.
On the other extreme, Alshon Jeffery and T.Y. Hilton exploded with huge games, taking advantage of the weaknesses of their respective opponents.
So, who should you start? Who should you sit?
Start 'Em: Vincent Jackson vs. Philadelphia Eagles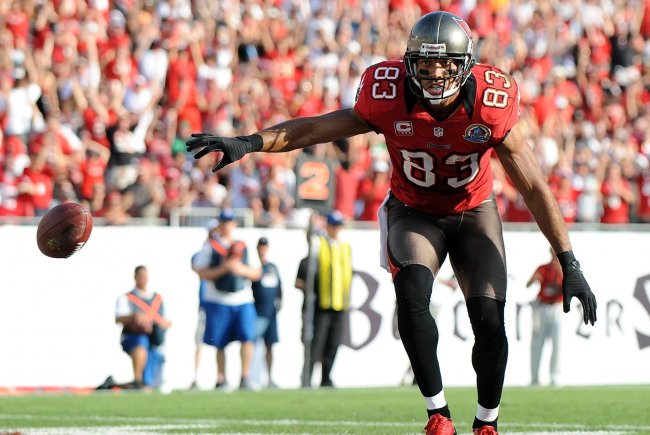 USA TODAY Sports
Based on what we saw from rookie quarterback Mike Glennon in Week 4 against the Arizona Cardinals, most Vincent Jackson owners are likely considering benching him for another receiver.
Glennon was miserable in his first start, completing less than half his passes while throwing two costly picks, and Jackson was held to just two catches for 27 yards.
With a bye week in between that game and the team's upcoming game against the Eagles, however, Glennon will have had time to get comfortable with the sudden shift in responsibilities.
Furthermore, Jackson was suffering from sore ribs in that game, and he'll be raring to go after the two-week break.
But the real clincher here is Philly's defense, which allows more fantasy points per game than any other team in the league. The entire secondary of the Eagles is a wreck, and Jackson will find himself wide open for some huge plays.
Projected Stats: Seven receptions for 110 yards and a touchdown.
Sit 'Em: Tavon Austin at Houston Texans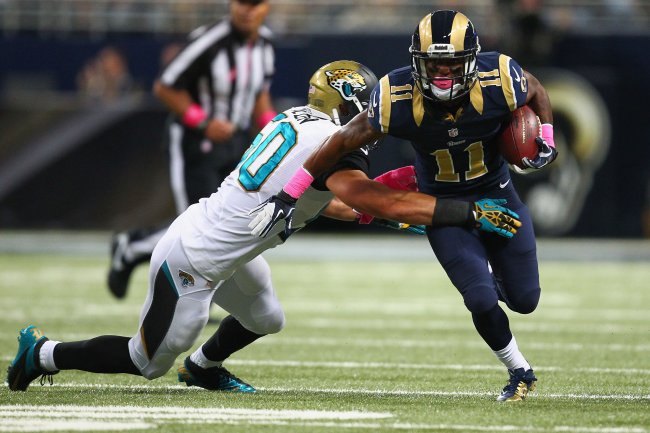 Dilip Vishwanat/Getty Images
After all the hype surrounding Austin before the 2013 NFL draft, Tavon Austin's rookie campaign has been about as "meh" as they come.
Through five games, the dynamic rookie receiver has totaled just 166 yards of offense, and the Rams don't seem to have a clue as to how to utilize his exceptional athleticism and speed.
Fantasy owners who have kept him in their starting lineups to this point in the season, hoping he'd break out, would be wise to bench him in Week 6 when the Rams take on the Texans.
Houston allows just 15.8 fantasy points per game to opposing receivers, and the Texans will be hot under the collar after losing their past three games.
Projected Stats: Three catches for 30 yards.
Start 'Em: Brandon Marshall vs. New York Giants
Brandon Marshall was frustrated to no end against the New Orleans Saints in Week 5. He was constantly double-teamed on the perimeter, and he finished the game with just four catches for 30 yards, though he did pitch in a touchdown.
It was the third game in a row that Marshall had failed to live up to the lofty expectations fantasy owners have, but his current drought is about to come to an end in Week 6 against the New York Giants.
The Giants have allowed 12 passing touchdowns this year, which is the second-most in the NFL. New York's secondary is a mess, as was clearly illustrated when Alex Smith of the Kansas City Chiefs carved it up to the tune of 288 yards and three touchdowns a couple of weeks ago.
Marshall will make up for lost stats against this porous secondary.
Projected Stats: Nine catches for 140 yards and two touchdowns.
Sit 'Em: Anyone from the Tennessee Titans at Seattle Seahawks
[embedded content]
T.Y. Hilton went off on Seattle's secondary last weekend, which was somewhat of a surprise. The Seahawks feature the NFL's top group of defensive backs, and no team can match this defense's ability to shut out fantasy receivers.
But Hilton's quickness and speed, combined with the rocket arm and football-savvy brain of Andrew Luck, proved to be more than a match for the "Legion of Boom."
All this really means for Tennessee receivers in Week 6, however, is that Richard Sherman, Brandon Browner and the rest of Seattle's defensive backs will be playing with an even bigger chip on their shoulders than normal.
This isn't good news for anyone who owns Kendall Wright, Nate Washington or Kenny Britt.
Jake Locker is out for at least a few more weeks, and Ryan Fitzpatrick is going to be overmatched playing in Seattle.
Follow me on Twitter @JesseReed78