Ryan Tannehill and Matt Ryan have a bye in Week 6, and even if you don't call upon those two quarterbacks to captain your fantasy roster, there's a good chance you might be looking to make a change at the position this weekend.
Tom Brady, Robert Griffin III, Cam Newton and Colin Kaepernick are among the NFL signal-callers who have been disappointing through five weeks of action, and owners can't afford to see these early draft picks continue to produce single-digit efforts each week.
Odds are if you're dissatisfied with your QB right now, there's a good chance you might be looking for a replacement.
Mid-tier QBs can't be trusted in the playoffs and late in the season, but if you fall victim to the dreaded bye week or need a fresh face at the top of your starting lineup, there's potential to use a fantasy fill-in and reap the benefits in the process.
We'll take a look at four such QBs below and dissect whether or not this is the week to take a chance on their services ahead of your flashier names.
Brandon Weeden, Cleveland Browns
Weeden might have been benched just a few weeks ago in favor of Brian Hoyer, but he's the man once again in Cleveland and actually has a legitimate chance to post solid fantasy numbers if he plays to the strengths of the offense.
Josh Gordon is back in the lineup after his early-season suspension, Willis McGahee looks poised to improve the running game and the ancillary pieces (i.e. Greg Little) are only enhanced by the emergence of tight end Jordan Cameron.
The Browns have quietly put together a group of players worth owning in fantasy football.
The jury is still out on whether or not Weeden is one of those players, but with a full week of practice as the starter sans Hoyer and weapons galore to choose from, Weeden is in a good spot. As noted by this USA Today NFL team Twitter post, he's also using doubt to fuel his play:
Doubt from Browns fans 'lights a fire' in Brandon Weeden http://t.co/PhTxJ7OzDf

— USA TODAY NFL team (@usatoday_nfl) October 10, 2013
Facing the Detroit Lions, a team that yields 268.2 passing yards per game this season, Weeden has a chance to do some serious fantasy damage.
With the Browns surging and the Rob Chudzinski/Norv Turner offense in sync, I like Weeden to have a big day against Detroit and allow fantasy owners who trusted his services to cash in big.
Verdict: Start 'Em
Sam Bradford, St. Louis Rams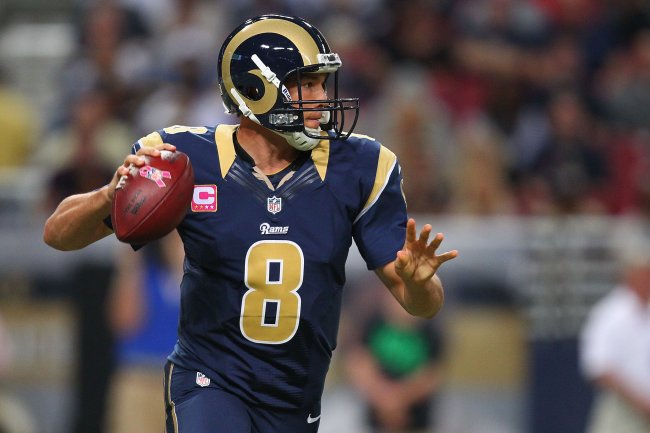 Dilip Vishwanat/Getty Images
Bradford has quietly been a top-10 fantasy QB this year, scoring 86 points in ESPN standard leagues through five weeks of play.
Since his Rams have either been trailing or playing poor secondaries in those games, the former Oklahoma standout has racked up fantasy points by trusting targets Tavon Austin, Austin Pettis, Jared Cook and Lance Kendricks in the passing game.
He is certainly ownable in all formats, but this is the week to keep him firmly on the bench.
The Houston Texans are St. Louis' Week 6 opponent, and we all know that J.J. Watt and Co. have done an outstanding job at limiting opposing QBs in all facets of the game this season. Currently, Houston is first in the NFL in allowing passing yards per game at a minuscule clip of 134.2.
When Bradford has been sacked and felt pressure in his career, he has generally struggled. Expect that trend to continue against the Texans.
Verdict: Sit 'Em
Alex Smith, Kansas City Chiefs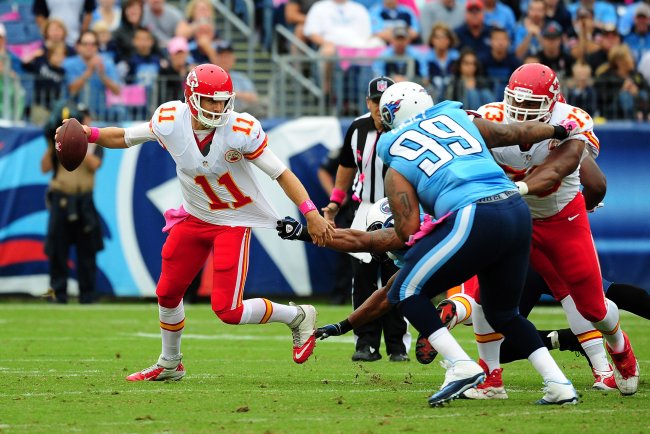 Scott Cunningham/Getty Images
Quick poll: Who has the most rushing yards in the NFL this season between Smith, RG3, Kaepernick and Newton?
If you said Smith, that answer is correct!
While QBs aren't solely rated on their ability to run—see Manning, Peyton—it certainly helps when they can get out of the pocket and pick up an extra point or two by making the defense pay in obvious passing situations.
Smith, who has also thrown for over 1,200 yards and seven touchdowns this year, has quietly been a steady fantasy producer and posted just his first day under 10 points (in ESPN Standard Leagues) against the Tennessee Titans last week.
With Oakland coming to Arrowhead Stadium and bring a porous pass defense with it, there's reasonable evidence to suggest Smith will have a great day against the Raiders and serve as a viable fill-in for a candidate with a less favorable matchup.
Verdict: Start 'Em
Chad Henne, Jacksonville Jaguars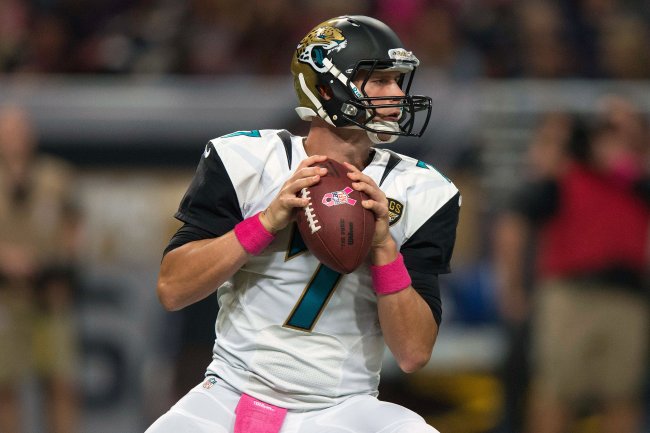 Jeff Curry-USA TODAY Sports
If you haven't heard, Blaine Gabbert has a hamstring injury and could miss "an extended period of time," per Ian Rapoport of NFL.com.
Enter Chad Henne.
Again.
This tweet from The Beat of Sports sums up how Henne's insertion into the lineup will likely affect the final outcome against the Denver Broncos:
Gabbert out, Henne in for Jags vs. Denver. Asked Vegas wiseguy if it impacted line…he laughed..coughed..and hung up….

— The Beat of Sports (@thebeatofsports) October 11, 2013
Henne steps into the spotlight in Jacksonville in a favorable situation on paper—Denver has yielded the most yards in the NFL through the air through five weeks and is fresh off a performance in which Tony Romo shredded its secondary for 500 yards and five touchdowns.
Who will have the best fantasy performance in Week 6?
Who will have the best fantasy performance in Week 6?
Weeden

Bradford

Smith

Henne
However, the Broncos had more interceptions (six) than touchdowns allowed (five) before the Dallas offense had its way, and it's not as if the Jaguars are a noted juggernaut at moving the ball up and down the field.
Justin Blackmon being back in the lineup will help, but Jeff Legwold of ESPN is reporting that cornerback Champ Bailey is also expected to make his season debut against the Jags for the Broncos.
Henne could very well throw for 250 yards and two touchdowns against the Broncos, but how sure are you that he won't cough up the ball three or four times in the process? If the answer is extremely sure, go against my advice.
If there's any reasonable doubt, you know where to keep Henne on Sunday.
Verdict: Sit 'Em
Follow B/R's Ethan Grant on Twitter.